Henry bullish on 2015 Red Sox
Owner feels good about pitching staff, offense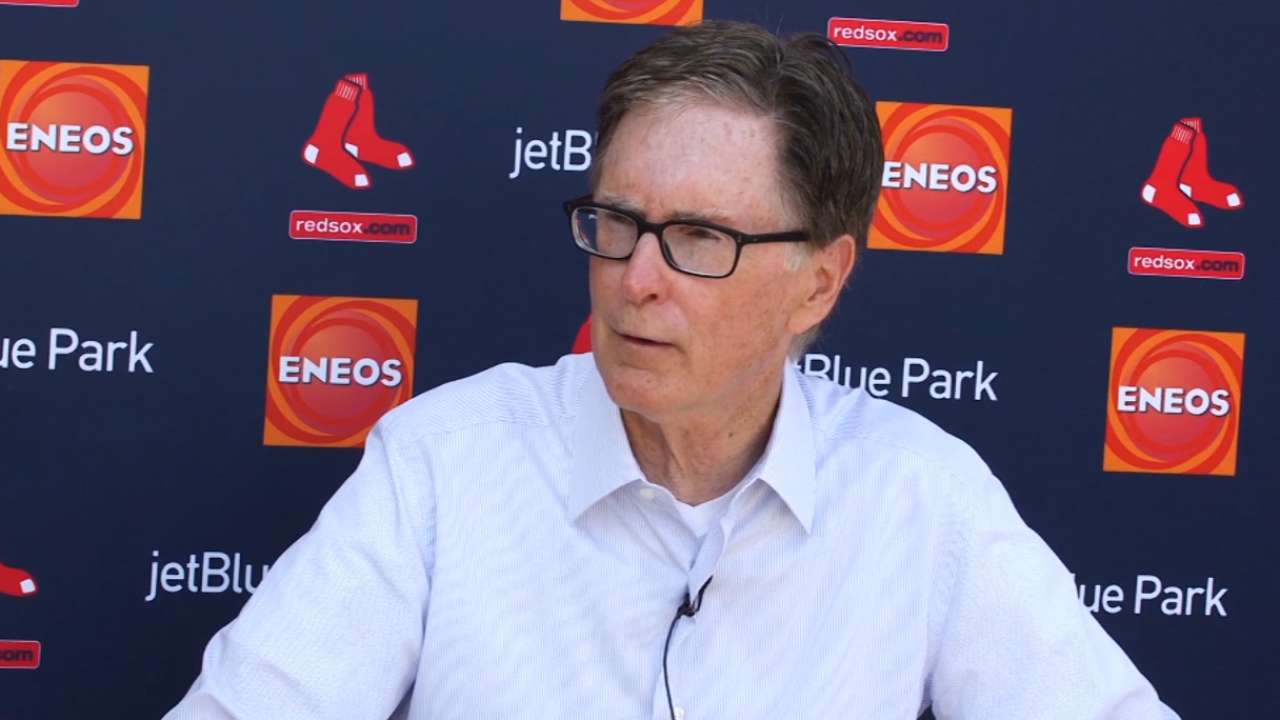 FORT MYERS, Fla. -- Red Sox owner John Henry is bullish on his club's prospects for 2015, surmising that the club looks better now than two springs ago, when the end result was a World Series championship.
He also thinks that the last-place finishes in two of the past three seasons are misleading.
"Yes, we finished last. There's no doubt about it. Same thing in 2012. But if you look at 2012, you look at 2014, we play for championships," said Henry. "Midway through the season, it became clear that wasn't going to happen, so we tore those teams apart. We radically tore both of those teams apart."
In August 2012, the Sox dealt Adrian Gonzalez, Carl Crawford and Josh Beckett to the Dodgers. Last July, the club dealt Jon Lester, John Lackey, Jonny Gomes, Andrew Miller and Stephen Drew.
"We sacrificed the seasons, as it turned out, to rebuild," said Henry. "We don't want to do that again. If we had kept those teams together, I don't think we'd have finished last either year. I think we're better positioned than we were in 2013, and 2013 was a really special year. That will never be replicated. But we're, in many ways, in a much better position than we were that year."
What does the owner like so much about this year's team?
"I think there are a lot of reasons to be optimistic. I feel good about the pitching," said Henry. "I feel great about the hitting. I feel great about the organization, about the fact that so many players came in early this year, and there seems to be a focus. It has to make you feel good at this point."
General manager Ben Cherington shares Henry's optimism.
"Well, I think we have a lot of good players here and I think we've got a lot of motivated players here. I think there's a focus that we've seen already in camp that you can feel, but we haven't won any games yet," said Cherington. "We've got to work hard, we've got to make good decisions. We've got to make sure that focus stays in the right place as we prepare for April, but I believe that can happen and will happen and we have a chance to win a lot of games this year."
Ian Browne is a reporter for MLB.com. Read his blog, Brownie Points, and follow him on Twitter @IanMBrowne. This story was not subject to the approval of Major League Baseball or its clubs.