Red Sox always pleased to see Big Papi arrive at camp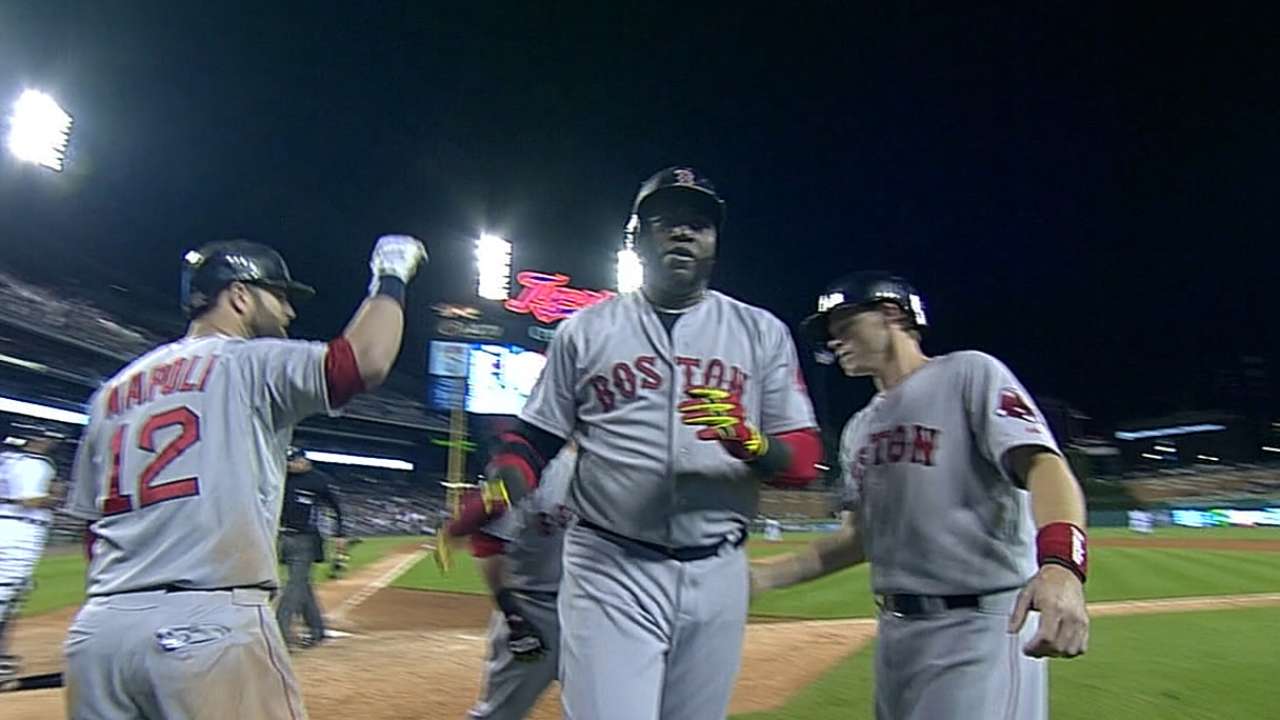 FORT MYERS, Fla. -- There was an atmosphere change in Red Sox camp on Tuesday, as David Ortiz arrived for a 13th season.
"I think anytime David walks through the room it lightens it up," said manager John Farrell. "It brings an energy. He looks in great shape. Had a chance to talk with him earlier when he first got in here this morning. He's full-go and a major part of everything we do."
As the lefty slugger emerged from his physical and hit the cage for the first time, a swarm of television cameras followed him. So, too, did Hanley Ramirez and Pablo Sandoval, two hitters who will help support Ortiz in Boston's rebuilt lineup.
"He's like a brother to me," said Ramirez, a former Red Sox prospect and now the left fielder. "Everybody pretty much looks up to him because of the heart he has and the way he plays the game, how much love he has for the game. Everybody respects him."
Though Ortiz is 39, he had another stellar season last year. The Red Sox hold options on him for 2016 and '17.
"Oh, I think David knows he's going to be a Red Sox for as long as he wants to be a Red Sox," said general manager Ben Cherington. "There's been no discussion on it recently. Honestly, we're just happy that he's here and a huge part of what we're doing still on the field. Given his stature and his personality, I know he means a lot to people off the field, too.
"He's part of the Red Sox legacy, he's part of the Boston pro sports legacy. But he's also our DH and he hits in the middle of our lineup, so that's what we're focused on. We're happy to keep him there as long as he can keep doing it. There hasn't been any conversation other than that."
Ortiz will hold his annual opening-of-camp news conference on Wednesday, the same day the Red Sox have their first full-squad workout.
"Best DH in the game," said Farrell. "A guy that sacrifices and puts in the work necessary to be an elite performer, don't anticipate that changing this year. He gets on another year here with the Red Sox and in his Major League career, but as we've said many times seeing the work he puts in leading into a season or during a season, the work he does video-wise, he does everything he's capable of to maintain the performance and he marches on."
Ian Browne is a reporter for MLB.com. Read his blog, Brownie Points, and follow him on Twitter @IanMBrowne. This story was not subject to the approval of Major League Baseball or its clubs.