Twins prospect Meyer focused on developing changeup
Righty knows third pitch crucial to big league success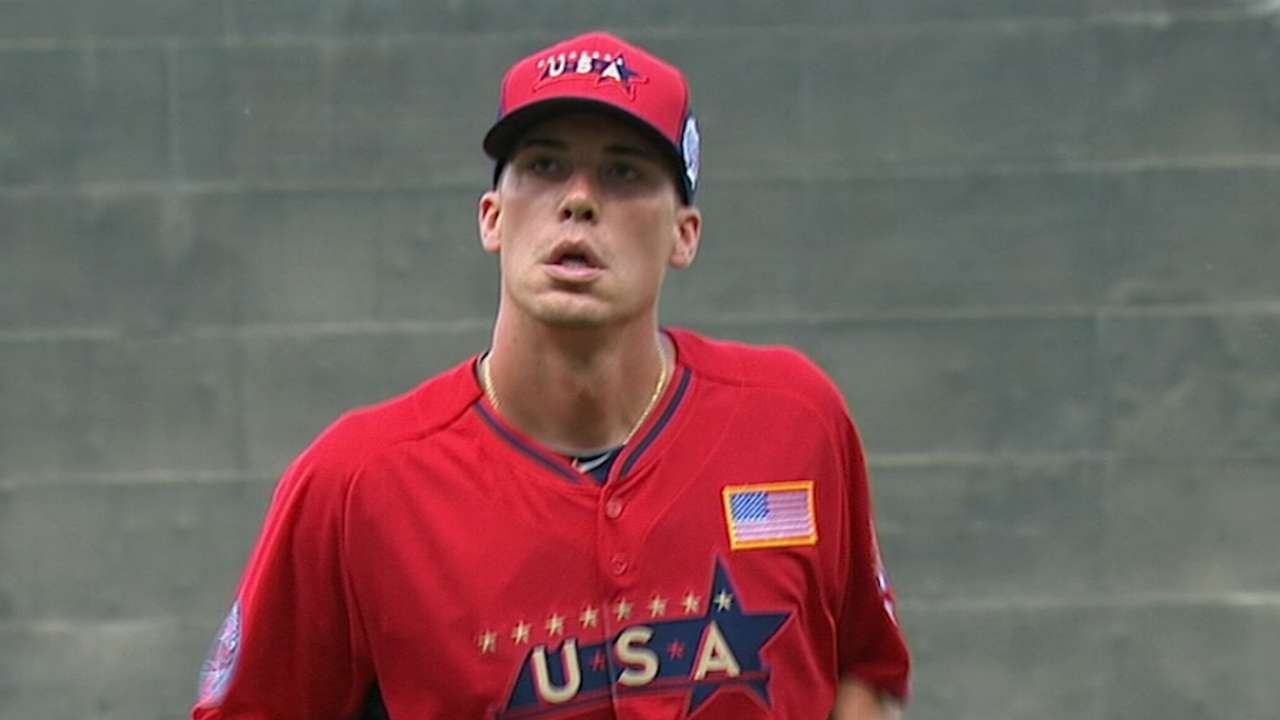 FORT MYERS, Fla. -- Twins prospect Alex Meyer's bread and butter has always been a fastball that can reach triple digits on the radar gun and his devastating curveball, but the 6-foot-9 right-hander has been experimenting with a changeup since last season.
Meyer, ranked as the No. 29 overall prospect by MLB.com, was reluctant to throw his changeup this time last year but has grown much more comfortable with it since learning a new grip last April from his Triple-A Rochester teammates Yohan Pino and Deolis Guerra. Meyer switched from a circle-change to a three-finger changeup to much success, as evidenced by his 3.52 ERA with 153 strikeouts in 130 1/3 innings at Rochester last year.
But Meyer isn't quite satisfied just yet and knows that one of the keys to becoming an effective starter at the Major League level will be adding that crucial third pitch, so it's something he'll continue to work on this spring.
"When I had games last year where I was able to use it, it was such a benefit," Meyer said. "It gets in the back of their mind and makes my fastball and my curveball so much better. So it's something I need to be consistent with. So even on days when I don't have my curveball, I can still have my changeup."
Meyer, 25, is competing for the fifth spot in the rotation this spring along with Tommy Milone, Mike Pelfrey and Trevor May. Meyer also could find himself in the bullpen if the Twins want to break him into the Majors that way, but it seems more likely he'll open the year as a starter given his success with that role last year with the addition of the changeup.
Meyer said he's excited to work with new pitching coach Neil Allen, and believes it could help him that everyone is on a clean slate with the new coaching staff.
"From my standpoint maybe so," Meyer said. "So it's a good thing. You obviously want to throw well and put your name in the back of their mind."
Rhett Bollinger is a reporter for MLB.com. Read his blog, Bollinger Beat, and follow him on Twitter @RhettBollinger. This story was not subject to the approval of Major League Baseball or its clubs.