Moose vows to bunt more to beat defensive shift
Royals third baseman looking to boost batting average in 2015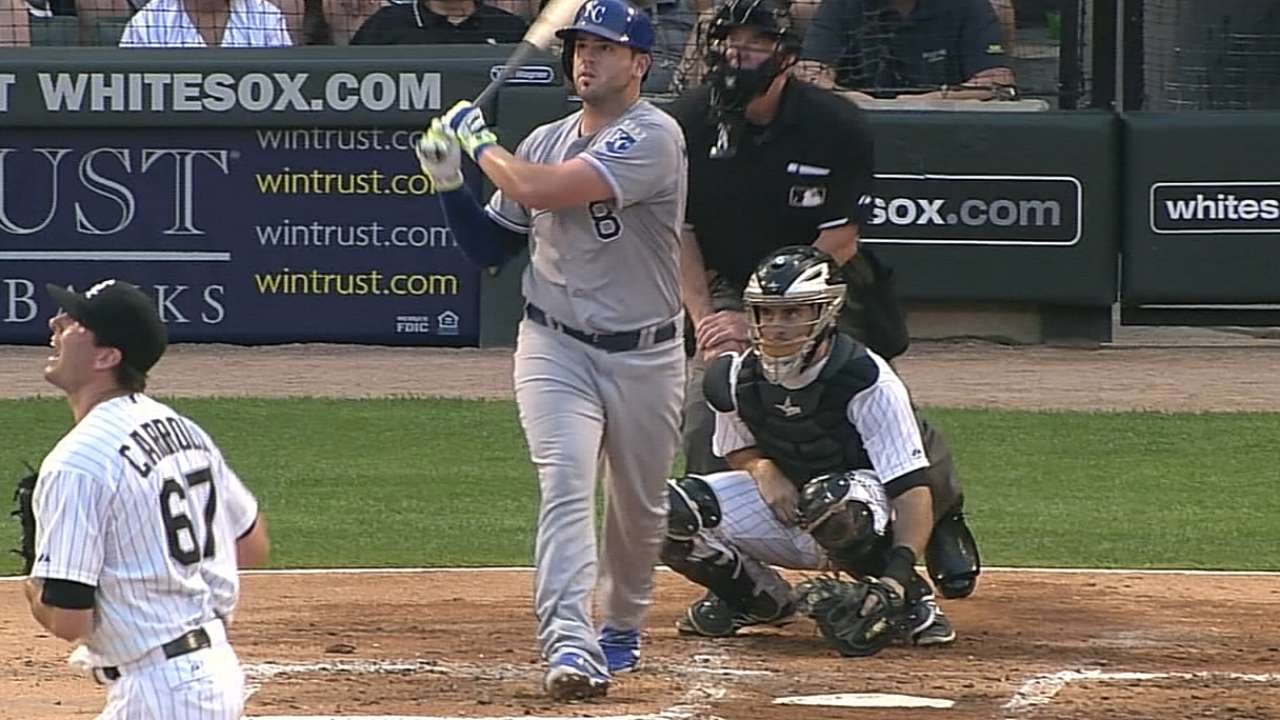 SURPRISE, Ariz. -- Royals third baseman Mike Moustakas remembers the feeling he got when he first came up to bat in last year's season opener at Detroit and saw the Tigers' infield suddenly launch into a shift.
"Oh, God," Moustakas said, shaking his head. "I was really confused. I mean, they didn't shift me all spring."
That confusion stayed with Moustakas for much of the season. After a torrid Spring Training in which he hit nearly .500, Moustakas struggled mightily, hitting .212/.271/.361 in 2014.
This spring, Moustakas vows he'll devote much of his time to designing a plan to beat that shift, and that includes bunting on occasion.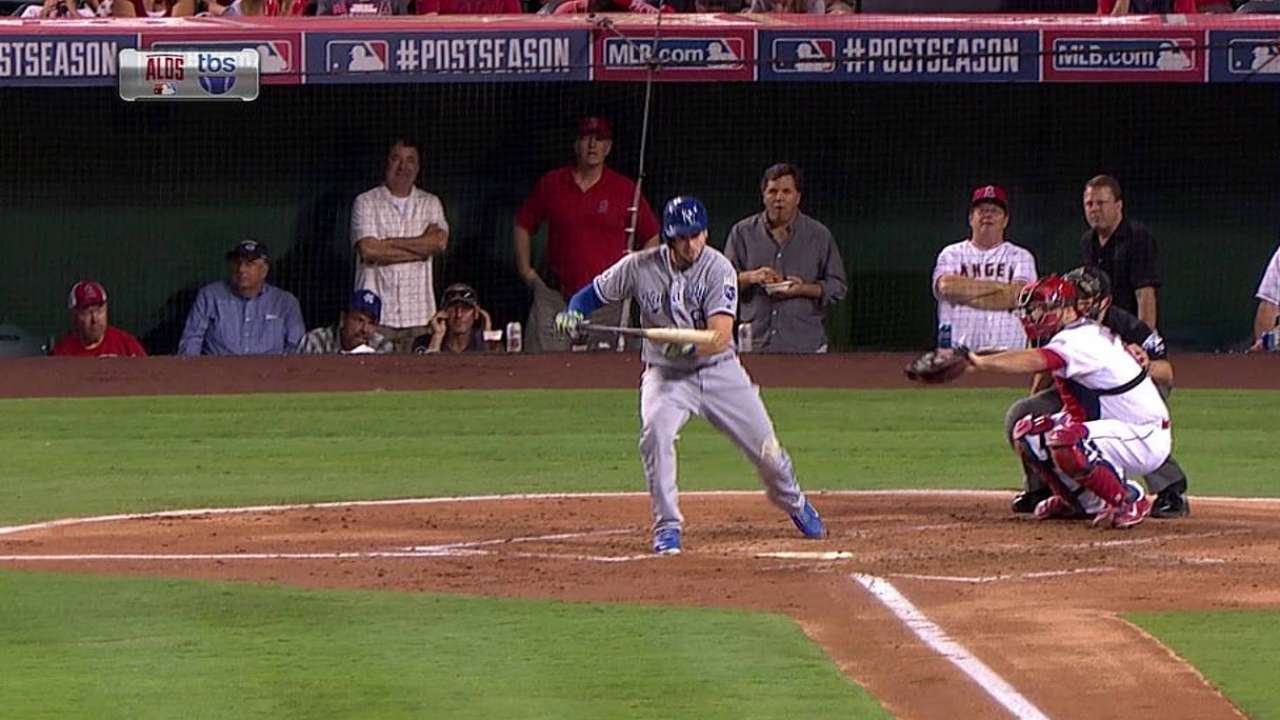 "I got to find a way to beat it," he said. "I have been a pull hitter most of my life. It's smart for other teams to play that way with me.
"So I just have to adapt and if that means laying down more bunts, going the other way, I'll do it."
Bunting, Moustakas admits, will be a challenge.
"It's something I never felt comfortable doing," he said. "I was always told just to swing the bat. Now, with the way the game has changed, you have to try other ways to get on base. I'm sure [first-base coach] Rusty [Kuntz] and I will be in the cage a lot working on bunting."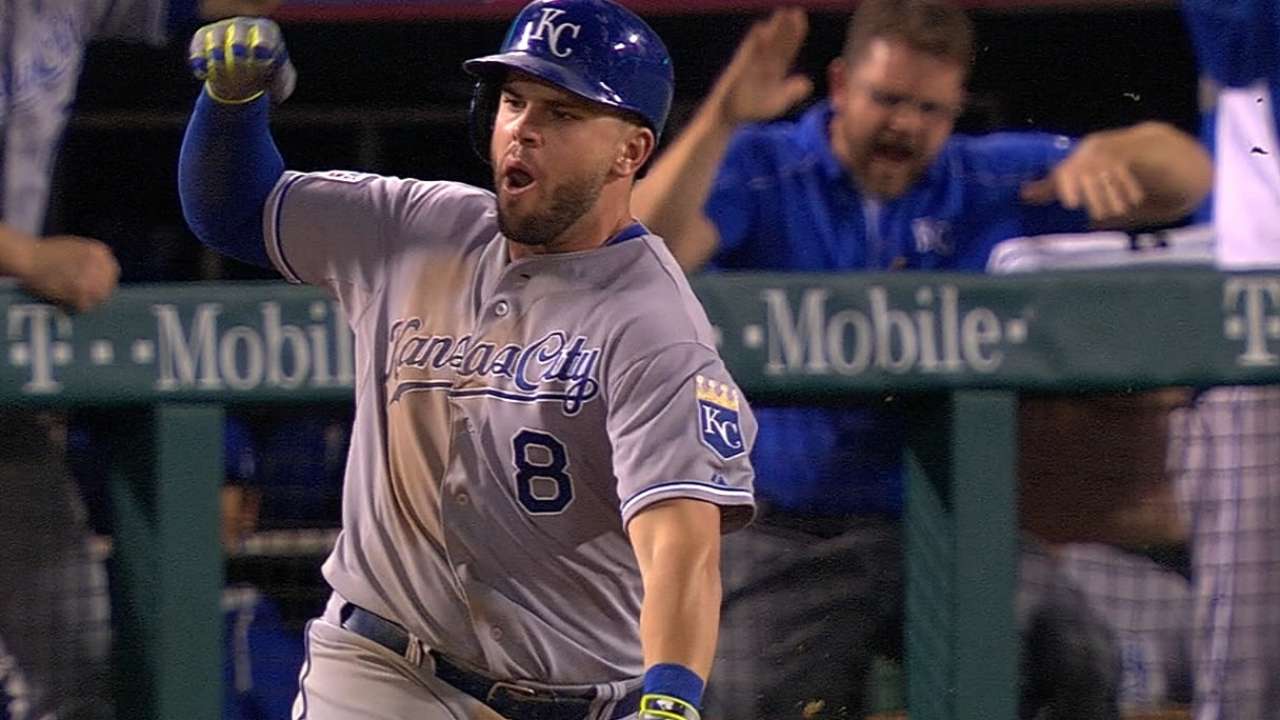 Moustakas did successfully bunt for a hit in the playoffs. And he also found another way to beat the shift in October -- he hit over it. Moustakas hit a franchise-record five homers in the postseason.
"That's the other way to do it," Moustakas said, laughing. "[Hitting coach] Dale [Sveum] told me that, too, that if you go over the shift, that works, too. Try to be yourself. If they make a play, they make a play. But don't totally change yourself.
"But I'll be working this spring on ways to beat [the shift], too."
Jeffrey Flanagan is a reporter for MLB.com. Follow him on Twitter at @jflanagankc. This story was not subject to the approval of Major League Baseball or its clubs.