Mets instituting limits after latest spring injury
Suffering minor intercostal strain, Duda one of several players to work way in advance of camp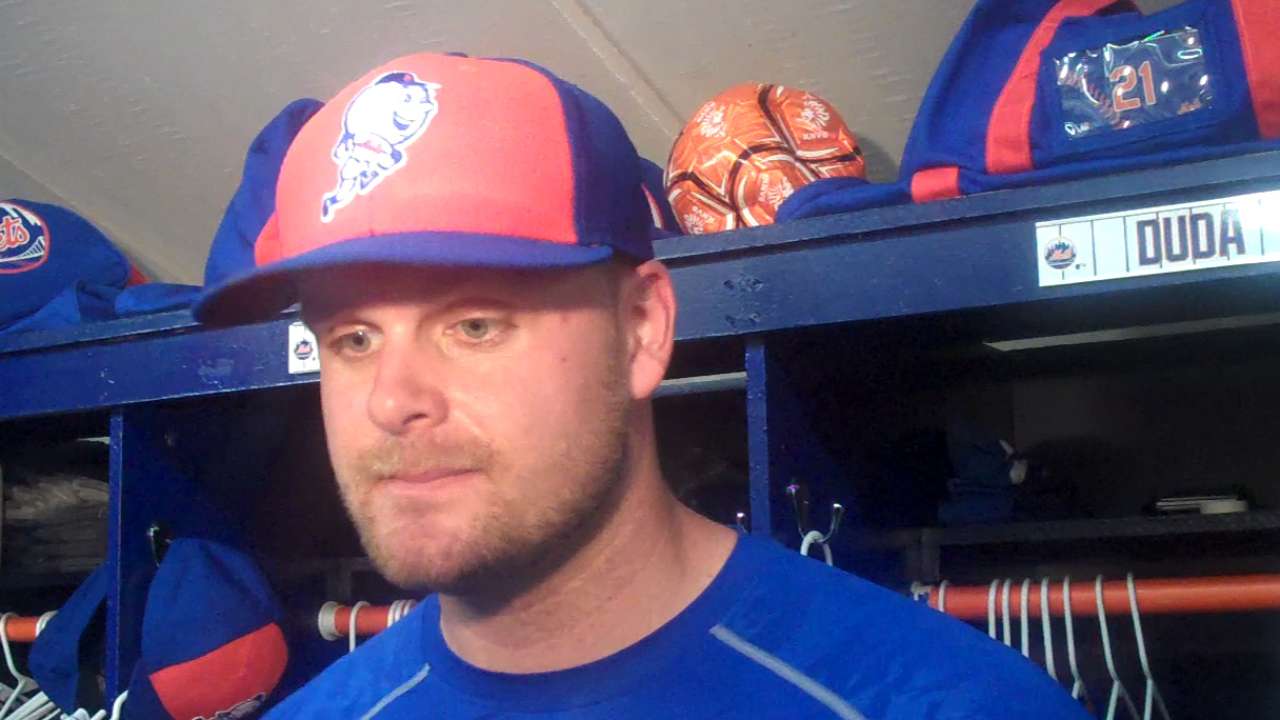 PORT ST. LUCIE, Fla. -- If the Mets were not already committed to scaling back their players' workloads this spring, a minor injury has them reassessing that issue.
First baseman Lucas Duda, one of several players to report nearly two months early to Spring Training, strained his left intercostal muscle while swinging in the batting cage earlier this month. Duda called the injury a "non-issue" and expects to be ready to participate in all activities by the end of this week. But he will not hit for the first few days of full-squad workouts.
"Obviously I want to get out there and work, and have the energy to be out there," Duda said. "But I've got to be smart and be ready for the start of the season."
Though mild, Duda's injury hints at a more significant issue. With the majority of New York's roster reporting to camp weeks -- and in some cases months -- in advance, players are taking hundreds more swings and making hundreds more throws than normal. Duda, a notorious cage rat, said he could not quantify the number of hacks he took per day this winter. That's in addition to the work he and others did daily at the new Barwis Methods training facility attached to Tradition Field.
As the trend grows more pronounced by the year, Mets players are reporting to camp theoretically in better shape, but perhaps more at risk of injury. The club endured a rash of spring injuries in recent years -- from the leg issues that prevented Duda and Ike Davis from competing with each other last March, to the midsection injuries that nearly forced both David Wright and Daniel Murphy to the disabled list to open 2013, to a myriad of other aches and pains.
The trend has manager Terry Collins concerned enough to institute, for the first time, strict limits on how much his players can work.
"We're tracking every single swing right now," Collins said. "Every single one of them. There's a certain time where we're saying, 'You're shutting it down for the day.' You've got to somehow make sure that there's rest and they're stretched out, and after a certain amount of time when they look fatigued, shut them down."
"I guess there's a fine line between overworking and trying to get better," Duda said. "But I don't foresee it being a big issue. I should be ready to go in a couple days or so."
On Wednesday, at least, Duda will not be alone. Though position players must report to Tradition Field for their physicals, the Mets are encouraging all of them to relax afterward in advance of Thursday's first official full-squad workout.
"I'm very, very aware of how long some of these guys have been down here," Collins said Tuesday. "So it's, 'Hey look, take a blow tomorrow. Because the [stuff] hits the fan Thursday."
Anthony DiComo is a reporter for MLB.com. Follow him on Twitter @AnthonyDicomo. This story was not subject to the approval of Major League Baseball or its clubs.