Wolf moved by experience playing ball in Korea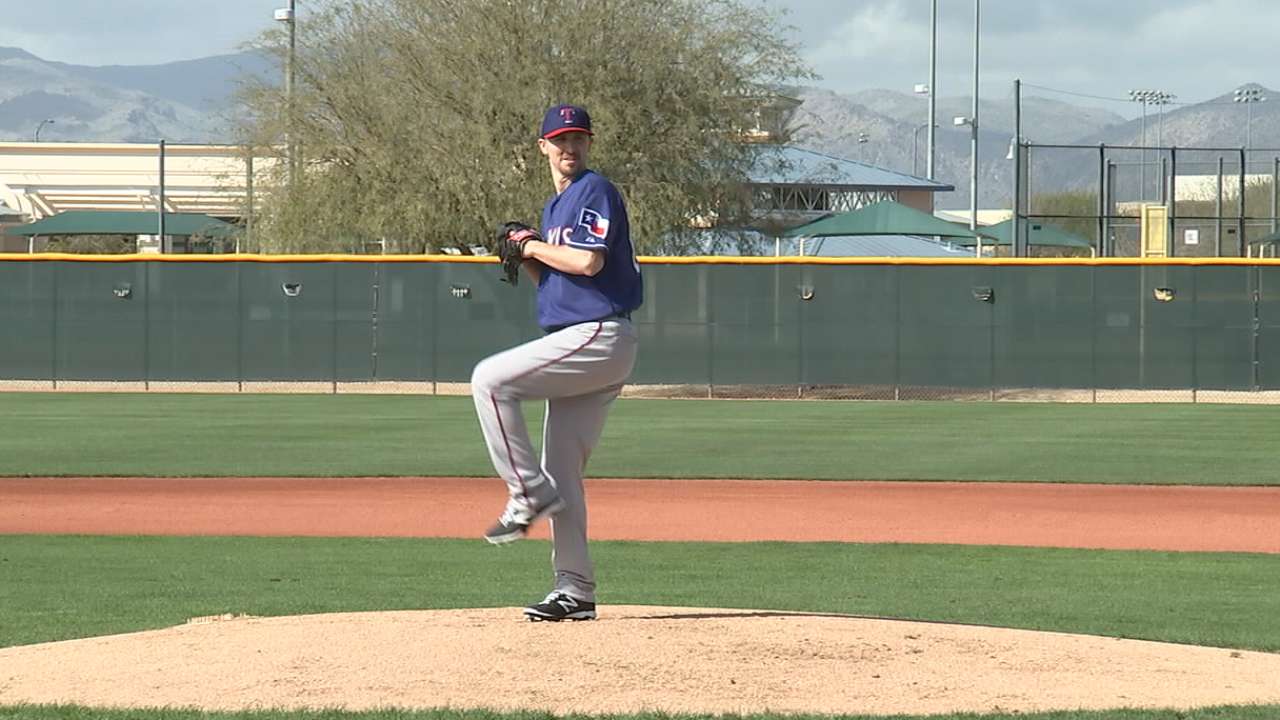 SURPRISE, Ariz. -- Ross Wolf wasn't pitching that day in South Korea when the invasion sirens went off. He was sitting back and watching his team, the SK Wyverns, play just another game in the Korean Baseball Organization.
"It was in the middle of a game, third or fourth inning," Wolf said. "It was probably two o'clock in the afternoon and the sirens go off. Suddenly, everybody runs off the field. It caught me by surprise, what was going on. We couldn't find our translator and 30 seconds later, we saw our jets taking off. Later, they told us, they still practice for war and a possible North Korean invasion.
"That was eye-opening."
With the world's attention focused on the Ukraine and the Middle East, there is a tendency to overlook the conflict that still exists on the Korean peninsula. The actual fighting stopped in 1953, but only because of a cease-fire. The Korean War is technically ongoing and Wolf, now back with the Rangers, got to experience the last bastion of the Cold War during his 2014 season with the SK Wyverns.
An actual civil defense drill to test readiness in case of invasion is just part of life on the peninsula, where the 38th parallel and the demilitarized zone (DMZ) separates North and South Korea 62 years later.
"That was something else," Wolf said. "Words can't express what it is like until you see it. It's really jaw-dropping. It's overwhelming. They have a line, a big yellow line, as soon as you cross it, you can't take pictures.
"It's the 38th parallel. It's the heaviest guarded border in the world. You actually see it, and it gives you goosebumps. You see tanks, our military is there. It's pretty heavily guarded on both sides."
Wolf was with the Rangers in 2013, pitching in 22 games. He opted out of his Minor League contract after the year to sign with SK Wyverns. It was a chance to make good money and pitch for a team located in Incheon, just outside of Seoul, that had been successful in the past.
From a baseball standpoint, it was not the best experience. SK Wyverns had a losing record, and Wolf and his American teammates clashed with the club's management.
"For me, the players were great, the fans were great, the stadium and the atmosphere and energy was great," Wolf said. "It came down to me and the other Americans being treated pretty badly. They moved me to the bullpen and they wanted to pitch me into the ground: five-out saves, six-out saves, even go into a game without warming up."
At various points, the American players were sent to the Minor Leagues as punishment for the team's poor performance.
"I feel sorry for their Minor Leaguers," Wolf said. "They are constantly practicing from eight o'clock in the morning until 11 o'clock at night. They take so much batting practice that one guy broke his hand. Their pitchers throw 150 pitches in the bullpen."
The Korean season runs into October, but Wolf finally had enough and returned home in mid-August. He re-signed with the Rangers and is in big league camp. Wolf has no interest of ever pitching again in Korea, but off the field, he enjoyed his time immensely.
Wolf, his wife, Lynn, and their families were able to tour the country and take in many of the cultural sites. But Wolf is a history buff, and most fascinating was being able to experience the military side in a country where 28,500 American soldiers are still stationed.
Wolf's military experience started on the Japanese island of Okinawa, the Spring Training home of the SK Wyverns and site of the last great battle of the Pacific during World War II. More than 240,000 people, including 14,009 American soldiers, died in the bloodiest battle of the war, lasting from April 1 to June 22, 1945.
The team's resort hotel overlooks one of the beaches where the Americans landed, and local legend suggests the area is haunted. Wolf said he spent many nights on the computer in his room reading and watching online documentaries about the conquest of Okinawa.
"Just to look out from your room and imagine hundreds of ships getting ready to unleash their power, it's breath-taking," Wolf said. "You read the stories on how rough the terrain was, and that's true. There are hills everywhere. It was a bloody battle. We lost a lot of great soldiers over there. You feel proud to be an American."
Wolf had that same appreciation in South Korea. In addition to the sight-seeing, he was able to visit some of the American military bases and meet with soldiers stationed there.
"I've always had a ton of respect for the military," Wolf said. "But when they invite you on the military base, you see their families and kids, the respect goes higher. They are helping the South Koreans out and been doing it for years. Then you start to get to know those guys personally, and them being away from home so long, that really touches home.
"I loved history in high school and I knew how bad the situation is with North Korea. But when they start doing joint military exercises, firing missiles and we practice getting into a bomb shelter, that opened up my eyes.
"The baseball side wasn't that good, but off the field, it was a great experience for me. It's something I can say I did."
T.R. Sullivan is a reporter for MLB.com. Read his blog, Postcards from Elysian Fields, and follow him on Twitter @Sullivan_Ranger. This story was not subject to the approval of Major League Baseball or its clubs.