Baldoquin's camp debut stalled by visa issues
Angels eager to see talented Cuban infielder during spring workouts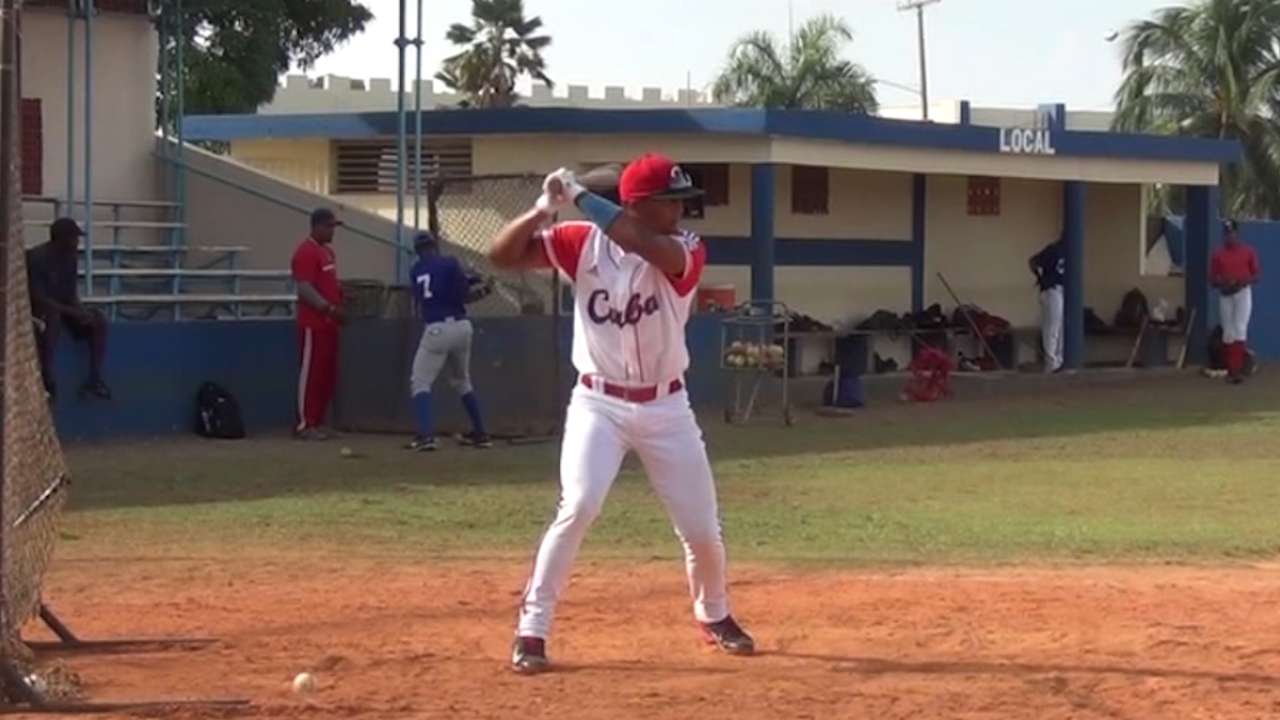 TEMPE, Ariz. -- The Angels are going to have to wait a little longer to get their first look at Cuban infielder Roberto Baldoquin.
Baldoquin isn't expected to join the rest of the position players for the first full workout on Wednesday due to visa issues that are keeping him in the Dominican Republic. The 20-year-old right-handed hitter will work out mostly in Minor League camp this spring, but he'll occasionally work with coaches on the Major League side, and he may even get in some games late in the Cactus League schedule.
The Angels gave Baldoquin an $8 million signing bonus early in the offseason, a commitment that totaled $15 million due to the dollar-for-dollar tax on exceeding your international spending pool. Baldoquin is expected to take over at shortstop once Erick Aybar hits the free-agent market at the end of the 2016 season, and he may even be able to play second base as soon as next season.
Baldoquin is expected to spend most of the 2015 season playing shortstop at Double-A Arkansas, but the Angels aren't sure if he'll be in the United States when Minor League camp opens on March 8.
Angels manager Mike Scioscia has yet to see Baldoquin play live -- though first-base coach Alfredo Griffin did see one of Baldoquin's workouts in the Dominican before the Angels signed him -- but the skipper has seen plenty of video.
"What we see on video, and in talking to the guys who are seeing him, we're excited to get him on the field at some point, just to see how his skill set translates," Scioscia said. "He's an exciting player."
Some additional notes from Tuesday ...
• Angels center fielder Mike Trout did a long commercial shoot with Nike on Monday and did another with Dodgers ace Clayton Kershaw at Tempe Diablo Stadium for Subway on Tuesday. No visa issues for the Angels' superstar center fielder? "With [New] Jersey, you never know," Scioscia, a Philly native, quipped.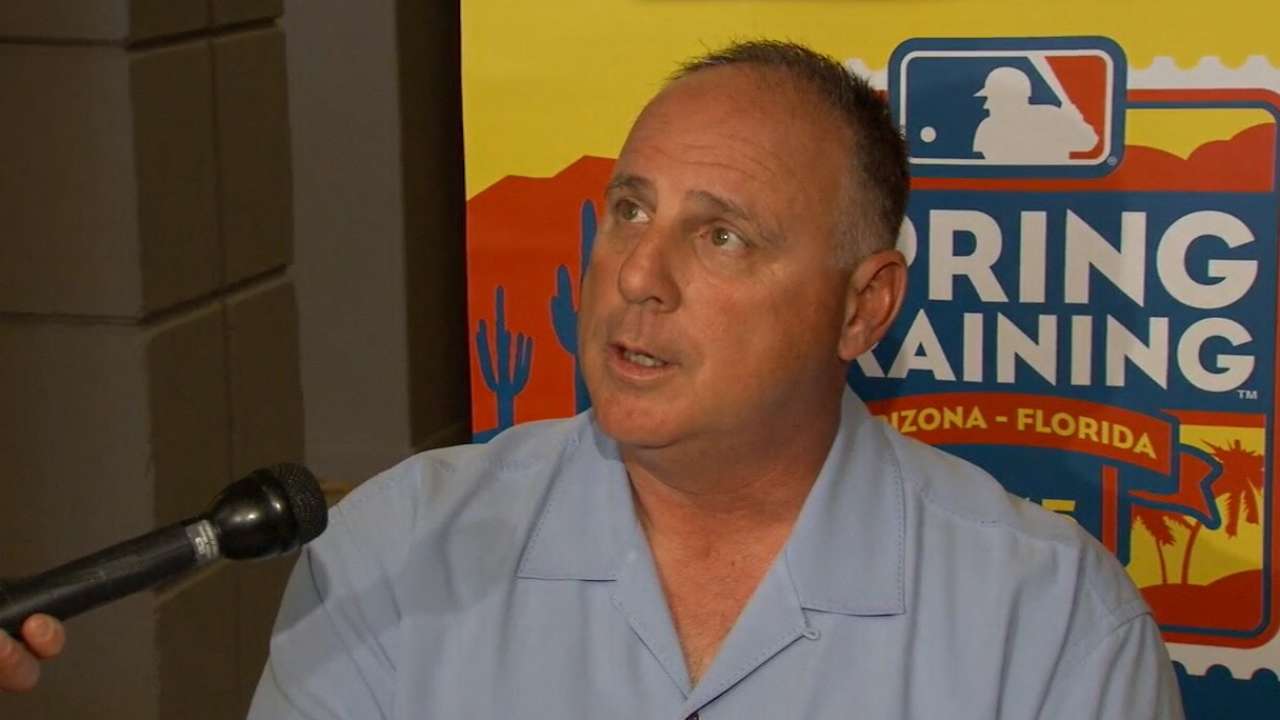 • Lefty reliever Atahualpa Severino does have visa issues that are keeping him in the Dominican Republic, even though pitchers and catchers reported five days ago. Severino, 30, is a non-roster invitee who posted a 3.22 ERA in 40 appearances in the Braves' Triple-A affiliate last year.
• Another non-roster invitee, Scott Snodgress, signed a Minor League contract with the Angels over the offseason to play for the team he grew up rooting for. The 25-year-old left-hander transitioned from the rotation to the bullpen late last year and will be used as a reliever. That will likely prompt him to eliminate the changeup from his four-pitch mix.
• Ryan Mattheus, a right-handed reliever who also signed a Minor League contract over the offseason, dealt with a rib-cage injury in Spring Training last year, then sustained another core injury in the middle of the summer and spent most of the year in Triple-A, posting a 5.80 ERA in 40 1/3 innings. The 31-year-old is completely healthy now, though. "I think I'm right where I need to be. I just need to get the innings in and show I can get outs at this level. I'm very excited about the fresh start."
Alden Gonzalez is a reporter for MLB.com. Read his blog, Gonzo and "The Show", and follow him on Twitter @Alden_Gonzalez. This story was not subject to the approval of Major League Baseball or its clubs.