Santana continues evolution into four-pitch pitcher
Veteran throws first bullpen session, working on changeup and two-seamer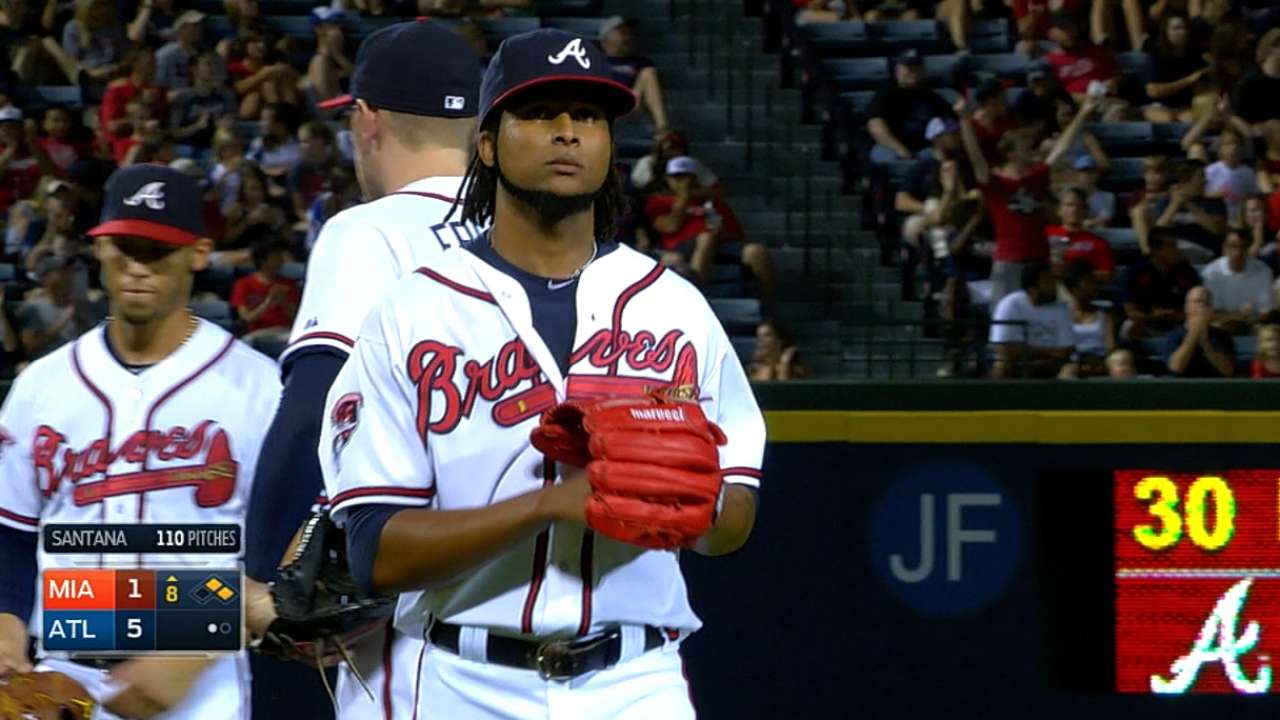 FORT MYERS, Fla. -- Ervin Santana knows the perception of him is that he's a pitcher who relies heavily on his four-seam fastball and slider, but in reality the right-hander has added a changeup over the years and has worked to mix in a two-seamer.
Santana, who joined the Twins on a four-year deal worth $55 million this offseason, said he's fine with the characterization that he only throws fastballs and sliders, as he believes it's helped him surprise hitters in recent years.
The right-hander threw his four-seamer a career-low 50.7 percent of the time last year while with the Braves, while throwing his changeup a career-high 13.5 percent of the time, according to Pitch/FX data on Fangraphs.com. He also saw his use of sliders slightly decrease from his career average of 35 percent to 33.8 percent, while mixing in his two-seamer 1.8 percent of the time.
"Before I used to just throw those two all the time," Santana said of his fastball-slider combo. "But now I have more confidence and more command of my changeup and my two-seam. I started doing that in Anaheim, but everyone just says I'm fastball-slider. So I'm like, 'All right. It's just fastball-slider. This is good.'"
Santana's four-pitch mix helped him last year in Atlanta, as he posted a 3.95 ERA with 179 strikeouts in 196 innings. He's evolved over the years, but has been durable above all else, as he's made at least 30 starts in six of the last seven years to go with a 3.94 ERA.
Santana, 32, said he doesn't feel any extra pressure this year despite being on a new club with a sizeable contract and that he already feels comfortable. He also threw his first official bullpen session on Tuesday without any issues.
"I feel great," Santana said. "Everything was coming pretty good. I was able to keep the ball down for the most part. I threw a couple sliders and a couple of changeups that were very good. So I was happy."
Rhett Bollinger is a reporter for MLB.com. Read his blog, Bollinger Beat, and follow him on Twitter @RhettBollinger. This story was not subject to the approval of Major League Baseball or its clubs.