Ichiro wants name included in young Marlins outfield
Veteran talks age, road to 3,000 hits, playing behind trio of Yelich, Ozuna, Stanton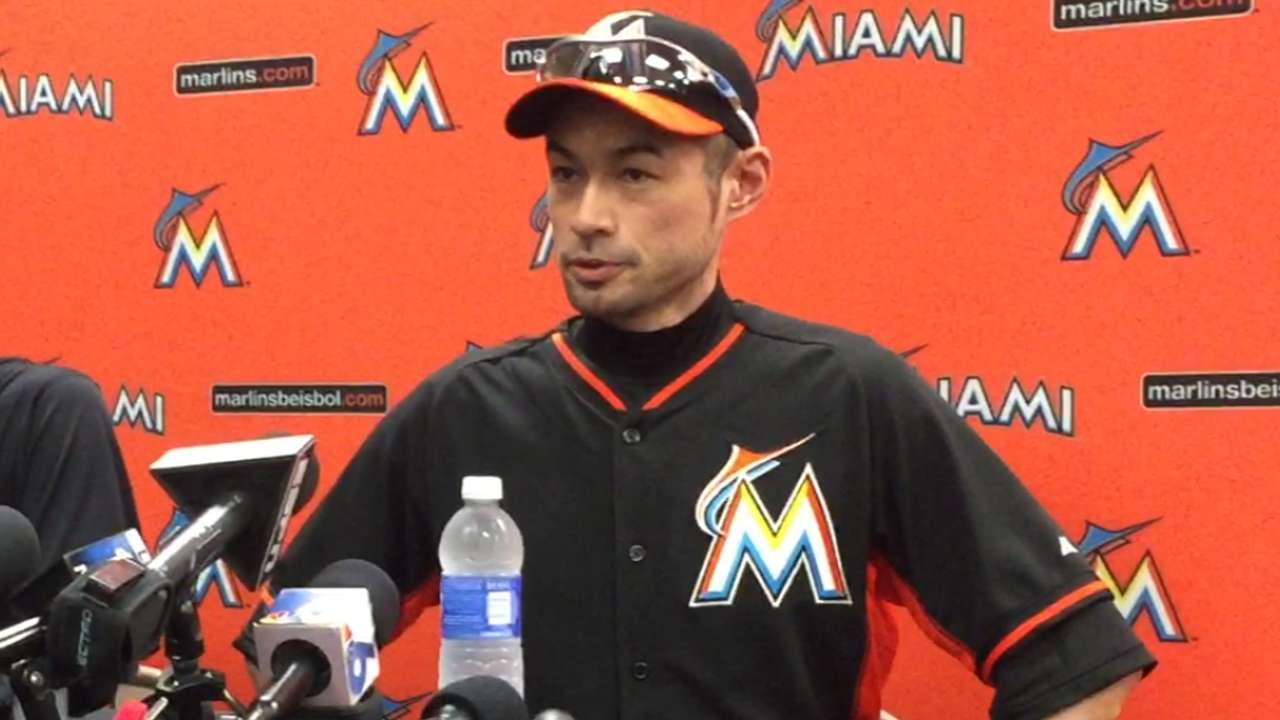 JUPITER, Fla. -- Age is just a number to Ichiro Suzuki. The fact the he is 41 years old doesn't mean he is thinking about slowing down any time soon.
The Marlins sport one of the best young outfields in baseball, and Ichiro wants his name included with the crowd.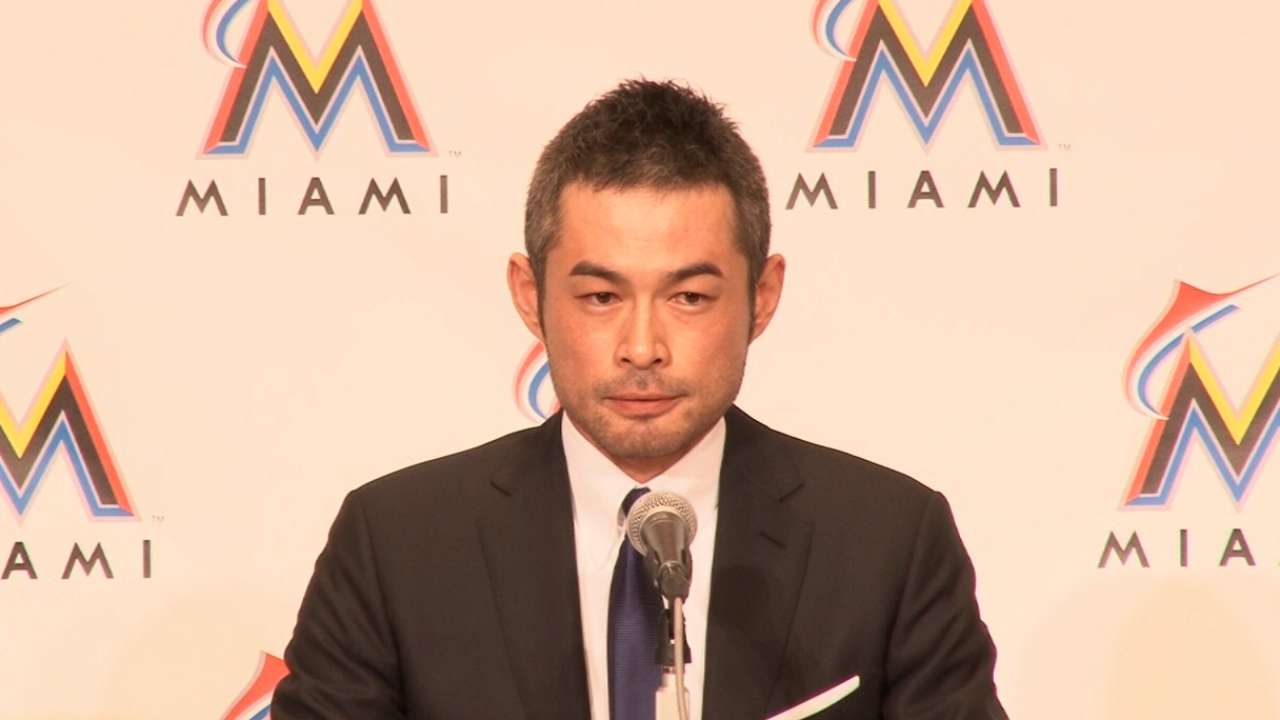 "Everybody is treating me like I'm really old," Ichiro said through his translator on Tuesday. "But please put me in that group of young guys. I feel young and want to be included in that group.
"I'm 41. I obviously don't know what my role is right now. I'll go through camp and find that out. Hopefully it won't look like I'm using a bat as a cane."
The Marlins got their first look at Ichiro on Tuesday -- the beginning of full-squad workouts at Roger Dean Stadium.
Miami's outfield trio of Christian Yelich, Marcell Ozuna and Giancarlo Stanton are 23, 24 and 25, respectively. Ichiro, who signed a one-year, $2 million contract, entered this spring as Miami's fourth outfielder.
"I'll understand and accept that role. But if you look at last year, [compiling 359 at-bats for the Yankees], I was the fifth outfielder, so we'll see how it goes," Ichiro said."
Ichiro brings Hall of Fame-worthy credentials to the Marlins. In 14 MLB seasons, he's collected 2,844 hits, leaving him 156 shy of 3,000. When you tack on the 1,278 hits he had in parts of nine professional seasons in Japan, his overall hits total is 4,122 hits. Pete Rose's MLB record is 4,256.
"The number 3,000, that is a pretty big goal and that is a goal of mine," Ichiro said. "But that is not the reason I play the game of baseball. Obviously, I have other goals and motivations that have kept me here wanting to play. I don't think you can play the game if that's your only goal, and I have other goals I want to accomplish."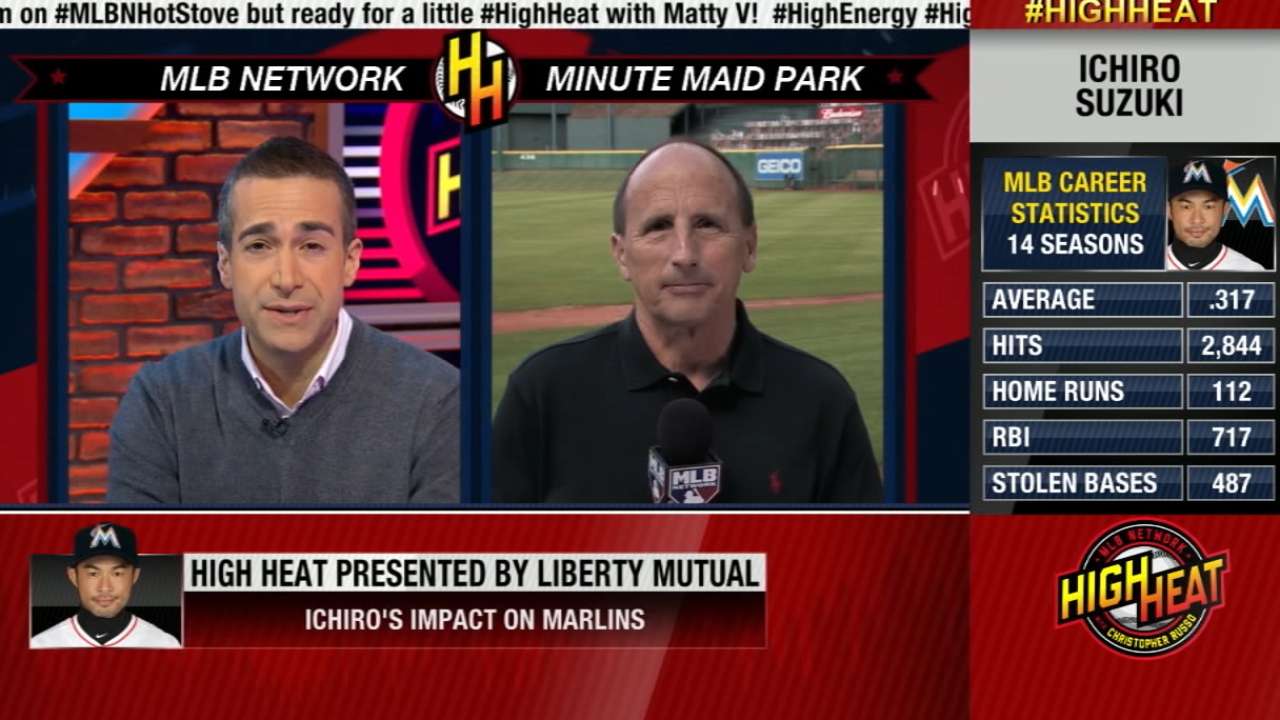 In Japan, Ichiro made his professional debut in 1992 at the age of 18. Two years later, he was a superstar, batting .385 with 210 hits in 130 games at the age of 20.
Ichiro batted .350 as an MLB rookie with the Mariners in 2001, and he took home American League MVP and Rookie of the Year honors.
From 2001-10, he had 10 consecutive seasons with at least 200 hits. He set the MLB season record of 262 in 2004.
The Marlins reached out in many ways for Ichiro, agreeing to accommodate his personal Pilates machines.
"They are accommodating for me in the fact that here at Spring Training, they'll have a facility for me to have my machines here, and in Miami also," he said. "They are accommodating the things that are very important to me as a player. There was nothing that came my way I didn't like or would say no to. That's a big reason I'm here."
Joe Frisaro is a reporter for MLB.com. He writes a blog, called The Fish Pond. Follow him on Twitter @JoeFrisaro. This story was not subject to the approval of Major League Baseball or its clubs.