Showalter looking forward to team-bonding event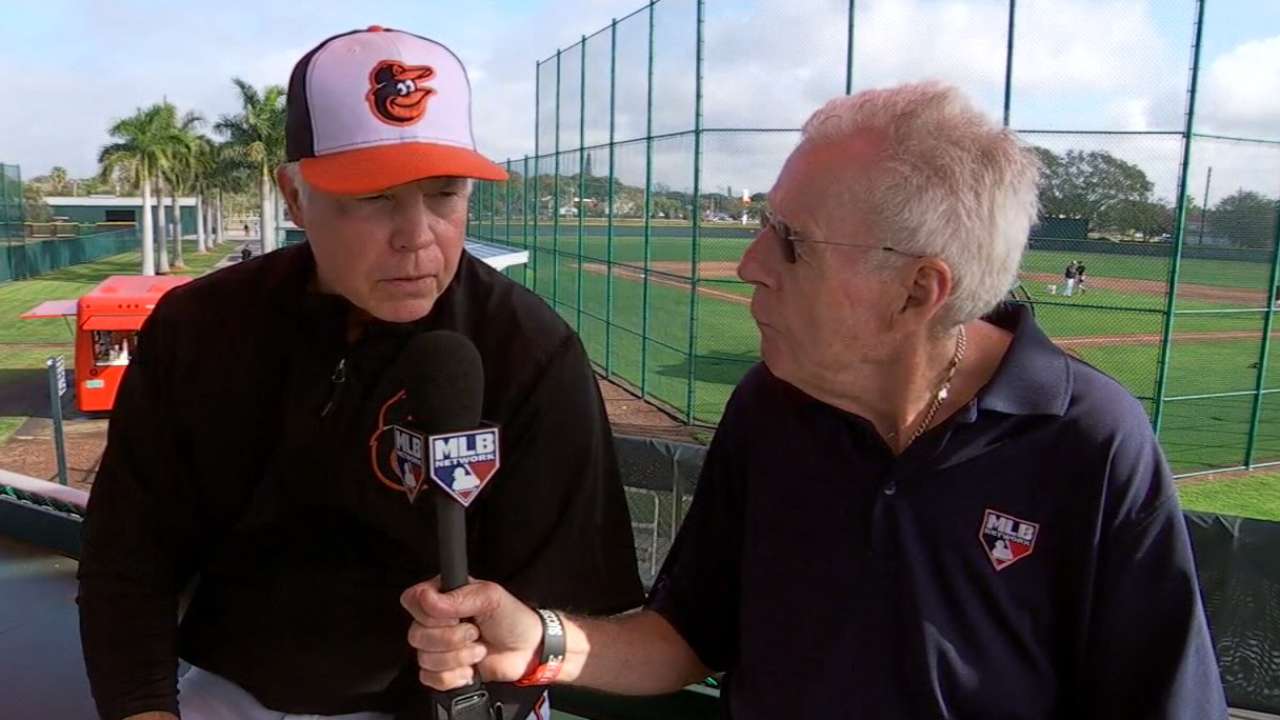 SARASOTA, Fla. -- In advance of the Orioles' first full squad workout on Wednesday, the team will have their annual movie night on Tuesday, a tradition under manager Buck Showalter.
"It's interesting to go back and look through the message you are trying to get across each year," Showalter said of the team-created short film. "You can't get too predictable. Got to throw a little hitch in the giddy-up."
One of the primary reasons for the night out, besides some team bonding, is to eliminate a lot of the morning meetings that typically take place at the start of Spring Training. Showalter said he tries to put himself in the players' shoes and he remembers how hard it was to sit through lectures and meetings on Day 1 of camp, because all anyone wants to do is finally get back on the field.
"[Tuesday night's activity is] a way to eliminate all of that in a better setting, better seating, air conditioning -- and a chance for me to hopefully have my last meeting of the year," Showalter said. "We were very close to it last year. I don't gather them too much. We do a lot of things individually in small groups. Also, you are not surprised by anything [for the first workout]. You eliminate a lot of the surprises."
Worth noting
• The deal for Everth Cabrera is not official yet, though it is expected to be on Wednesday. Cabrera spent Tuesday traveling to Sarasota, and while Showalter never used his name, he still talked about the move to acquire the infielder.
"The risk factor is very much on our side," Showalter said, referring to Cabrera's past off-the-field issues. "We wouldn't do it if it wasn't."
Also important to Baltimore in the one-year deal is that Cabrera has a Minor League option, meaning he can be sent to Triple-A without being exposed to waivers.
• Showalter caught his first look at Dariel Alvarez and Travis Snider taking some swings during informal batting practice on Tuesday. Alvarez is the organization's top position player prospect, while Snider was acquired in a trade from Pittsburgh. There's always evaluating to be done, even this early.
Asked if he still gets excited for the first actual spring workout, Showalter said it's actually gotten worse over the years.
"I don't have anxiety about it," he said. "I just have anticipation."
• Mark Hendrickson, the oldest pitcher in camp at 40, is back with the Orioles in big league camp after a year in independent ball and presenting himself as a left-handed relief option with a sidearm delivery.
"He's done everything that you can do to get one more shot. And at the end of it, if it doesn't work out, if he's willing, we are going to get a heck of a pitching coach," said Showalter. "He's really good around our guys. He's really made a contribution here. He's fun to watch. He's not going into it like this is my last swan song and getting nostalgic about it. He's trying to make the club."
Brittany Ghiroli is a reporter for MLB.com. This story was not subject to the approval of Major League Baseball or its clubs.