Stanton to use spring to get acclimated to face guard
Slugger taking precaution, but says no lingering effects from being hit in face in September
JUPITER, Fla. -- When it is time to face live pitching, it will be business as usual for Giancarlo Stanton. The Marlins slugger insists he will step into the box with full confidence, like any of his previous at-bats.
But just in case, Stanton will wear a special face guard as a precaution.
Stanton sustained multiple fractures and dental damage after being hit in the face by a pitch last Sept. 11 in Milwaukee, and plastic surgery has covered the scars. The way the two-time All-Star was talking on Tuesday, the first day of full-squad workouts, he isn't suffering from any lingering mental scars, either.
"I look forward to hitting off live pitching," Stanton said. "I don't look forward to it anymore than in years past. What happened to me isn't one of my focuses to get past. I'm just looking at this as a normal Spring Training. As long as I keep that, I'll be fine."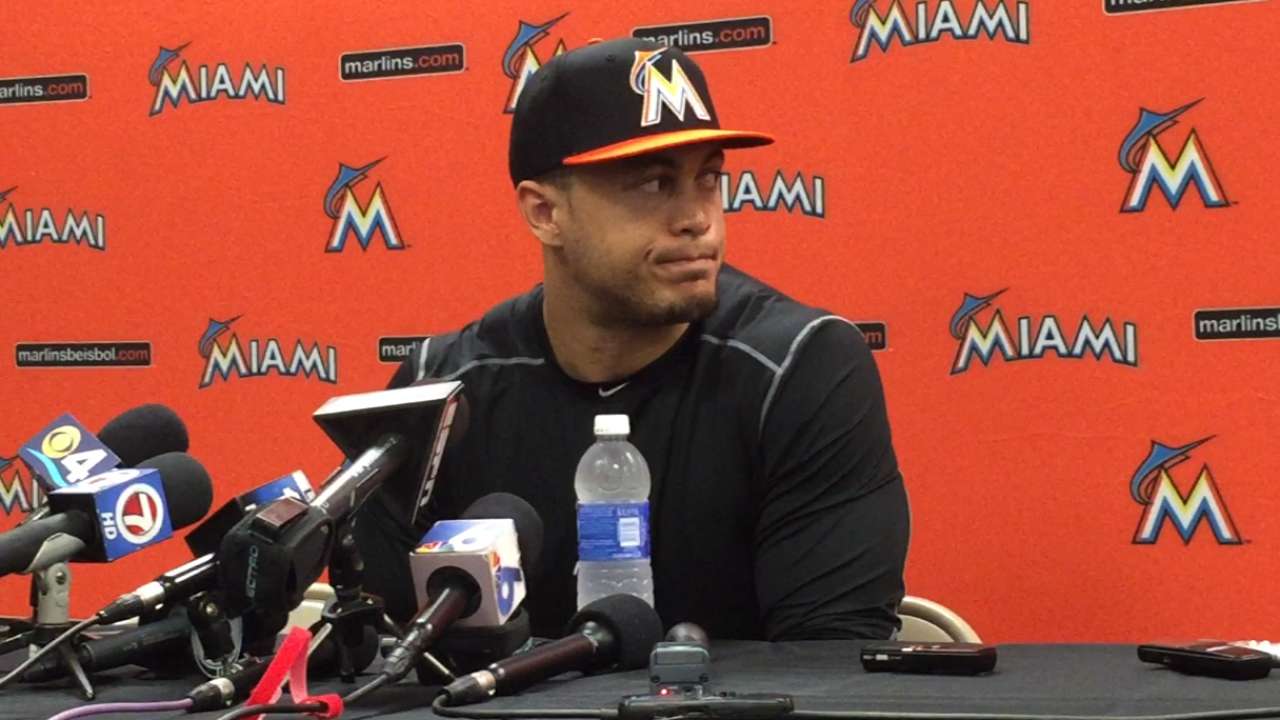 The first day of live batting practice is Thursday, when Miami's pitchers will throw to hitters. Stanton will feature his special helmet.
"I'm going to have a little face guard there," he said. "So, I've got to get the vision and all that correct, which will help through spring."
Stanton, who paced the National League in home runs last year with 37, did say he expects pitchers to challenge him.
"I anticipate that," he said. "They've tested me in already. This will be a different aspect. I'm already prepared for that."
Joe Frisaro is a reporter for MLB.com. He writes a blog, called The Fish Pond. Follow him on Twitter @JoeFrisaro. This story was not subject to the approval of Major League Baseball or its clubs.