Bradley banking on knuckle curve to land job with D-backs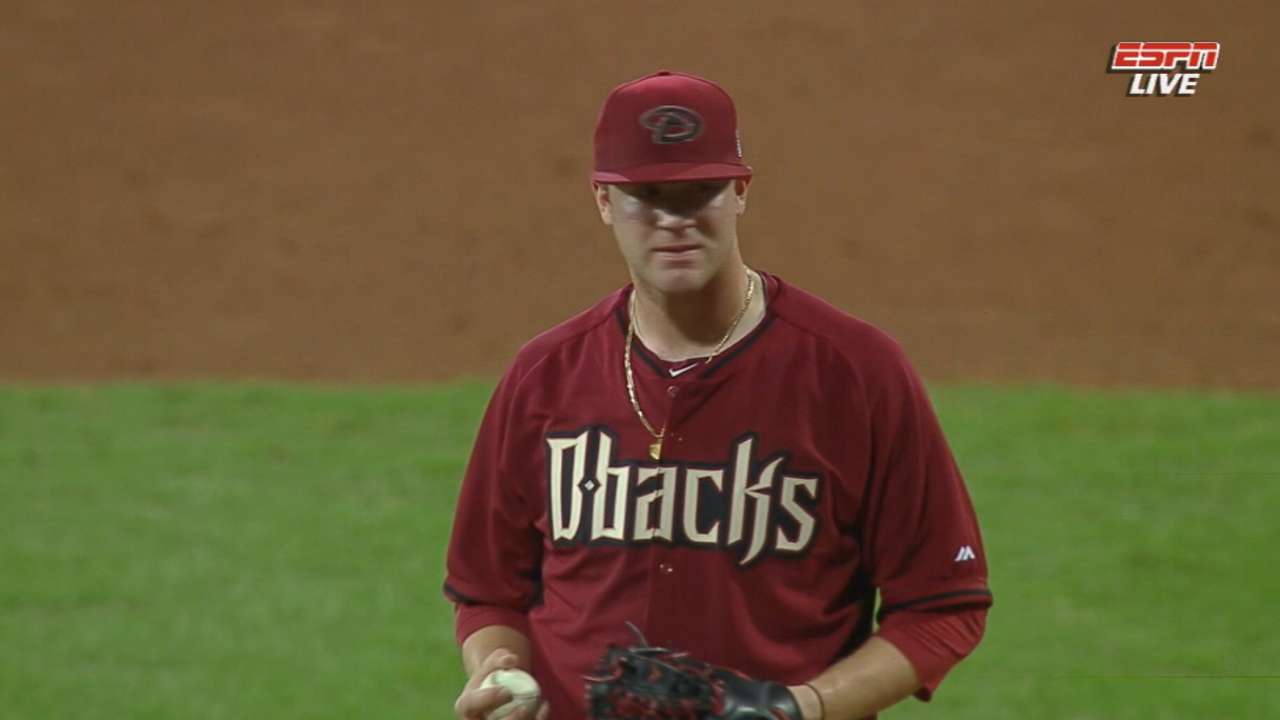 SCOTTSDALE, Ariz. -- In Spring Training last season, Arizona Diamondbacks pitching prospect Archie Bradley started a split-squad game against the Los Angeles Angels of Anaheim. In that outing, he gave up two hits in 3 1/3 innings and didn't allow a run while striking out three.
While Bradley earned the win, he remembered one strikeout with a special pitch.
Superstar slugger Albert Pujols stepped into the box for his first at-bat against Bradley, who got ahead in the count 1-2 and then struck Pujols out looking.
The pitch that sent the Angels' future Hall of Famer walking back toward the dugout was a knuckle curveball, a rare pitch for any hurler to throw at any level, let alone in the big leagues. Bradley is hoping that pitch can help carry him to the Majors in 2015.
"For a knuckle curve, you're not throwing it like a normal curveball where you're snapping your arm," Bradley said. "I was able to throw it at a young age, and it's just something that has been successful for me in pro ball."
Bradley learned to throw the pitch when he was 9 years old, growing up playing in Oklahoma under coach Michael Houser, the father of Houston Astros prospect Adrian Houser. The elder Houser didn't want his players straining their arms throwing a normal curveball, so he taught the pitch to relieve stress.
Now 22, Bradley can successfully throw the pitch for strikes, and it has made him the No. 1 pitching prospect in the D-backs organization.
"It's a pretty unique pitch," Bradley said. "When I'm throwing it well, it has some pretty hard 12-to-six break. Sometimes I'll get on the side with it and make it go a little sideways, but for the most part, I just try to keep it the same and just keep going."
Bradley was taken with the seventh overall pick in the 2011 First-Year Player Draft. Since then, he's been up and down in the Minors. Last season, Bradley struggled in Double-A and Triple-A, posting a 4.45 ERA in 83 innings. According to D-backs manager Chip Hale, who has been impressed with his performance in the first few days of Spring Training, Bradley has put that behind him.
"The workouts and everything that he has done so far have been fantastic," Hale said. "He's been very professional about his work and his bullpens are getting better and better. "
Bradley's bullpen sessions with a knuckle curveball can be tricky. The pitch is one of the hardest to throw. It isn't easy to command, because there isn't a lot of surface tension between the fingers and the baseball.
The grip involves placing the middle finger to the left of the long seam and then spiking up the index finger similar to a normal knuckleball. The idea is to get the pitch on a downward trajectory with topspin.
It's high-risk, high-reward.
"When it doesn't move, it just stays out over the middle of the plate," Bradley said. "You don't really get out front with it and can leave it up. If you leave it up like that, it's pretty easy to hit. So you've got to make sure you really stay behind it."
The difficulty of the pitch makes the fraternity of pitchers who throw a knuckle curve in the Major Leagues extremely small. Only a select few -- Roy Halladay, A.J. Burnett and Mike Mussina -- have thrown it successfully at a high level.
"I've watched some film of them," Bradley said. "I've seen the way they throw it, seen the way they use it and be successful with it, so I feel like I can, too."
Nick Krueger is a junior journalism student at Arizona State University. This story is part of a Cactus League partnership between MLB.com and ASU's Walter Cronkite School of Journalism and Mass Communication. This story was not subject to the approval of Major League Baseball or its clubs.