Jepsen eyes 'friendly competition' for closer's role
Right-hander spending early days of camp getting to know new teammates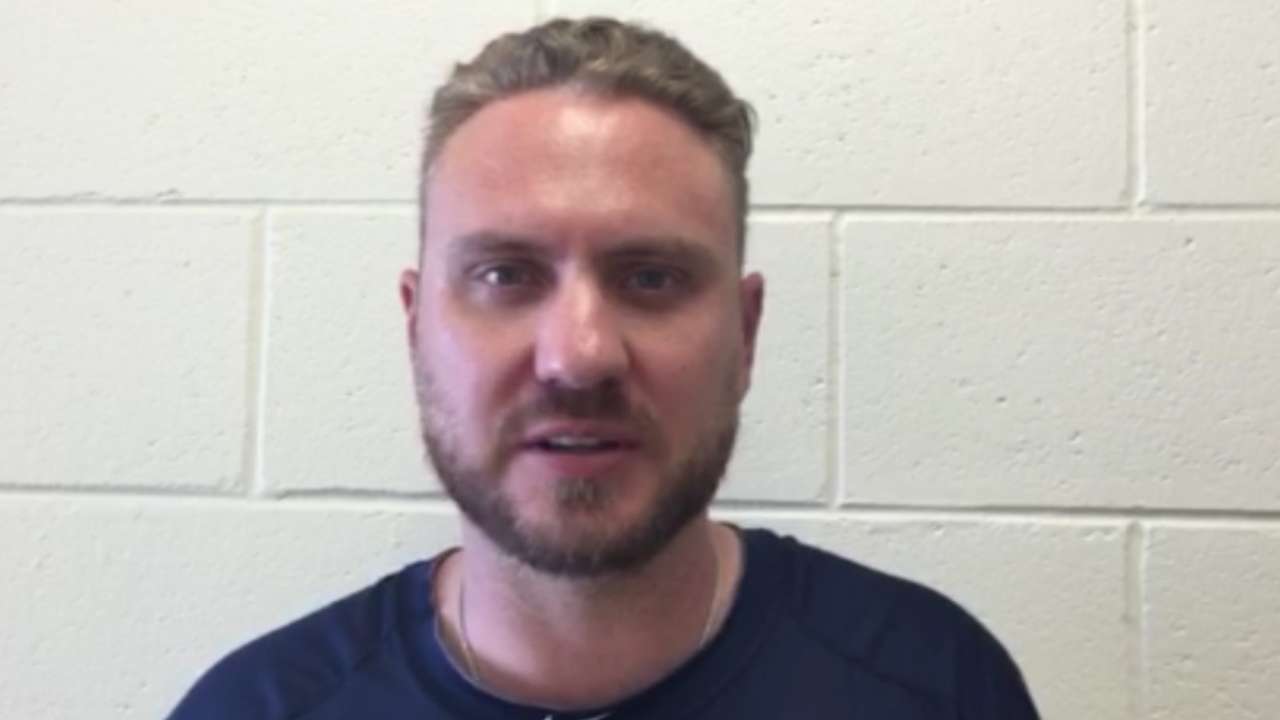 PORT CHARLOTTE, Fla. -- Kevin Jepsen for Matt Joyce looks like one of those deals that could benefit both teams.
Jepsen came to the Rays on Dec. 16 in the trade that sent Joyce to the Angels. Joyce will fill the Halos' left-field void since Josh Hamilton underwent right shoulder surgery on Feb. 4 and will miss a significant portion of the season. Meanwhile, Jepsen can help fill the void created by Jake McGee's left elbow surgery.
McGee will be away from the team at least until May, so filling the gap until he returns is a priority for the Rays.
Grant Balfour, last year's closer, could regain his slot. If he doesn't, there are a host of other candidates to plug the hole, including Jepsen.
"I think it's a friendly competition," Jepsen said. "I think it's always a good thing when you have competition amongst players going into the season. [It] keeps everybody hungry. A lot of times during Spring Training, you're just getting your work in. But anytime there's a chance to move up or be in a different role than you're used to, it brings out some good competition and only makes you better."
Jepsen has been around long enough to understand what life in the bullpen is all about. Even though Jepsen will compete to become the Rays' closer, he knows that building a bullpen family is part of the equation. Being the new guy, he's trying to establish relationships with his new teammates.
"I've been with the Angels, I feel like forever," Jepsen said. "So I've tried to talk to guys and learn names first. A lot of them you know from playing against them. Watching them come in and throw and stuff like that.
"I think that's what Spring Training is for. We always complain that Spring Training is kind of long, this and that. But now, me being the outsider coming into a new team, I think it's going to be good to have that time to get to know everybody."
Jepsen, 30, put together his best Major League season in 2014 when he went 0-2 with a 2.63 ERA in 74 appearances, striking out 75 in 65 innings. Rays manager Kevin Cash wasn't bashful when telling reporters he loved having the right-hander in his bullpen.
"Jep is a guy that from the opposing dugout, you always sat there and watched his stuff," Cash said. "I mean electric stuff. And up until last year, he's had hiccups. I don't know whether they're injuries or bad months, slumps, funks, whatever, but he hasn't put it together. He put it together last year. I'm really excited about him."
Bill Chastain is a reporter for MLB.com. This story was not subject to the approval of Major League Baseball or its clubs.