Re-signing Joba leaves Tigers deep with relievers
Detroit's bullpen competition essentially down to second lefty spot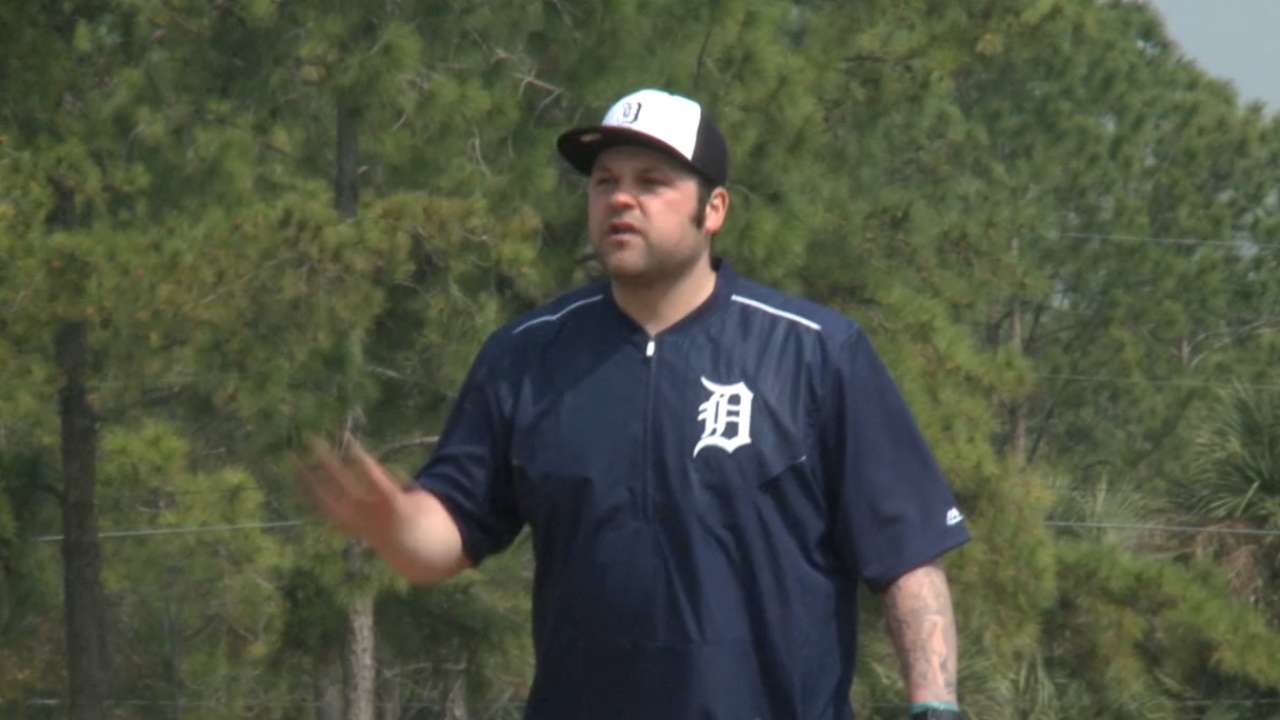 LAKELAND, Fla. -- This was Brad Ausmus on Monday, talking about his relief corps:
"I feel appreciably better about the bullpen than I did a year ago in terms of depth," he said.
Ausmus was referring to young arms such as Alex Wilson, Buck Farmer, Josh Zeid, Kyle Ryan and Angel Nesbitt. But he also knew at the time that he was close to getting Joba Chamberlain back.
"I liked our depth before we brought Joba back on board," Ausmus said Tuesday morning.
With Chamberlain back, those young arms to which Ausmus was referring to now have a much tougher challenge on their hands to crack Detroit's roster. And a Tigers bullpen that leaned on two or three relievers during lean times last year now looks largely set.
Joe Nathan, Joakim Soria, Al Alburquerque and Tom Gorzelanny already had spots, as does Bruce Rondon if healthy. That left two spots up for competition, one of them ticketed for a second left-hander to pitch alongside Gorzelanny.
Essentially, Wilson, Farmer, Zeid, Luke Putkonen and other young right-handers in camp were competing for one spot, likely with potential to cover multiple innings. With Chamberlain now back, that spot is his, leaving a second lefty as the lone competition remaining.
"Well, it certainly makes it a little more difficult to crack the Opening Day roster," Ausmus said. "But as we learned last year, things happen, whether it's injuries or something else. So they've got to prepare and act as if, even though there's one less spot, act as if they're going after that spot.
"Obviously there's few opportunities, but things can change."
Things changed in Detroit's bullpen last spring once Rondon was lost to Tommy John surgery, which is how Chamberlain went from relief depth to setup man. Chamberlain isn't getting that role back, at least not full-time. However, he gives Ausmus an extra late-inning option.
"I still think he's got the ability to pitch later in games," Ausmus said. "As I said the other day, right now Soria's kind of the eighth-inning guy. But you have ... three pitchers in Joba, Rondon and Alburquerque who certainly have the ability to pitch in the seventh or even the eighth."
Chamberlain's arrival affects the left side of the 'pen as well. One of Detroit's two lefties will likely need to be able to cover multiple innings. Gorzelanny has had that ability in the past, having been a starter for years, but Ausmus indicated he doesn't look at Gorzelanny in that type of role now.
Blaine Hardy filled that role last summer before command struggles knocked him down the pecking order. Ryan was a starter in the Tigers' system for most of last season and a spot starter in Detroit in August before spending September in the bullpen.
By contrast, just two of Ian Krol's 45 appearances with the Tigers last year lasted longer than four outs -- one in an extra-inning game, the other when the Tigers had depth issues in August. Krol's challenge is now to convince Ausmus and others that his value against left-handers is worth more than long-relief capability, earning a spot alongside Gorzelanny.
Jason Beck is a reporter for MLB.com. Read Beck's Blog and follow him on Twitter @beckjason. This story was not subject to the approval of Major League Baseball or its clubs.