Battery tunes up defense, mobility ahead of live BP
Cards' position players reporting; first baseman Scruggs to get outfield work in camp
JUPITER, Fla. -- The Cardinals held their final pitchers-and-catchers-only practice on Tuesday -- and it was an abbreviated one. With all 26 pitchers having already thrown two bullpen sessions, the Cardinals kept all of them off the mound for a day and instead set up a rotation of defensive drills and mobility work.
It was designed to prepare the pitchers for what's ahead, which will be live batting-practice sessions starting on Wednesday, the day of the team's first full-squad workout. With the Cardinals' bullpen mound getting a respite on Tuesday, workouts ended before noon ET.
Here are additional news, notes, observations and highlights from Day 5 of Cardinals camp:
• Tuesday marked the team's official report date for position players, though most have already been working out at the team's spring complex. Manager Mike Matheny said he was unaware of any issues that might prevent those still traveling from being present for Wednesday's full-squad workout.
• Though widely referred to as live BP, the exercise really doesn't involve much BP at all. Rather, hitters stand at the plate and track pitches. Occasionally, they'll put a swing on one, but the purpose of the session is to give pitchers the chance to throw with someone in the batter's box. It's also an invitation for them to start using the pitches that they may have been working on over the winter.
"We call it pitching practice," Matheny said. "We don't even consider it live batting practice for the main reason that these [hitters] understand that our main responsibility is to get these [pitchers] ready. ... It's just the next step, and that next step is a little bit more intensity. Then we start getting some feedback, too, from the hitters. It's all about getting to where we want to be."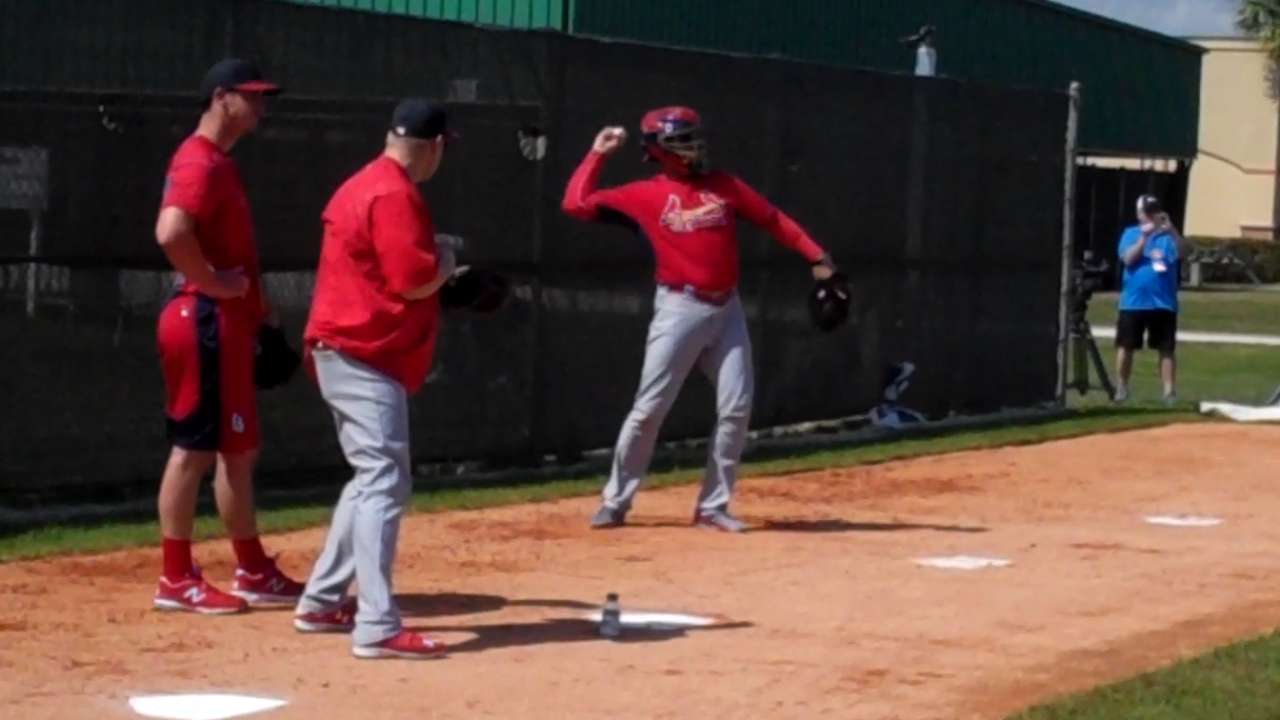 • The Cardinals' eight projected starting position players, all of whom have been working out at the team's complex for several days, spent just a short time at the facility on Tuesday. None participated in voluntary batting practice after the team's morning meeting. Position players fighting for a roster spot or seeking to be noticed did hit on the field.
• Matheny confirmed that first baseman Xavier Scruggs will get some work in the outfield during camp. Scruggs, who has only two outfield appearances in seven Minor League seasons, worked in the outfield during his stint in winter ball.
Jenifer Langosch is a reporter for MLB.com. Read her blog, By Gosh, It's Langosch, and follow her on Twitter @LangoschMLB. This story was not subject to the approval of Major League Baseball or its clubs.