MLB.com Columnist
Jonathan Mayo
Draft prospect Tucker off to fast start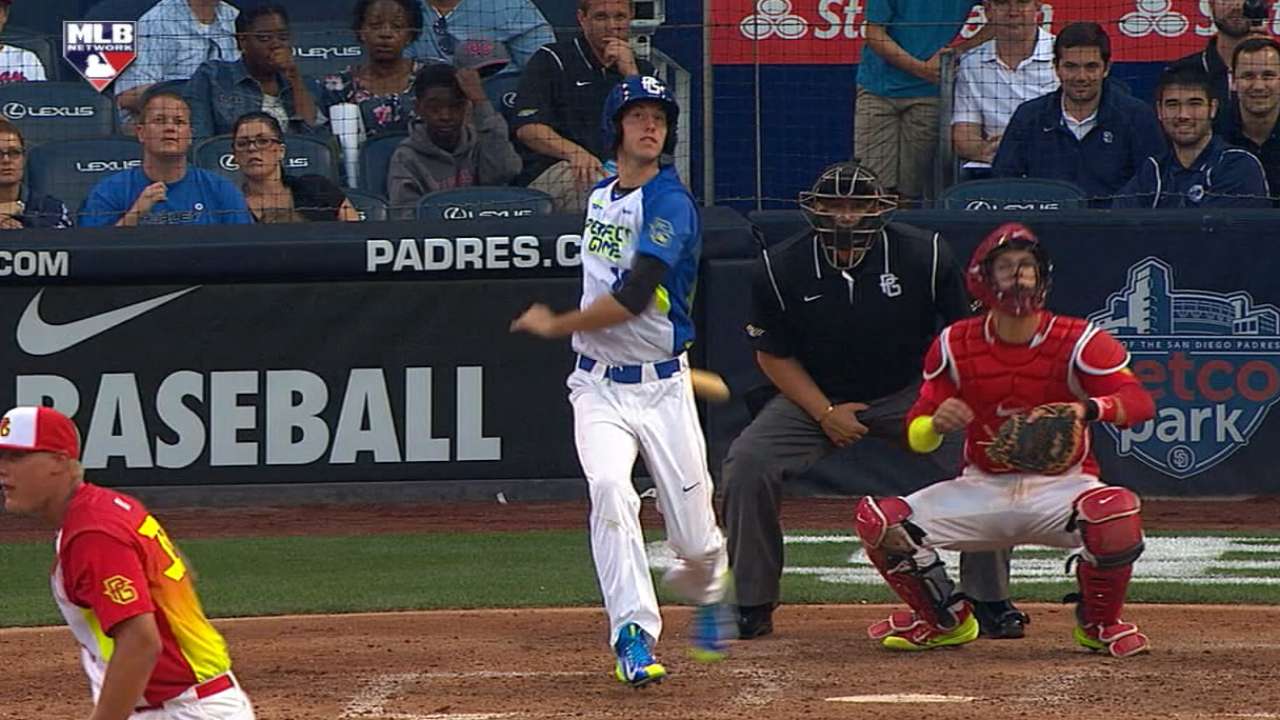 The calendar has yet to turn to March, but already there are players who are helping themselves out with strong early performances.
Playing in warm-weather states allows many high school standouts to get out of the gates quickly. While scouts wait for things to thaw in the Northeast or Midwest, they can spend a lot of time seeing potential draftees in places like Florida. The noise Kyle Tucker has been making with his bat for Plant High School in Tampa has certainly made scouts sit up and take notice.
Tucker, an outfielder committed to the University of Florida, was already well-regarded, ranked No. 27 overall on our early Draft Top 50 published last fall. His offensive production so far in the 2015 season could mean him making a leap in the rankings when the list is expanded later this spring.
It started with a two-homer performance in a Feb. 5 preseason game and it hasn't really stopped. In his first six games, Tucker, a center fielder now who many see as a right fielder in the future, has gone 9-for-15 with four homers and 10 RBIs. He's maximized what few good pitches he's seen, as he's already drawn seven walks. He's also stolen five bases.
Scouts have been plentiful watching him swing the bat. They've also gotten good looks at Jake Woodword, Plant's top pitcher, himself a legitimate Draft prospect who is also committed to Florida. Chances are, though, Tucker is the one who will hear his name called first on Draft day.
"He has the chance to really hit and drive the ball, fitting the profile of a corner bat," one scouting director said. "He's definitely helped his stock out so far this season, moving up into the top 20 picks or so."
"He hasn't hurt himself, for sure," a second scouting director agreed. "I'd say he could go in the middle of the first round, 11 to 20 would be my best guess as of now."
If that comes to pass, Tucker will easily beat his older brother's Draft standing. Preston Tucker was a seventh-round pick of the Houston Astros as a college senior back in 2012. He's since hit his way to the top of the Astros organizational ladder. The younger Tucker has the chance to be a better all-around player, with more athleticism, but it does seem like hitting might be genetic.
Jonathan Mayo is a reporter for MLBPipeline.com and writes a blog, B3. Follow @JonathanMayoB3 on Twitter. This story was not subject to the approval of Major League Baseball or its clubs.