MLB.com Columnist
Jonathan Mayo
Pipeline Perspectives: Twins own MLB's top farm system
Buxton, Sano, Meyer help Minnesota edge Cubs' crew of prospects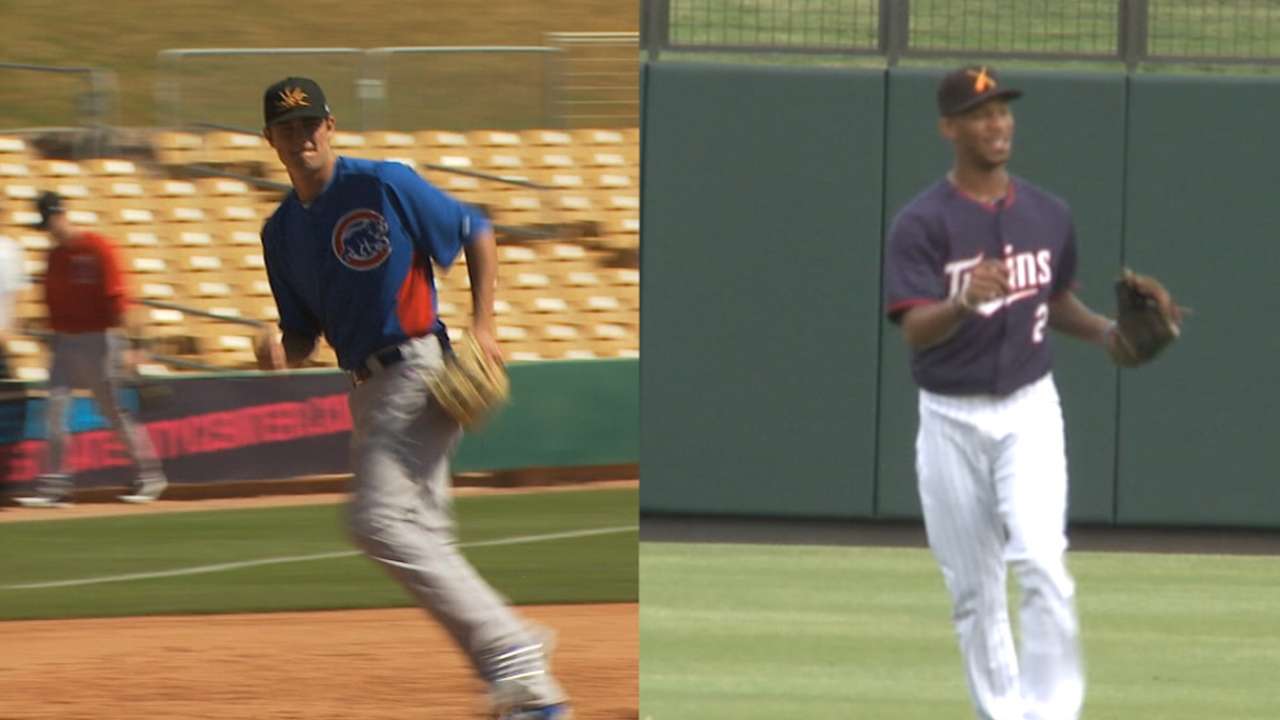 There's a good amount of subjectivity regarding baseball prospects. With the evaluation of talent being in the eye of the beholder, finding consensus is often difficult. Even Jim Callis and Jonathan Mayo of MLBPipeline.com don't always see eye to eye. They discuss their viewpoints regularly in a feature called Pipeline Perspectives. Submit a topic for them to debate.
It's a question we're often asked, especially this time of year. We put out the Top 100 Prospects list, and we'll be rolling out Top 30 lists for each organization, so it only stands to reason that people want to know what we think the answer to this question is:
Which team has the best farm system in baseball?
Jim Callis and I agree that there are really only three organizations that figure into the conversation. In this week's Pipeline Perspectives, Jim explains why he believes the Chicago Cubs have the top system in the game, while I'm putting my chips on the Minnesota Twins. We both agree that, especially with this week's signing of Cuban infield prospect Yoan Moncada, the Red Sox are definitely in the discussion, but we're sticking with the Cubs and Twins.
Prospect points
Team
Top 100
Points
Twins
6
464
Cubs
6
424
Pirates
7
354
Dodgers
4
281
Rockies
4
234
Rangers
5
217
Astros
4
214
Blue Jays
4
213
Mets
5
212
Nationals
3
203
It's difficult to poke too many holes in Jim's argument for the Cubs, other than the fact that the organization is a tad hitter-heavy. Instead, I will use this space to extol the virtues of the flush Twins system.
Let's start with the obvious, shall we? Every year when we break down the Top 100 list, we include an organizational ranking based on "Prospect Points." It's a weighted measure, with 100 points awarded for having the No. 1 prospect, 99 for the No. 2 prospect, and so on.
The Twins and Cubs both have six players in the Top 100 (trailing only the Pirates, who have seven). But the Twins won the Prospect Points tally with 464 points to the Cubs' 424. And it's not just because outfielder Byron Buxton is the No. 1 prospect, though having the player with the greatest all-around tool set certainly doesn't hurt the argument.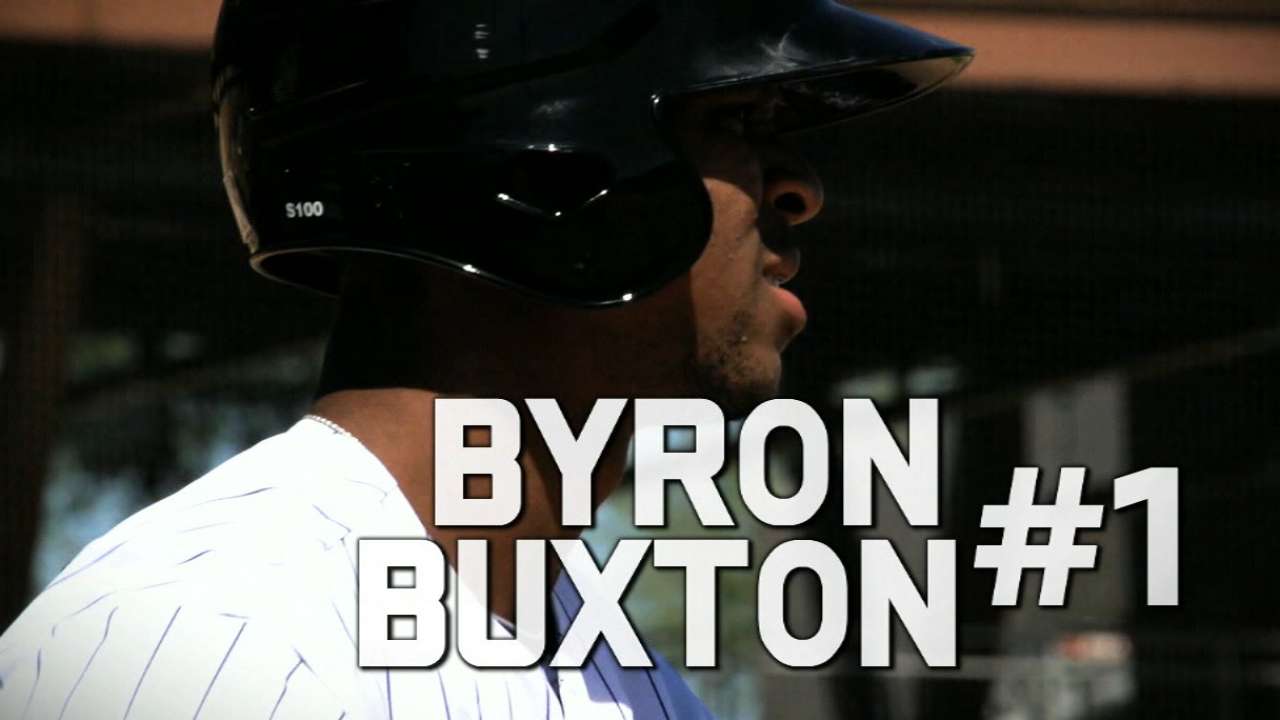 The Twins accrued more points because all of their six players are near at the top of the Top 100. From Buxton down to Kohl Stewart, all half-dozen of Minnesota's prospects on the list show up in the top 36. After Buxton is third baseman Miguel Sano, who may have been forgotten a bit because he missed the 2014 season following Tommy John elbow surgery. But his raw power matches that of Cubs slugger Kris Bryant. The Twins' 2014 first-round Draft pick, Nick Gordon, gives Minnesota a player at a premium position. And there's no question Gordon will stick at shortstop.
I mentioned the Cubs being bat-heavy. The Twins are definitely more balanced. After the aforementioned three hitters come three very interesting pitchers. Alex Meyer (No. 29), who has a plus fastball and a 6-foot-9 frame, is going to pitch in the big leagues this year. Jose Berrios (No. 32) might be nine inches shorter, but his stuff is right up there with Meyer's. Meyer is a bit more explosive, but Berrios is a more sure-fire bet to stick in a rotation. I think both will start and be mainstays in the Twins' rotation by 2016 at the latest. Kohl Stewart (No. 36) should join them a little farther down the line. If he stays healthy, he has the stuff to be a front-line starter as well.
But we're not just talking Top 100 representation here, as impressive as that is. If we were, one of us probably would have made an argument for the Pirates. While they do have a good system in Pittsburgh, the drop-off after the players listed in our Top 100 is a little more severe than it is with Minnesota or Chicago.
As much as their six best prospects make the Twins' system stand out, the fact that there are several players after that half-dozen who could be big league regulars is what truly gives the organization "best system" status. Impact players plus depth makes for a truly special system, and Minnesota has that combination.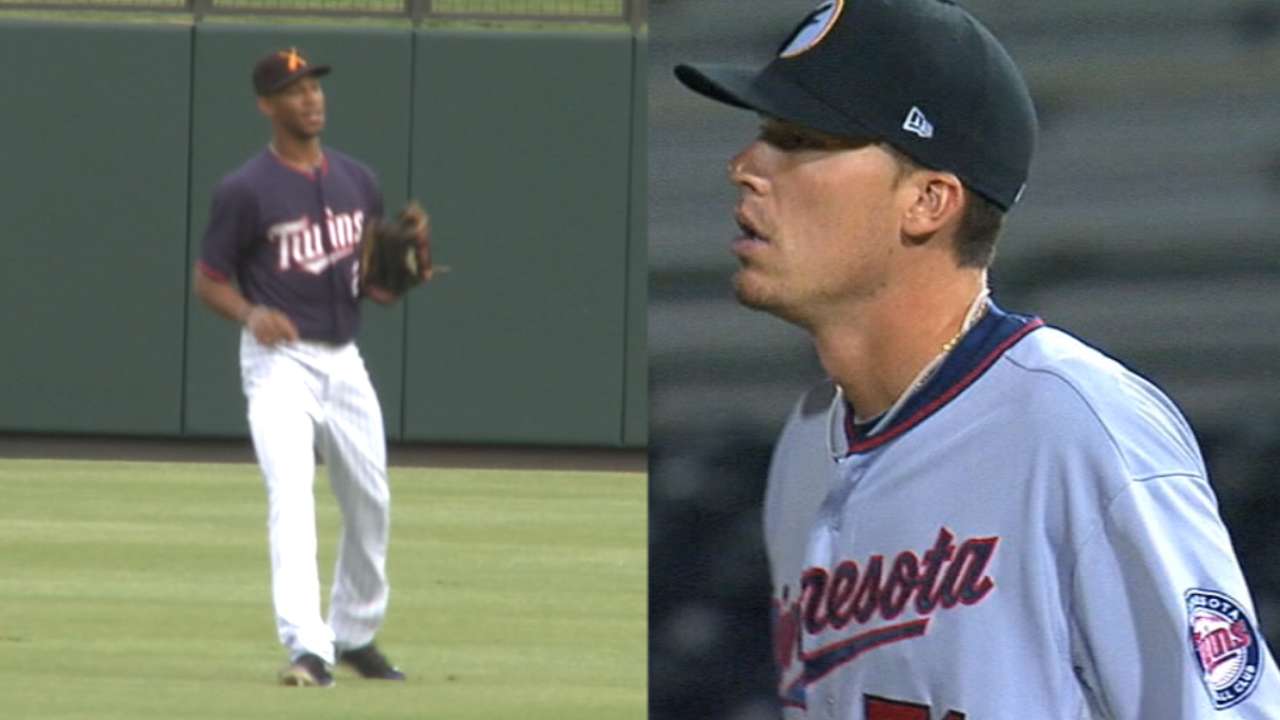 Jorge Polanco can play shortstop and second base, and he can flat out hit -- from both sides of the plate. Outfielder Eddie Rosario took a step backward when he had to serve a 50-game suspension for a drug of abuse, but he reminded people of his offensive upside with a strong turn in the Arizona Fall League, hitting .330.
Trevor May got his feet wet in the big leagues last year and could compete for a rotation spot. The Twins also know his power stuff would play really well out of the bullpen. Minnesota loaded up on big-stuff guys in last year's Draft, with Nick Burdi crossing the 100-mph threshold and looking like a future closer. Jake Reed might beat him to the big leagues if he throws like he did in the Fall League. Then there's a sleeper like Lewis Thorpe, the young Australian lefty who I mentioned as one of my favorite under-the-radar prospects who could make a big leap forward this season.
Keep in mind that the two biggest rookie impact players for the Twins in 2014, shortstop Danny Santana and first baseman Kennys Vargas, were never considered top-of-the-list prospects. To me, the biggest indicator that an organization is doing things right is when you're expanding teams' top-prospects lists to 30 players and you have interesting players who don't make the list. You'll have to wait for the final draft of that in March, but rest assured, there is no shortage of replacement candidates to choose from -- a good sign indeed.
Jonathan Mayo is a reporter for MLBPipeline.com and writes a blog, B3. Follow @JonathanMayoB3 on Twitter. This story was not subject to the approval of Major League Baseball or its clubs.