MLB.com Columnist
Jim Callis
Pipeline Perspectives: Cubs boast top collection of prospects
Bryant, Russell, Soler put Chicago ahead of Twins, Red Sox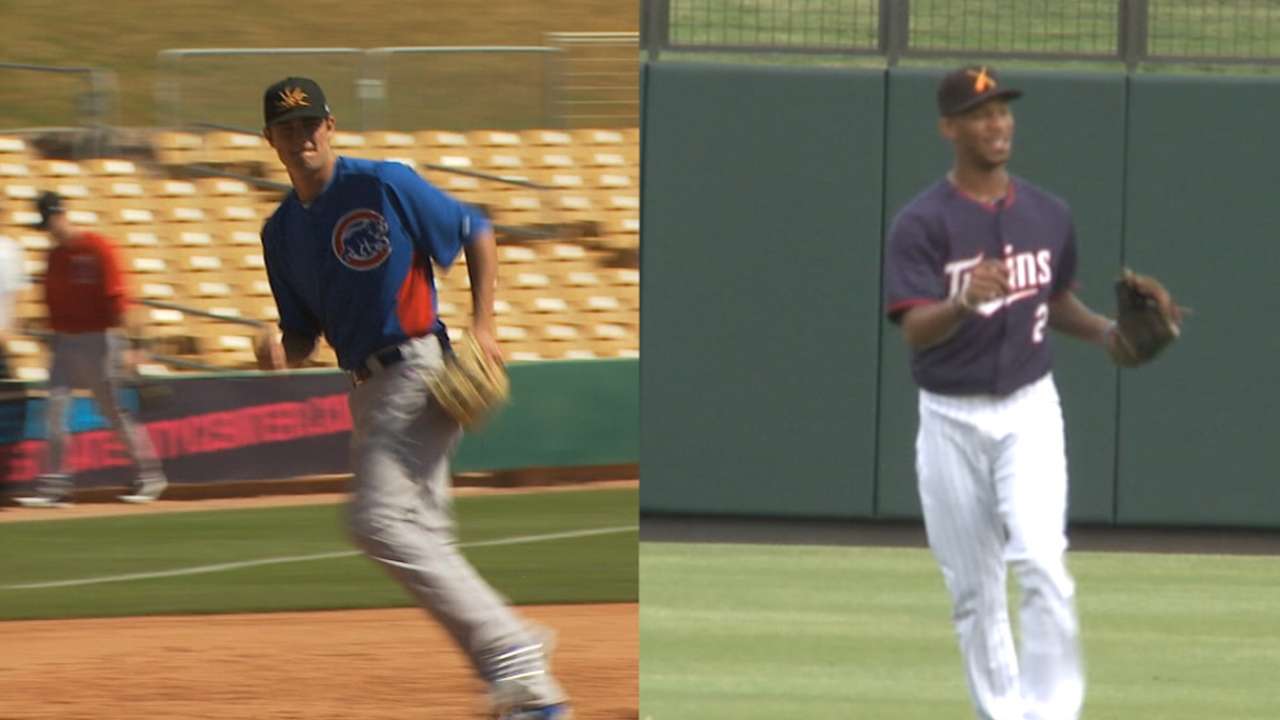 There's a good amount of subjectivity regarding baseball prospects. With the evaluation of talent being in the eye of the beholder, finding consensus is often difficult. Even Jim Callis and Jonathan Mayo of MLBPipeline.com don't always see eye-to-eye. They discuss their viewpoints regularly in a feature called Pipeline Perspectives. Submit a topic for them to debate.
For a franchise that hasn't won a World Series since 1908 or appeared in one since the end of World War II, the Cubs certainly are creating a lot of goodwill.
Hiring Joe Maddon as manager, signing Jon Lester as a free agent and trading for Dexter Fowler and Miguel Montero should help Chicago avoid a sixth consecutive fifth-place finish. But the team and its fans are thinking a lot bigger. They're hoping for the Cubs' first winning season since 2009 and first playoff berth since '08, and they're envisioning an end to those World Series droughts in the not-so-distant future.
The reason for much of this optimism is also the answer to this week's Pipeline Perspective topic: Who has the best farm system in baseball?
Prospect points
Team
Top 100
Points
Twins
6
464
Cubs
6
424
Pirates
7
354
Dodgers
4
281
Rockies
4
234
Rangers
5
217
Astros
4
214
Blue Jays
4
213
Mets
5
212
Nationals
3
203
Jonathan Mayo extols the virtues of the Twins, highlighted by outfielder Byron Buxton, the No. 1 prospect on the MLBPipeline.com Top 100. Once they finalize their deal with Cuban sensation Yoan Moncada, the Red Sox can make a strong case for having the most prospect talent.
But Chicago outpaces both Minnesota and Boston. I've been covering prospects for more than 25 years, and I've never seen a better collection of young hitting talent in one organization than the Cubs have right now. They graduated Javier Baez and Arismendy Alcantara from the Top 100 to the big leagues in 2014, the beginning of a tidal wave of position players about to crash on Wrigley Field.
The crown jewel of the Cubs' system is third baseman Kris Bryant (No. 2 on the Top 100), who led the Minors in homers (43), slugging (.661) and OPS (1.098) while reaching Triple-A in his first full pro season. He has more usable power and more opposite-field pop than any prospect in the game, and he will unleash it on big league pitchers as soon as Chicago gives him the opportunity. Service-time considerations may delay Bryant's debut until the end of April, though he would be the club's Opening Day starter if talent were the only consideration.
Bryant isn't the only rookie slugger who will bolster Chicago's lineup. Right fielder Jorge Soler (No. 22) has huge raw power to all fields as well, and he showed it by homering off Mat Latos in his first Major League at-bat and going deep five times in 24 games with the Cubs at the end of last season.
While it's unclear where Addison Russell (No. 5) will fit in Chicago, he's yet another prospect with explosive bat speed and the ability to hit for plus average and power. He's a better defender at shortstop than three-time All-Star Starlin Castro or Baez, and he also could surface at second base.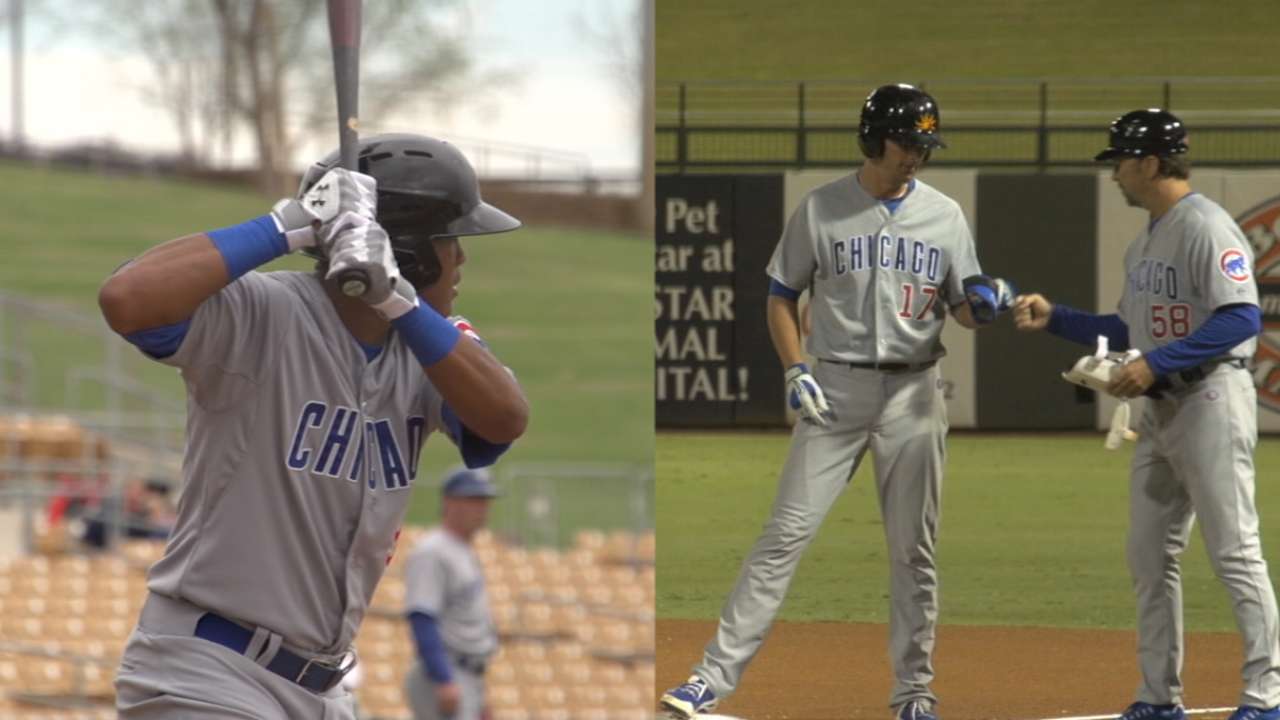 Another potential middle-of-the-order bat, Kyle Schwarber (49) batted .344 and slammed 18 homers in 72 games in his pro debut last summer. The Cubs will try to make him a catcher, which may be a stretch, but he has the offensive upside to be an All-Star even if he winds up in left field.
Beyond that fearsome foursome, Chicago also has several more intriguing position players, including sweet-swinging outfielders Albert Almora (No. 57) and Billy McKinney and precocious 18-year-old shortstop Gleyber Torres. And though the Cubs' hitting prospects grab most of the headlines, the system has some notable pitchers as well.
C.J. Edwards (No. 47) has electric life on his fastball and a second swing-and-miss pitch in his curveball. Pierce Johnson has a similarly effective fastball/curveball combo, though both right-handers must prove they can stay healthy after missing time in 2014 with minor injuries.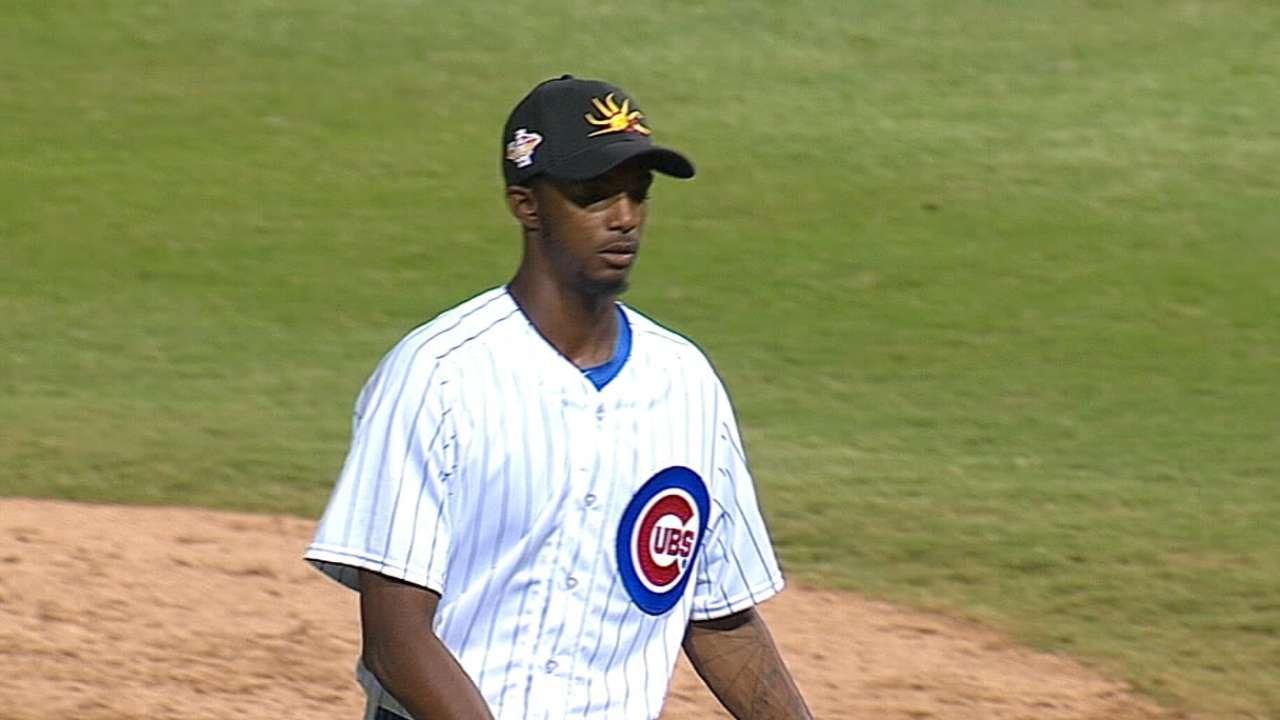 Duane Underwood, another righty, took a huge step forward last season and might have better pure stuff than either Edwards or Johnson. Chicago has spent 15 of its 20 picks in the first 10 rounds of the past two Drafts on arms as well, among them righties Dylan Cease and Jake Stinnett and lefty Carson Sands.
The Cubs' scouting and player-development departments are firing on all cylinders. Chicago drafted Baez, Almora, Bryant and Schwarber with its past four first-round choices, crossing up expectations by passing on pitchers with the club's top pick the past two years. The Cubs have also made several astute trades, grabbing both Russell and McKinney from the A's in the Jeff Samardzija deal last July and getting Edwards from the Rangers as part of a package for Matt Garza the year before.
The Cubs have done fine work on the international market too. They snagged Soler with a nine-year, $30 million big league contract that now looks like a bargain. They also went all in during the 2013-14 international signing period, blowing well past their bonus allotment for a deep crop highlighted by the consensus top-rated prospect (outfielder Eloy Jimenez) as well as Torres and crafty righty Jen-Ho Tseng.
Cubs fans haven't had much to cheer about recently, but -- thanks to the farm system -- that's about to change. With Bryant and Co. on the way, October baseball and a return to the World Series should be right around the corner.
Jim Callis is a reporter for MLB.com and writes a blog, Callis' Corner. Follow @jimcallisMLB on Twitter. This story was not subject to the approval of Major League Baseball or its clubs. This story was not subject to the approval of Major League Baseball or its clubs.