Moncada signing shifts focus to other Cuban prospects
Olivera, Ibanez, Alvarez drawing interest from big league clubs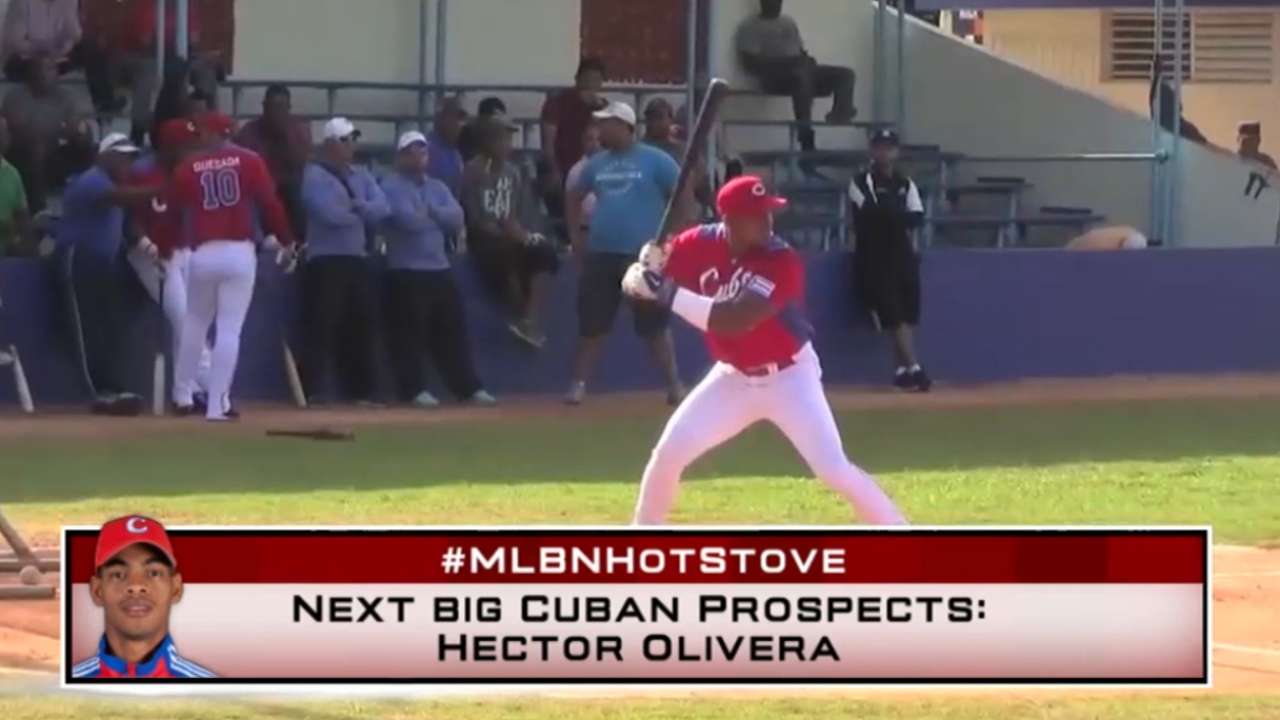 Cuban infield prospect Yoan Moncada is off the board, but his agreement with the Red Sox could have a lasting impact on other Cuban prospects seeking Major League contracts.
Moncada's $31.5 million agreement with Boston set a bonus record for an international amateur under the current signing guidelines. It might have also set the market and the stage for the signing of fellow Cuban infield prospect Andy Ibanez, 21, in the coming weeks and right-handed pitcher Yadier Alvarez, 18, who is expected to be eligible to sign during the next international signing period.
It's unclear how Moncada's deal impacts second baseman Hector Olivera, 29, who is not subject to the international signing guidelines because of his age and experience in Cuba's top professional league. But here's what we do know: Several teams that expressed strong interest in Moncada have shifted their focus to other top Cuban players on the market.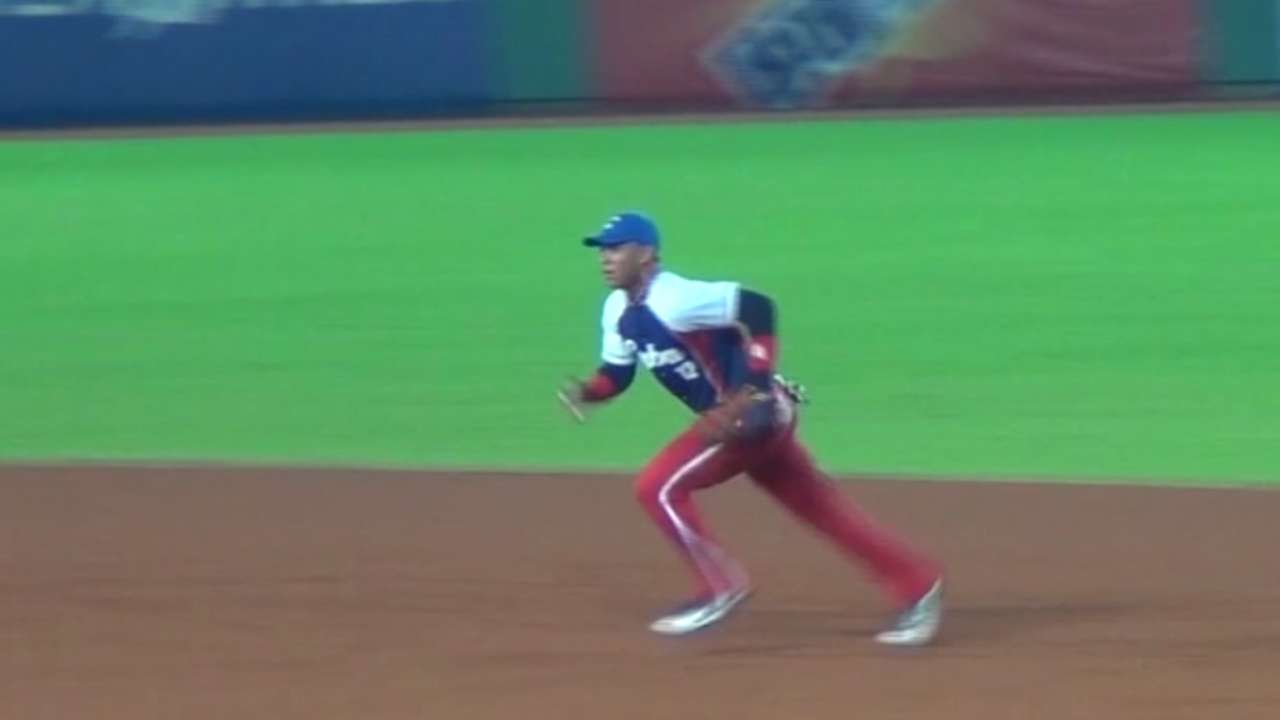 Here's a look at the top three Cuban players available:
Hector Olivera, infielder, age 29
Olivera will be 30 on April 5, and some scouts have concerns about offering him a long-term deal because of his age. He also overcame a blood disorder that sidelined him from play in Cuba's top league, Serie Nacional. But scouts also rave about Olivera's tools, his international experience and how he can help a Major League club right now.
He was one of the most prolific offensive players in Cuba when he was healthy, and by all accounts, he is healthy. He wowed scouts in open showcases and private workouts in the Dominican Republic, underscoring the notion he can hit at least 15-20 home runs and drive in 75 runs from the middle of a lineup in what would be his rookie year. He can play second and third base on the Major League level, which is very appealing to clubs.
Olivera is waiting to be declared a free agent by Major League Baseball. International sources tell MLB.com that the infielder is seeking a five- to six-year deal that rivals the contracts of Arizona's Yasmany Tomas (six years, $68.5 million) and Boston's Rusney Castillo (seven years, $72.5 million).
The Yankees, Dodgers, Braves, Marlins and Padres have all shown strong interest and he is expected to sign soon after being granted free agency.
Andy Ibanez, second base, age 21
You can call Ibanez "Moncada Light." He might not be the flashiest Cuban player on the market, but like Moncada, he could be a Minor League season or two away from contributing in the Majors.
Players like Howie Kendrick, Omar Infante, Miguel Cairo and Placido Polanco are among those mentioned in discussions of Ibanez's potential.
Ibanez is eligible to sign with a team now and because he is under 23 and did not play in a professional league for at least five seasons, he is subject to the international signing guidelines. Several of the teams interested in Moncada -- the Dodgers, Giants, Yankees, D-backs, Brewers, Mariners and Padres -- have shown interest in Ibanez, who is considered the more affordable option of the two.
While it's uncertain how much money Ibanez will command, his bonus is expected to send the team that signs him into the most severe penalty -- a 100-percent tax on their bonus pool overage and the inability to sign any pool-eligible player for more than $300,000 during the next two signing periods.
The 5-foot-11, 195-pound infielder starred for Cuba's 16-and-under and 18-and-under national teams, and later for Isla De La Juventud in Serie Nacional. Ibanez was also the youngest player on Cuba's 2013 World Baseball Classic roster.
Yadier Alvarez, right-handed pitcher, age 18
Arguably the most intriguing prospect of the three, the 6-foot-3, 175-pound right-hander from Matanzas didn't have any professional experience in Cuba's top league, but he has made a name for himself on the international scouting scene in the past few weeks.
Alvarez has a fastball that touches 98 mph with a plus slider and an above-average changeup, prompting one high-ranking National League official to say Alvarez was the best 18-year-old pitcher he had ever seen.
Like Ibanez, Alvarez is subject to the international signing guidelines, but he won't be able to sign with a Major League team until the next signing period, which starts on July 2, because he did not register in time to be eligible during the current signing period. Moreover, Alvarez is in the early stages of establishing residency, the first step in becoming eligible to sign with a Major League team, so it's unclear when he will be available.
The Dodgers, D-backs, Rockies, Nationals, Blue Jays, Padres, A's, Cardinals, Twins and Brewers have all been linked to the young right-hander. Granted, Alvarez is raw and could use some polish, particularly with his command, but he is positioning himself to be the most sought-after player during the next international signing period.
Jesse Sanchez is a national reporter for MLB.com. Follow him on Twitter @JesseSanchezMLB. This story was not subject to the approval of Major League Baseball or its clubs.