Orioles complete deal with veteran Cabrera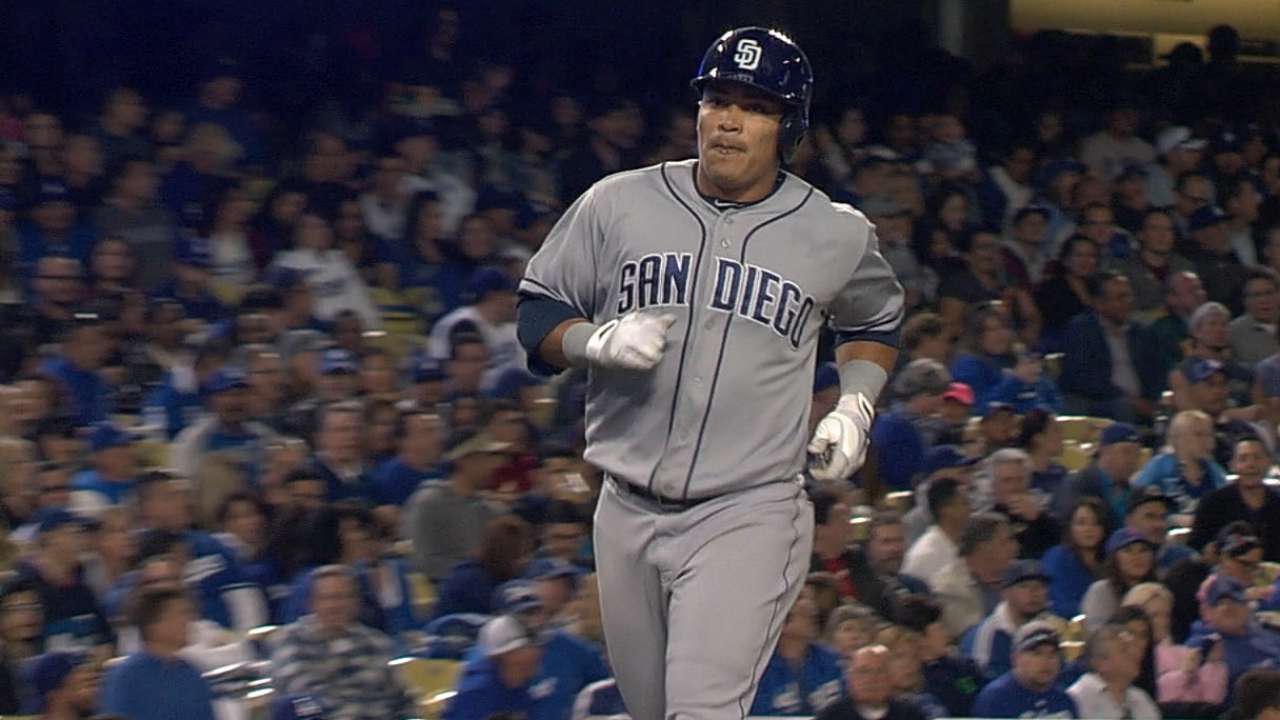 SARASOTA, Fla. -- The Orioles on Wednesday announced the signing of infielder Everth Cabrera to a one-year deal reportedly worth $2.4 million, plus incentives. Alex Hassan was designated for assignment to make room on the 40-man roster for Cabrera, who was expected to meet with the media on Wednesday afternoon.
Part of Cabrera's deal includes a Minor League option, but he will be given every opportunity to make the O's out of camp and contribute significantly. The plan is for Baltimore to use Cabrera, who has predominantly played shortstop over his career, in the outfield at times this spring to present a utility option for the team. He will also get a majority of his reps at second base.
Cabrera, who led the National League with 44 steals in 2012, has 99 stolen bases over the past three seasons, and he presents a different option -- and perhaps a leadoff guy -- for an Orioles club now without Nick Markakis. Cabrera batted .232/.272/.300 with three home runs and 20 RBIs in 90 games with the Padres last season. In 481 career games, he has hit .248/.319/.333 with 12 home runs, 128 RBIs and 136 stolen bases.
However, the 28-year-old former All-Star has had to deal with some off-field issues.In addition to being implicated in the Biogenesis scandal, and subsequently suspended, Cabrera is facing a misdemeanor charge for resisting arrest during a Sept. 3 incident.
On that day, Cabrera was arrested on the suspicion of driving under the influence of marijuana, and he was also cited for possession. If convicted, he could face up to a year in jail. Cabrera has pleaded not guilty; the trial is set for mid-April.
The Orioles haven't shied away from taking on players with off-field issues, adding both Nelson Cruz and Delmon Young last year, and manager Buck Showalter seemed fairly confident that Cabrera would fit in with the rest of the clubhouse.
"The risk factor is very much on our side," Showalter said Tuesday. "We wouldn't [have signed Cabrera] if it wasn't."
Cabrera, who can earn up to an additional $600,000 in incentives, has also had some hamstring issues in his career. Showalter said the team was impressed with the work the speedster has put in to make sure his legs are healthy so he can stay on the field.
Cabrera's arrival, which comes a week after news broke of the potential agreement, will make for some intrigue in camp, as he competes with Ryan Flaherty and Jonathan Schoop for time in the infield.
Brittany Ghiroli is a reporter for MLB.com. Read her blog, Britt's Bird Watch, and follow her on Facebook and Twitter @britt_ghiroli. This story was not subject to the approval of Major League Baseball or its clubs.