MLB.com Columnist
Marty Noble
Name game: Upton just latest Majors change
Braves outfielder formerly known as B.J., now Melvin, in long line of moniker switches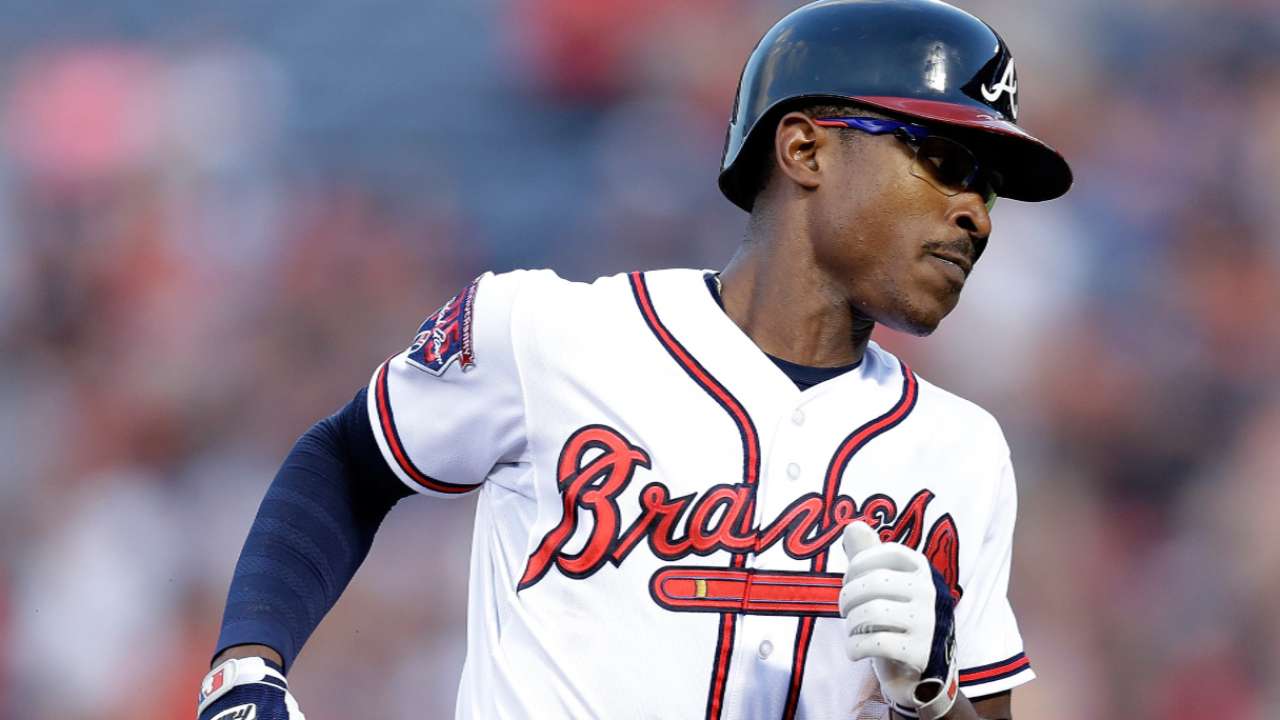 So now, he's Melvin Upton Jr., of the Braves, a franchise that twice has changed its first name. Of course, we'll all go along with this latest change of identity in the big leagues. Why not? It's Upton's preference. For a while, we'll likely say B.J., correct ourselves and eventually adapt, though if his offense doesn't pick up this year, neither his alias nor his preferred name will be mentioned much, not in headlines anyway .
The adjustment won't be too difficult. This altered ID will require less getting used to than what we had to do in 1996, when The Stick became 3com Park at Candlestick Point. The game hadn't known such a unwieldy name since the retirement of Indians pitcher Calvin Coolidge Juluis Caesar Tuskahoma McLish.
The change from St. Louis' Sportsman's Park to Busch Stadium required some adjustment in the 50's, but it was quite gradual. The place went by either or both names for a while. Its two successors required no adjustment -- Busch Stadium and Busch Stadium.
Some folks found changes of ballpark names unnecessary, a tad unsavory and mostly uncool because they were contrary to the romance or game. Riverfront Stadium gave you a sense of where the Reds' former home was located, Cinergy Field didn't. Some baseball writers opposed to corporate-sounding names took a cue from rock writers and, after Prince had changed his stage name to whatever that was, referred to Cinergy as the park "previously known as Riverfront."
Baseball often gives us names changes. Few are as dramatic as Cassius Clay to Muhammad Ali, or Ron Artest to Metta World Peace or Lew Alcindor to Kareem Abdul-Jabbar. But Larry Berra, as he was known as a Yankees rookie in 1947, did become Yogi, and the shortstop the Giants obtained from the Cardinals just before Spring Training 30 years ago no longer was Juan Gonzalez as he had been with the Cardinals, but rather Juan Uribe. And the late Rocky Bridges, then a Giants coach, immediately identified Uribe as "the player to be named later."
Long ago, Cornelius McGillicuddy became Connie Mack. Good thing too because Philly's Shibe Park became Connie Mack Stadium.
After he had won the 1984 American League Most Valuable Player Award and the Cy Young Award, Tigers reliever Willie Hernandez became Guillermo Hernandez. Just a formality. And Hector Cruz opted for Heity -- pronounced HI-dee -- as a first name. NBC never pre-empted a Jets-Raiders game for one of his at-bats.
Mike Stanton became Giancarlo Stanton and a more formidable slugger with the Marlins three years ago. Of course, his team has undergone a name change too -- Florida Marlins to Miami Marlins. And before it moved into its current home, Marlins Park, in 2012, the team had played in Joe Robbie Stadium, Pro Player Stadium, Dolphins Stadium, Dolphin Stadium, Land Shark Stadium and Sun Life Stadium. Seventeen seasons, one park, six names. (All the Red Sox have played in a park with one name forever.)
Giancarlo Cruz Michael Stanton is his full name. His father calls him Mike, his mother calls him Cruz. National League opponents use other 4-letter words to identify him.
Joey Belle made a point of forsaking the name he carried throughout his Minor League tenure with the Indians' organization and became Albert. A change of disposition would have been more welcomed by teammates, some fans, reporters, the Indians' front office, threatened trick or treaters and Fernando Vina.
Roger Maris began his Minor League career as Maras. He was prompted to change his surname once the clever fans of the Indians' Fargo-Moorhead (N.D.) affiliate discovered they could emphasize the second syllable and second 'S' in his name and insult him.
Folks of a certain age may recall the Cardinals developed a right-handed pitcher from Wisconsin they signed in 1973. The signature he put on his first professional contract was Harold Ralph Rasmussen. Harry Rasmussen reached the big leagues by 1975 and won 11 of his first 28 decisions in '75 and '76. But when he reported to Cardinals camp in the spring of 1977, he officially had changed his identity. Harold Ralph Rasmussen was Eric Rasmussen. The reason: He thought Eric was better suited to his surname and, of course, he wasn't wild about Harry.
(See "I'm Just Wild About Harry" written in 1921 by Eubie Blake and Noble Sissle for the play "Shuffle Along." Harry S. Truman selected "I'm Just Wild About Harry" as his campaign song in 1948. His election to the presidency prompted revival of the song.)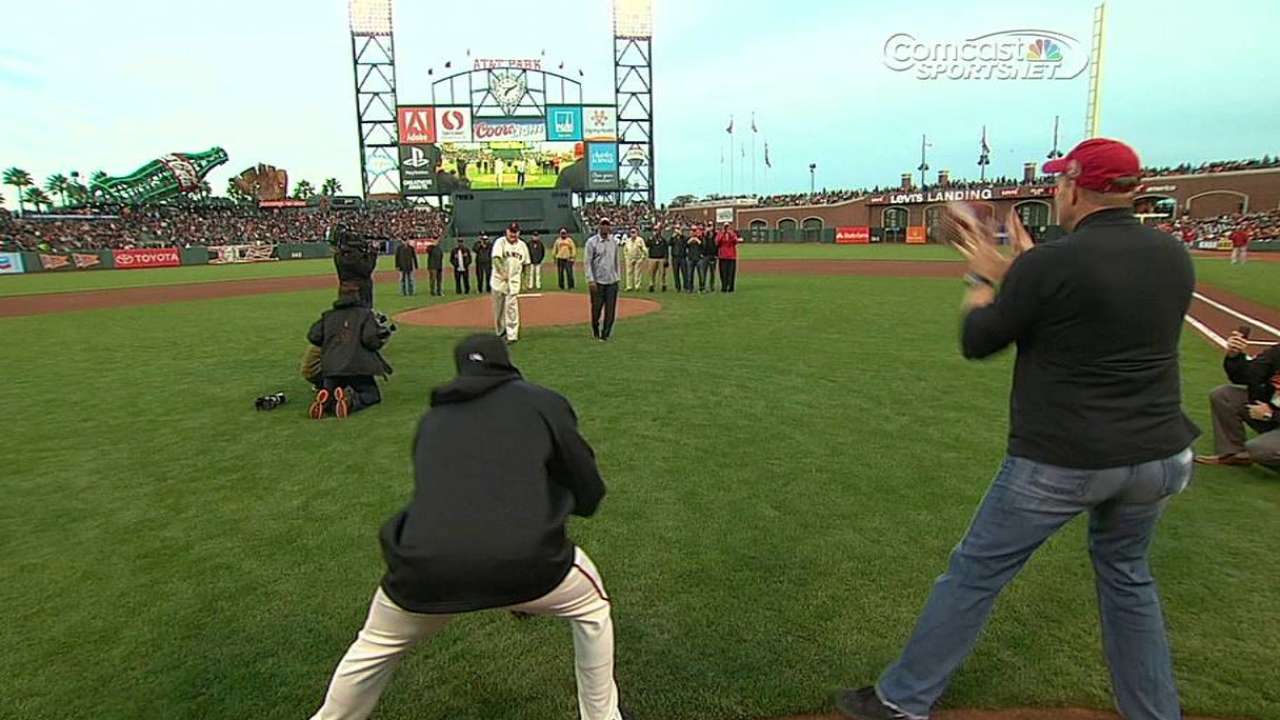 The name change of the Giants home was particularly troubling. Candlestick Park was quite a suitable name, given its location. And it was inviting. Who doesn't enjoy candlelight? But 3com lacked all sense of warm and fuzzy. After the Giants left, but before the 49ers fled, the place briefly known as San Francisco Park at Candlestick Point -- even more unwieldy. And while 49ers still were tenants, it became Monster Park, a name that would have quite appropriate had Barry Bonds played his most productive seasons there.
Peter King, Sports Illustrated's pro football guru, called the place "Candle3Monsterstick." Seemed appropriate.
Since their move from the Point to downtown, the Giants have played in Pac Bell Stadium, SBC and AT&T and never changed their address. Just the opposite during their time in upper Manhattan. Their home, the Polo Grounds, had five different sites and one name.
And so it's been. Richie Allen became Dick Allen -- or was it the reverse? Former Cubs manager Rich Renteria was Rick as a player. The third baseman for the great Yankees teams of the '50s was Andy Carey only after he had lives as Andrew Hexem.
Wartime outfielder Pete Gray, who played despite missing a right hand, began life as Peter Wyshner. Tom Zachary the pitcher who surrendered Babe Ruth's 60th home run in 1927 was Zach Walton as a rookie nine years earlier. Aloys Szymanski became Hall of Famer Al Simmons. And former Yankees pitcher Fritz Peterson began life as Fred Ingles Peterson.
The 1962 Mets had two pitchers named Bob Miller, one left-handed, one right-handed. Traveling secretary Lou Niss wisely had them room together so there'd be no calls forwarded to the wrong room by the hotel switchboard. There would have been no problem had the right-handed Miller retained his originnal surname -- Gemeinweiser.
Ian Snell, a Pirates pitcher and Mariners pitcher, was Ian Oquendo in the Minor Leagues. He chose Snell? A pitcher for the 1800s abandoned his given name John Francis Gannon and assumed a quite different identity -- Phenomenal Smith. Smith?
A believe it or not, Charles Anthony Zuck, who played in the 1880s, thought a name change was needed. He became Charles Anthony Suck.
Marty Noble is a columnist for MLB.com. This story was not subject to the approval of Major League Baseball or its clubs.