Healthy Miggy's fantasy stock trending higher
Start of Spring Training brings volatility to values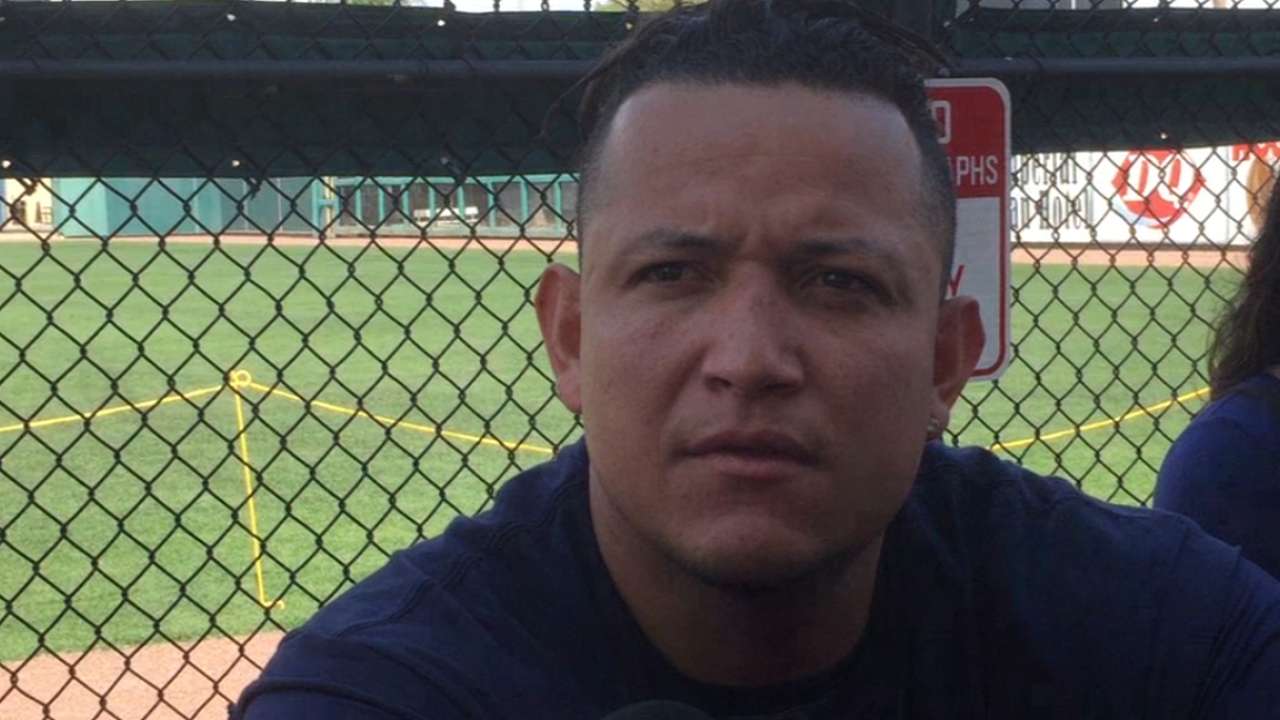 In the past seven days, moving trucks, managers, prospects, veterans, reporters and fans descended on Florida and Arizona to officially start the 2015 version of Spring Training. As management teams reveal updated information regarding injuries, position battles and season plans in the coming weeks, the fantasy value of many players will change. Here are the players who saw their draft-day stock move the most in the past week.
Value Up
Miguel Cabrera (Tigers): Cabrera received good news last week when he was cleared to begin baseball activities. By beginning those activities in February, the 31-year-old has a much better chance to be ready for Opening Day. Cabrera has been producing first-round value for the past decade, and he has never been placed on the disabled list. Despite his offseason foot surgery, the Tigers star is still a wise choice in the middle of the first round.
Rougned Odor (Rangers): Odor showed plenty of promise in 2014, when he hit .259 with nine homers in 386 at-bats as a 20-year-old rookie. Many observers expect him to take a step forward in his sophomore season, and the youngster should face less competition for playing time with Jurickson Profar out of the picture. Odor is a fine late-round selection in deep mixed leagues.
Shane Victorino (Red Sox): Boston manager John Farrell gave Victorino a major vote of confidence last week when he said that the 34-year-old will be his starting right fielder as long as he is healthy. The switch-hitter faces a stiff challenge from youngsters Rusney Castillo and Mookie Betts, but he has the skills to hold his spot as long as Farrell gives him the benefit of the doubt. Fantasy owners who are searching for a fifth outfielder would be wise to take a long look at Victorino, as he has the potential to provide 20 steals, 70 runs and a respectable batting average.
Others gaining value in recent days: Adam Rosales (Rangers), C.J. Cron (Angels).
Value Down
Kenley Jansen (Dodgers): The Dodgers fireballer is expected to miss roughly one month of the season as he recovers from February foot surgery. In 2014, Jansen recorded 44 saves, or about seven per month, and he should land near the 35-save mark if he can close games for roughly five months in 2015. Additionally, Jansen should be capable of racking up 80 whiffs and posting elite ratios in five months of work. Unfortunately, Jansen does not have an obvious handcuff because the Dodgers had an unsettled eighth-inning situation prior to their closer's injury.
Mookie Betts (Red Sox): Farrell's announcement that Victorino will likely be the Red Sox right fielder is bad news for Betts, who could have been one of the top 2015 sleepers. The 22-year-old has the potential to be a dynamic leadoff hitter in Boston's loaded lineup, but he will now likely serve as an oft-used bench option. Because of Betts' age, the Red Sox could even start his season by having him receive regular at-bats in the Minors. The spark plug is still a fine keeper-league asset, but taking him in the first half of 2015 drafts is now hard to justify.
Rusney Castillo (Red Sox): The news on Victorino does not affect Castillo as much as Betts because Castillo is still expected to be the team's starting center fielder. But if Betts makes the Opening Day roster, then he could cut into the Cuban's playing time. Farrell has previously noted that he believes Betts is a great leadoff option, and he could attempt to get Betts into the lineup a few days each week by rotating him with Victorino and Castillo. The 27-year-old Castillo is still a fine mid-round pick in shallow leagues, but his value could be more tenuous if he has Betts lurking behind him all season.
Josh Hamilton (Angels): When Hamilton underwent shoulder surgery earlier this month, the expectation was that he would return to the lineup at some point in April. But this week the Angels indicated that the 33-year-old has no timetable to report to Spring Training and could be sidelined into May. Hamilton played in 89 games last season, and he may struggle to top that total in 2015 if he misses the first 25 to 30 games of the year. Those in shallow mixed formats would be wise to let the slugger start the season on waivers.
Jurickson Profar (Rangers): Profar was once one of the top prospects in baseball, but he has been set back by ongoing shoulder woes. The 22-year-old underwent surgery on right shoulder this week and is expected to miss a second consecutive season. He can be scratched off virtually all draft lists, as only those in deep keeper leagues will want to save space for his potential 2016 return.
Everth Cabrera (Free Agent): Cabrera is on the verge of signing with the Orioles, and he will likely compete for playing time at second base with Jonathan Schoop and Ryan Flaherty. The 28-year-old could also spell J.J. Hardy at shortstop, but Hardy has been very durable in recent seasons. If Cabrera had found a club that offered him a clear path to full-time at-bats, he could have been a sneaky steals source in deeper formats. But because his playing time will likely be limited in Baltimore, he is strictly an AL-only option.
Jonathan Schoop (Orioles): Schoop showed promising power when he smacked 16 homers as a 22-year-old rookie last season. He could continue to blossom into a powerful middle-infield option, but he may face a push for playing time once the Orioles finalize Cabrera's contract. Because Schoop posted a .244 on-base percentage in 2014, he could end up in a platoon with the speedier veteran. Those in mixed formats will likely want to pass on the youngster during the final rounds of 2015 drafts.
Fred Zinkie is a fantasy baseball writer for MLB.com. Follow him on Twitter at @FredZinkieMLB. This story was not subject to the approval of Major League Baseball or its clubs.