Beltran eager to get back to form in pinstripes
Veteran slugger saw numbers drop due to injuries in Yankees debut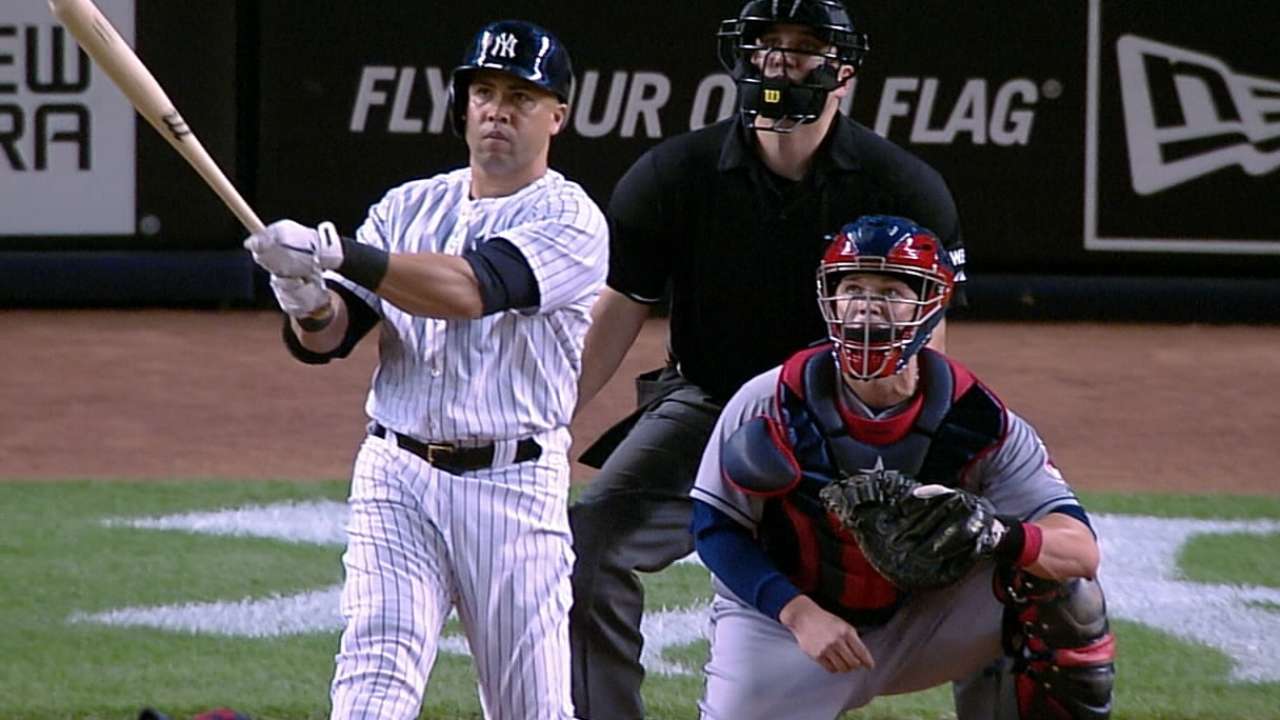 TAMPA, Fla. -- Injuries kept Carlos Beltran from producing the type of numbers that he expected in his first Yankees season, and as he takes his first swings of Spring Training, the veteran slugger believes that he is coming back with something to prove.
"Every year, you have to prove yourself, there's no doubt about it," Beltran said on Monday. "I always say, it doesn't matter what type of season you have, you always have expectations. I always felt like as a player, my whole career, I've shown up with the mentality of proving myself."
Beltran, who turns 38 in April, said that he spent most of the offseason commuting to Yankee Stadium for rehab following a September procedure that removed a painful bone spur and three loose pieces from his right elbow.
That injury kept Beltran from swinging the bat with authority and it limited him to designated hitter duty for much of 2014, a season in which he batted .233 with 15 homers and 49 RBIs in 109 games. Beltran said that he is currently throwing at distances of 150 feet and he feels ready to serve as an everyday right fielder.
"I trained hard, I did everything that I did in the past," Beltran said. "I want to be out there, no doubt."
The Yankees are counting on more production from the heart of their lineup, coming off a campaign in which they scored the third-fewest runs in the American League. Beltran said that he, Mark Teixeira and Brian McCann should post better numbers in 2015.
"I think we're going to be better than last year, no doubt about it," Beltran said. "Tex was dealing with his wrist still and it was McCann's first year in the league. He'll be more comfortable, second year. I think it's going to be better. There's no reason why it shouldn't be better if the health is there."
Yet, Beltran seems to have some doubts about the chances of him reprising his impressive stat lines from 2012 and '13, with the Cardinals, when he averaged 28 homers and 90 RBIs with an .836 OPS.
"Go back to that? I don't know," Beltran said. "That was three years [ago], and I'm three years older. Physically, I feel fine. I just want to be healthy. That's all, man. If I'm healthy, I have a lot of confidence in myself."
Beltran also touched upon the return of Alex Rodriguez, whose role on the team is to be determined. Beltran said that he could see Rodriguez enjoying a bounce-back year.
"Knowing a little bit about him, I think he's a guy that has a lot of pride for what he does," Beltran said. "I believe that he will show up in shape, that he wants to be out there and he wants to prove himself, too. If he is healthy, I do believe he can provide for the team."
Bryan Hoch is a reporter for MLB.com. Follow him on Twitter @bryanhoch and read his MLBlog, Bombers Beat. This story was not subject to the approval of Major League Baseball or its clubs.