New pitching coach Allen gets first live look at arms
Coach excited to finally see pitchers in action at workouts
FORT MYERS, Fla. -- After watching plenty of video this offseason to learn more about the club's pitchers, new Twins pitching coach Neil Allen was excited to finally see pitchers in action on the first day of official workouts between pitchers and catchers on Monday.
Of the 29 pitchers in camp, 15 threw bullpens under Allen's watchful eye, including Phil Hughes, Glen Perkins, Brian Duensing, Mike Pelfrey, Kyle Gibson, Casey Fien, Jose Berrios, Alex Meyer, Tim Stauffer and Ryan Pressly. Allen, who previously served as the Triple-A pitching coach for the Rays, was impressed by what he saw on the first day.
"I'm thrilled," Allen said. "I liked the way the guys went about their business and did their work. The guys all threw the ball pretty well and we had no injuries, so I'm thrilled to death."
Given Minnesota's struggles on the mound over the last four years, pitching remains one of the top priorities for the Twins this season. The fifth spot in the rotation is up for grabs, with candidates including Tommy Milone, Pelfrey, Stauffer, Meyer and Trevor May.
"I think there's some talent at the back end of the rotation and they're not getting the attention they deserve," Allen said. "So I'm excited about it, but of course, there are decisions to be made. So we'll see how that goes."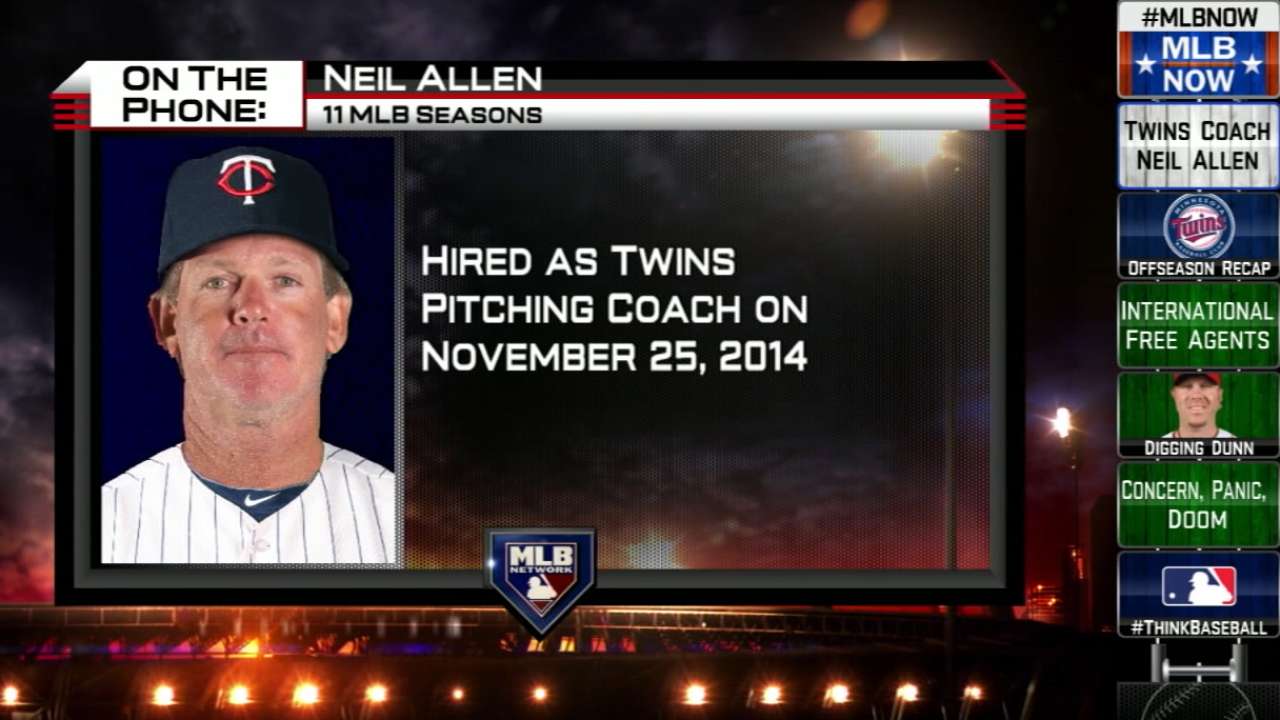 Allen also likes what options the Twins have in the bullpen and noted a difference from what he had to work with while with Tampa Bay.
"I like the arms I have to work with," Allen said. "I like the size. I didn't have the height that we have here. In Tampa Bay, we had guys smaller than the ones here. These guys are big men and I like what I see."
Hughes, who threw his first bullpen under Allen on Monday, said he looks forward to working with Allen more this spring as he gets to know the pitchers.
"He seems good," Hughes said. "He's low-key, laid-back and just wants to help guys along and get to know everybody. He was doing more watching than talking. So I look forward to spending some time with him and seeing what he has to say and getting things done this spring."
Rhett Bollinger is a reporter for MLB.com. Read his blog, Bollinger Beat, and follow him on Twitter @RhettBollinger. This story was not subject to the approval of Major League Baseball or its clubs.