Rockies could be looking at four-man bench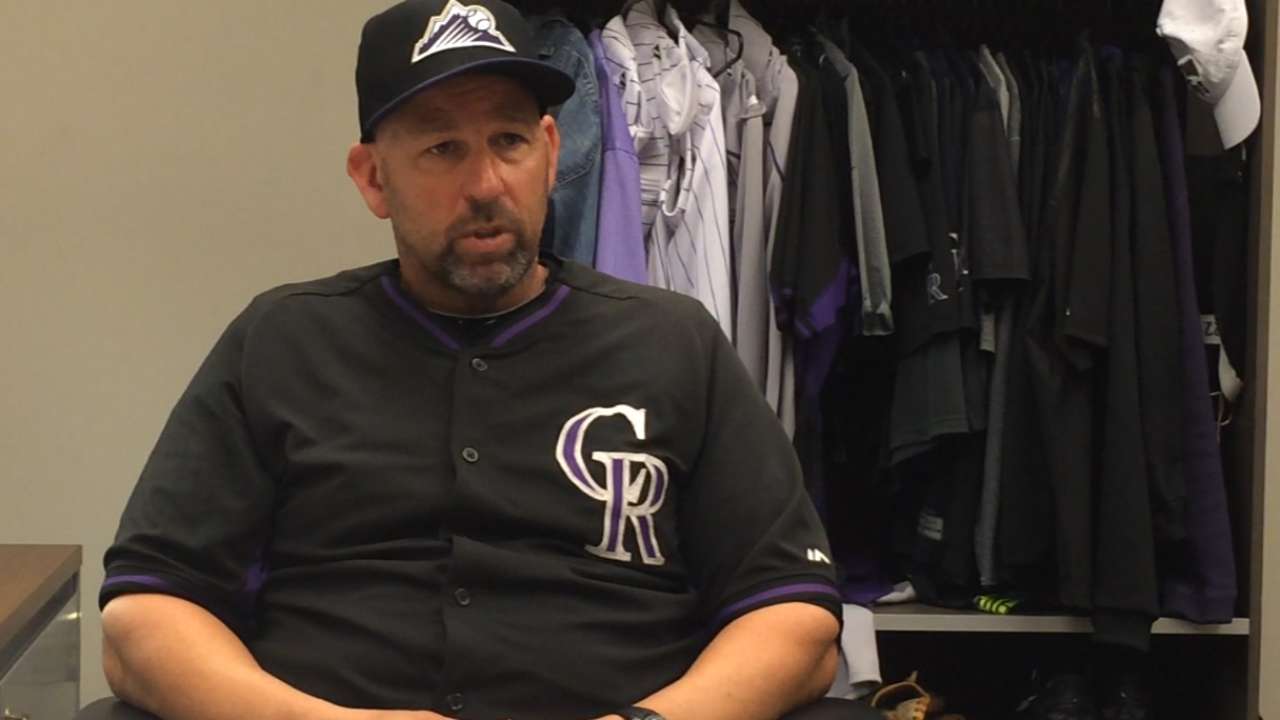 SCOTTSDALE, Ariz. -- In his third year as Rockies manager, Walt Weiss is comfortable with a roster structure that regularly calls for 13 pitchers. That means a four-man bench.
So, barring injuries or an eye-popping spring performance (something Weiss doesn't mind rewarding), here's an early look at how it could shake out:
• The regular outfield -- Corey Dickerson in left, Charlie Blackmon in center and Carlos Gonzalez in right -- consists entirely of lefty batters. Righty-batting Drew Stubbs and Brandon Barnes were effective off the bench last year, have experience as center fielders and can play all three spots.
Players who saw some playing time last year and could force their way into consideration to break camp with the team, or at least be in position for callups, are left-handed-hitting Ben Paulsen (.317 in 31 games last season) and right-handed-hitting Kyle Parker (.192 in 18 games). Paulsen is a first baseman who can play the outfield corners, and Parker is a corner man who can play first.
• The Rockies signed former Cardinals utility man Daniel Descalso, who has made a significant number of starts at third base, second base and shortstop, so the defense doesn't take a hit with him in the lineup.
An unsung factor in the collapse of last season was the Rockies' inability to fill third base when Nolan Arenado was injured in May. Charlie Culberson and Josh Rutledge (now with the Angels) lacked the experience. Michael Cuddyer (now with the Mets) tried to rekindle third-base skills from earlier in his career, but suffered a significant shoulder injury diving for a ball.
Those who could make themselves options are Rafael Ynoa (.343 in 19 games), who at the end of the year demonstrated the ability to play third; Culberson, who can play short but has to shake off a weak offensive year (.195); and Cristhian Adames, who saw brief action (1-for-15 in seven games) and must show Major League defensive range.
• The signing of catcher Nick Hundley turns Wilin Rosario into a right-handed bench bat who can earn more playing time by being confident at first base.
With Michael McKenry coming off a notable offensive season (.315 in 57 games), the idea has been floated that the Rockies could carry three catchers. But that's hard with a four-man bench. Also, McKenry doesn't have Minor League options. If all three stay healthy, the Rockies could have the ability to use one of the catchers in a trade at the end of camp if another club finds itself in a catching quandary.
The 13-pitcher structure, which helps the club during long stretches at bullpen-draining Coors Field, is not set in stone. Last spring, Weiss rewarded Dickerson by beginning the year with six outfielders on a road trip to Miami. He massaged the outfield situation throughout the year. With this season opening in Milwaukee and with nine of the first 12 games on the road, Weiss has wiggle room.
Thomas Harding is a reporter for MLB.com. Read his blog, Hardball in the Rockies, follow him on Twitter @harding_at_mlb, and like his Facebook page, Thomas Harding and Friends at www.Rockies.com. This story was not subject to the approval of Major League Baseball or its clubs.