Yankees get up-close look at Miller in bullpen
Southpaw pleases Rothschild, Girardi with impressive arsenal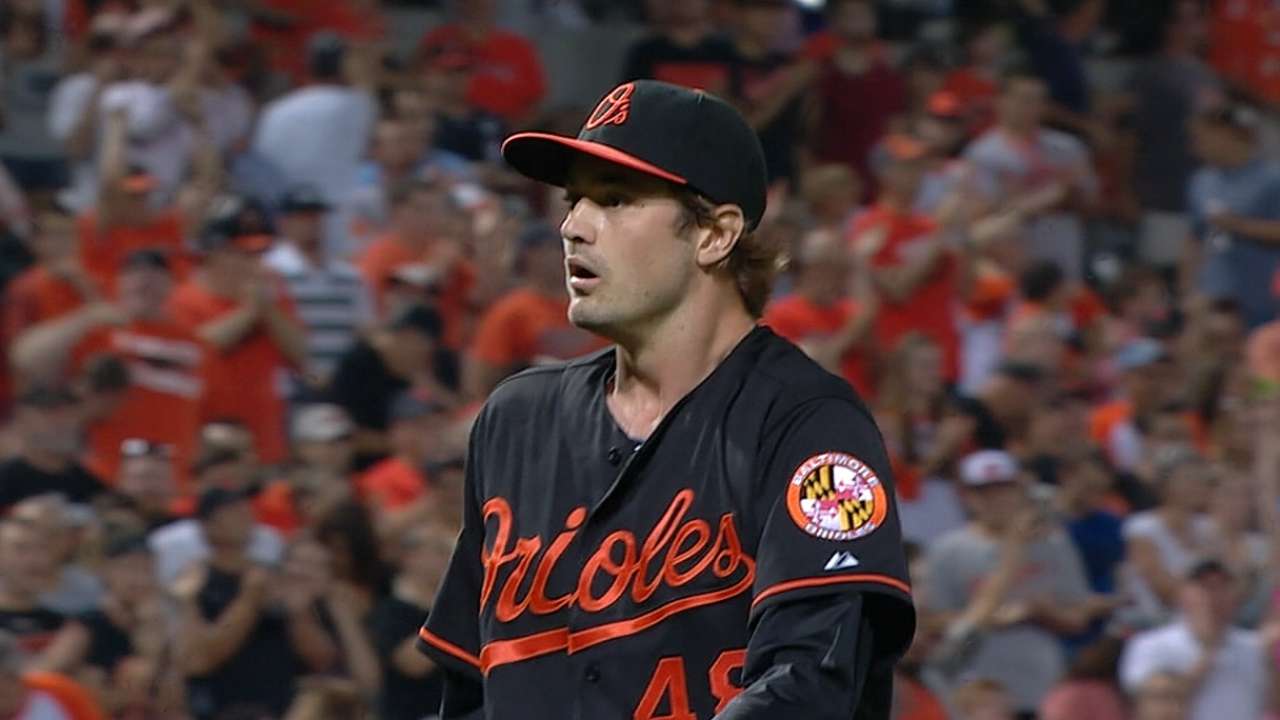 TAMPA, Fla. -- The Yankees got their first up-close look at Andrew Miller on Monday morning as the lefty reliever threw his first Spring Training bullpen session at George M. Steinbrenner Field.
In fact, it's hard to get a closer look than the one pitching coach Larry Rothschild did as he stood in the batter's box against Miller.
"It took courage for him to stand up there like that. For me, that's a good thing," Miller said afterward. "Throwing early in the morning with your new pitching coach standing in -- if you can survive that, it's a good way to work your way into the season. I was really happy [with] the way I threw."
Yankees manager Joe Girardi came away impressed after watching Miller throw about 25 pitches.
"Very good. I don't think Larry had a shot at hitting him," Girardi said. "Everything as a manager that you want to see -- and everything that I didn't like when we had to face him."
Signed to a four-year, $36 million contract this offseason, Miller is expected to compete with right-hander Dellin Betances to be the Yankees' closer. Girardi suggested on Sunday that the two shutdown setup men could even share the job.
Miller admitted it would be nice to have a role set in stone, comparing the closer's job to that of a starting pitcher in the sense that both know what's expected of them on a daily basis. But Miller said he didn't enter this spring with a specific role in mind.
"Honestly, my goal is not to show Joe that I can close. It's to show Joe that I can get an out whenever they need it," Miller said. "I've never been a closer. I've never had that set ninth-inning role. So I can't say that I want that or need that or anything, because I haven't had it."
Like Betances, Miller only has one career save to his name, and it came last season. But Miller has quickly developed into one of the most dominant relievers in baseball, something he proved last year with a 2.02 ERA and 103 strikeouts in 62 1/3 innings for the Red Sox and Orioles.
"I've shown that I can pitch in big situations. I proved a lot to myself personally last year down the stretch," Miller said. "I think playoff games and some of the situations I came in are probably more stressful than saving a game in May, I don't know. But I feel I've really improved. I've shown that left-handers, right-handers, speed guys, slap guys, power hitters -- I'm finding a way to get them all out on a pretty consistent basis, and that's my job as I see it right now."
Adam Berry is a reporter for MLB.com. Follow him on Twitter at @adamdberry. This story was not subject to the approval of Major League Baseball or its clubs.