MLB.com Columnist
Mike Bauman
A-Rod a distraction? Girardi sees no reason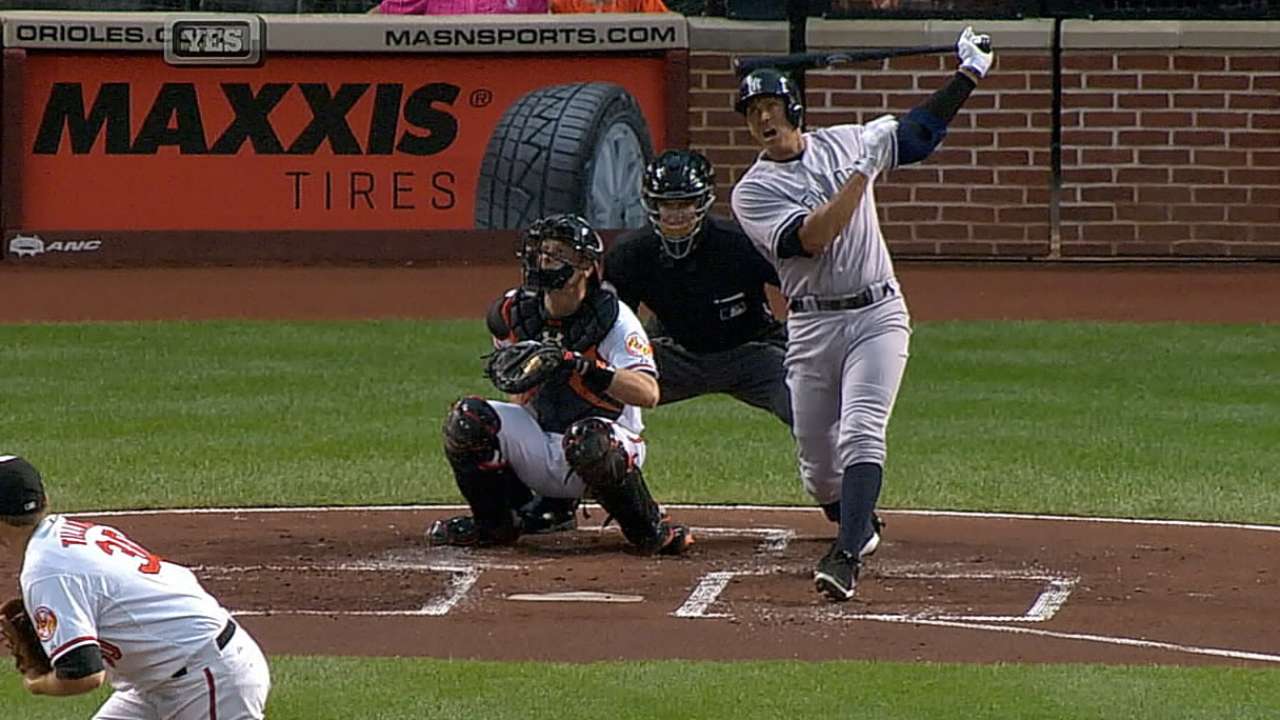 TAMPA, Fla. -- You have heard, read, seen speculation about how much of a "distraction" Alex Rodriguez will be to the Yankees.
Based on events Monday at George M. Steinbrenner Field and the surrounding area, it appears that A-Rod could be much more of a "distraction" to the media than to the other members of the Yankees organization.
Rodriguez returned to the Yankees on Monday after a season-long suspension for the use of performance-enhancing drugs. Before he admitted this usage, he had insisted upon his innocence and sued Major League Baseball, the players union and one of the Yankees' doctors.
More recently, Rodriguez has issued a series of apologies, including one to the Yankees, and a handwritten apology to fans. One way or another, his Spring Training homecoming would be news. And so it was on Monday.
Rodriguez had a physical exam at the ballpark, then went to the nearby Yankees Minor League complex for an informal workout. After his physical, a number of reporters waited for him in a corridor through which he would exit the ballpark. Rodriguez smiled and greeted a few reporters by name, but kept walking rapidly when asked if he would stop and talk.
More reporters waited for Rodriguez outside the Minor League complex, where, after signing autographs for fans, he answered questions. In his answers, Rodriguez often appeared penitent.
"No mistake that I've made has any good answer or a justification," he said. "It's unexplainable and that's on me. I've dug a big hole for myself and paid a price. I'm fortunate for a lot of people -- especially the Commissioner's Office, the players union and the Yankees -- to give me the opportunity to play the game that I love."
With the large group of reporters on the Rodriguez watch, a relatively small group of reporters were on hand in the Yankees' clubhouse for manager Joe Girardi's daily media session.
Would A-Rod be a distraction for the Yankees? Noting the small reportorial crowd in his office Girardi replied with a smile: "He's already making my life easier, look at it."
Girardi made the point that being the Yankees and being in New York, there always seemed to be issues floating around the club. The distraction question then made a comeback and Girardi measured it seriously this time.
"People talk about that a lot," the manager said. "I think the only way it becomes a distraction is if we allow it to, if we allow our work not to be the No. 1 priority. Some guys will be asked a few more questions for a little bit. If it wasn't about that, it might be about something else. So as I said, I think our guys will handle it well.
"There's enough leadership here that our guys will handle this professionally, make sure they're prepared to play."
That expectation is realistic. And the A-Rod who returns to the Yankees is not the transcendent superstar he once was. He will turn 40 in July. He will be playing on two surgically repaired hips. He will not be using PEDs, at least according to what he said Monday.
There is little reason to suggest that Rodriguez will produce anything like he did in his MVP seasons of 2003, 2005 and 2007. The Yankees have re-signed third baseman Chase Headley, thus making A-Rod essentially a DH. And Girardi has said that Rodriguez will have to prove himself to gain playing time.
The interpersonal aspects of his return are impossible to predict, although questions on the topic inevitably will be asked.
Had Girardi received one of A-Rod's apologies?
"As far as apologies go, I think the most important thing is for it to be sincere," Girardi said. "You want it to come from the player, where he makes the decision who and who not to apologize to. So we have not had a face-to-face talk yet. And like I said, I'll let him make that decision on what he wants to do."
Would a clear-the-air session with his Yankees teammates be advisable?
"It has to come from his heart," Girardi said. "I'll allow him to do what he feels is necessary."
Was there anything that the manager particularly wanted to hear from Rodriguez?
"That he's healthy and he's ready to play and ready to contribute," Girardi said with a smile. "That's what you want to hear and you want to see him be able to do that. That's the big thing. We just go from there."
So despite the pervasive nature of the "distraction" theme, there is no automatic outcome involved in the return of Alex Rodriguez to the Yankees. There are a lot of veterans, there are a lot of players familiar with playing in New York for the Yankees. They know what they need to do to get ready for the season. OK, the prodigal son has returned. Very interesting, but still no reason to become distracted.
After a series of questions dealing only with A-Rod, Girardi was asked if the return of Rodriguez had created a ripple in the clubhouse.
"No, not in the clubhouse," Girardi said. "The only ripple it made was in this room, right now."
Mike Bauman is a national columnist for MLB.com. This story was not subject to the approval of Major League Baseball or its clubs. This story was not subject to the approval of Major League Baseball or its clubs.