Returning to A's was a no-brainer for Mills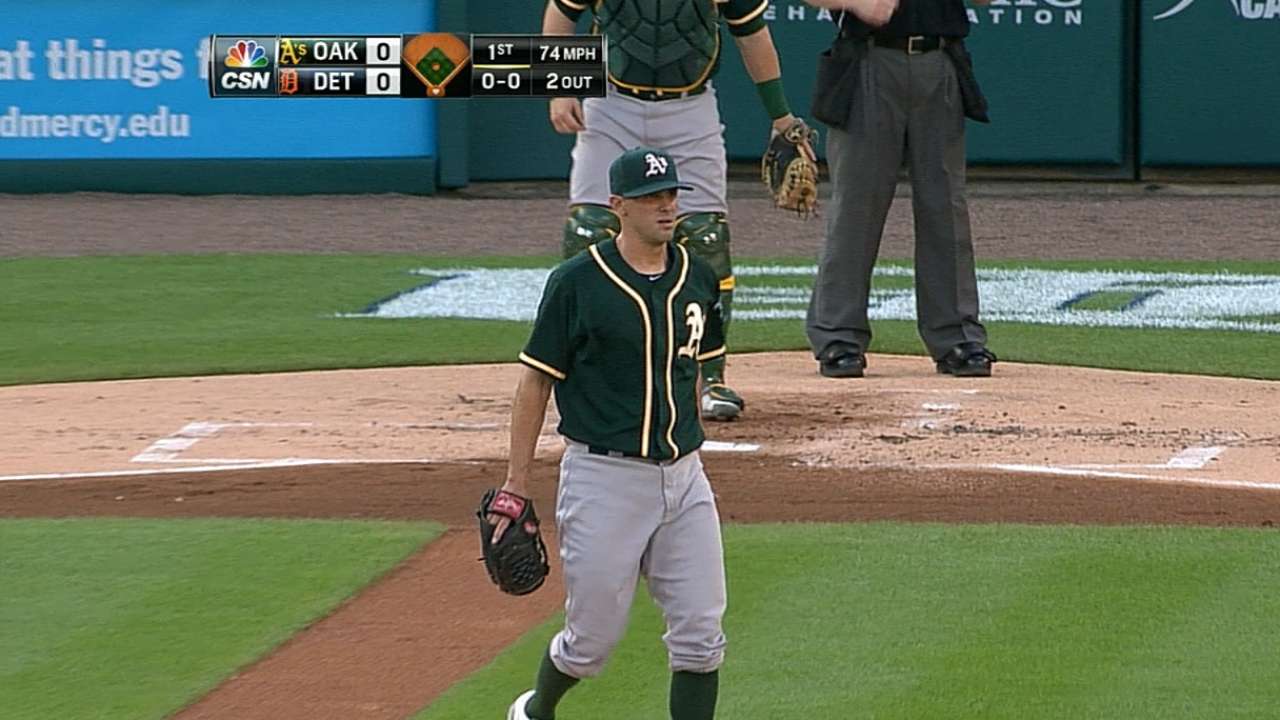 MESA, Ariz. -- The A's got plenty bang out of the buck they spent on Brad Mills last year. The left-hander, though with the club for exactly one month before being designated for assignment and claimed by Toronto, used the time to showcase his worth as a starter and is back to do so again on a Minor League deal.
"The few weeks I had here, I threw OK, but it was just such an enjoyable experience I wanted to have again," Mills said Monday at A's Spring Training. "It just helps when I know the organization will give me a chance to start and trust me if they need me, and that's all I'm looking for."
Knowing the A's now train in his hometown of Mesa was an added bonus for Mills, who re-signed with the club less than three weeks after the regular season ended. He was enjoying a mini-vacation at Disneyland with his wife and two young sons when he heard news of the A's interest.
The conversation with his agent was a short one.
"They reached out right off the bat and they obviously weren't messing around," Mills said. "I wasn't looking to mess around either. I wanted to know I had a job for the next year sooner than later, so it made it rather easy. I just knew from my time here it was in my best interest to come back."
The A's paid the Brewers just $1 to acquire his services last June when they needed short-term rotation help. Mills responded with a 4.41 ERA in three starts, two of which lasted at least six innings, before Oakland pulled the trigger on a blockbuster trade with the Cubs for veteran right-handers Jeff Samardzija and Jason Hammel.
"I don't blame them one bit for going out and getting Samardzija," said a smiling Mills, who was out the door three days later. "I'm just so happy for that opportunity. It was kind of eye-opening to see a clubhouse so relaxed and fun."
The 29-year-old is almost assuredly bound for Triple-A Nashville to start the season, given a deep pool of rotation candidates ahead of him on the depth chart, but that's another place where he's already well-acquainted, having spent much of last year there with the Brewers' Triple-A affiliate.
Such familiarity breeds comfort, and Mills has found both with the A's. It also helps he gets to spend the spring in his backyard. A few years ago, he bought a house just five minutes from Hohokam Stadium, where he played several high school tournaments.
"Everyone's come out of the woodwork for tickets," he said. "Hopefully I can accommodate most of them."
Jane Lee is a reporter for MLB.com. This story was not subject to the approval of Major League Baseball or its clubs.