Chavez sets sights on A's rotation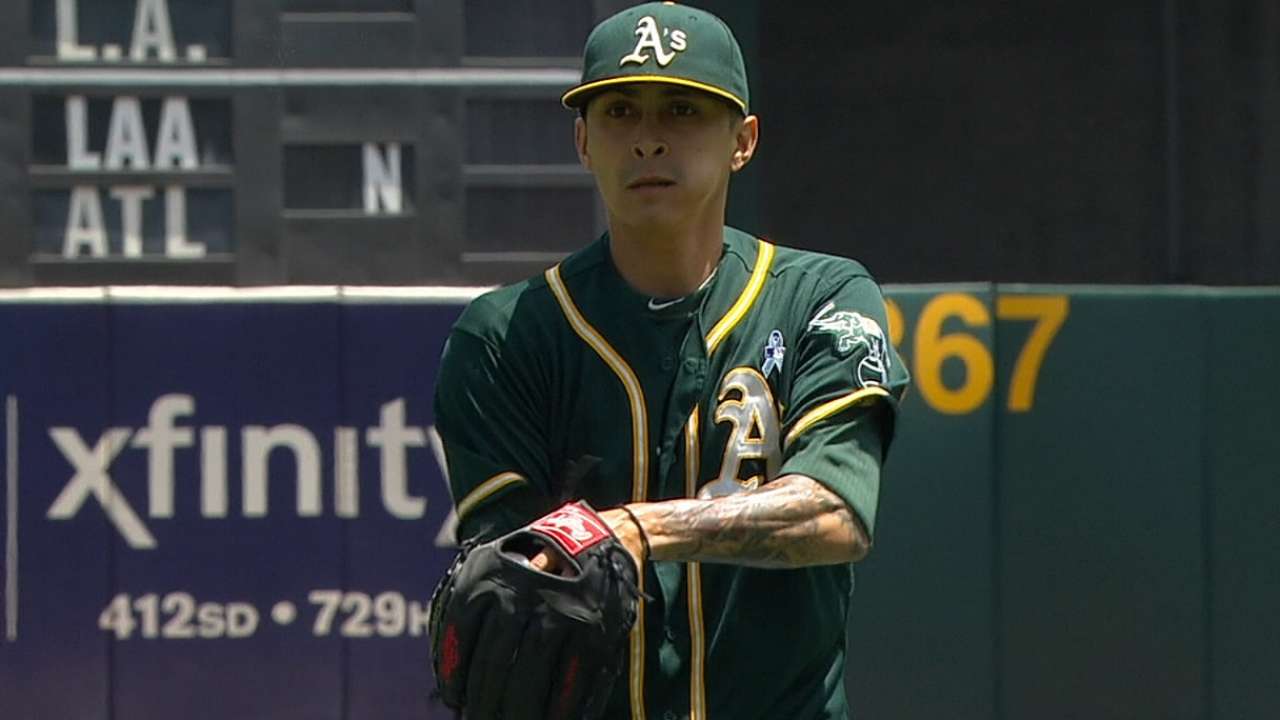 MESA, Ariz. -- Jesse Chavez brought a big appetite to camp. The A's right-hander is craving both food and success around the clock, and for one of the lightest pitchers in all of baseball, the former is crucial to the latter.
Ask around the A's clubhouse and the answer is seemingly unanimous: Chavez deserves a spot in the rotation again. The right-hander isn't so sure he's earned it, though, despite his incredible work last year.
That doesn't mean he doesn't want it.
"I think I opened eyes enough, but I don't think I did enough because I didn't keep it," Chavez said at Spring Training on Monday. "Now, if I get it, I gotta keep it. That's my mentality. I wanna ride it out."
Chavez, 31, maxed out his time in the rotation so long as his body would allow last year, after spring injuries to Jarrod Parker and A.J. Griffin opened up the opportunity. Chavez's 146 innings more than doubled his previous high (67 1/3 in 2009), covering 32 games -- 21 of them starts. He posted a 3.44 ERA as a starter, including a 2.54 ERA and .216 opponents' average in his first nine outings, completing at least six innings in all but three of them.
To this day, A's manager Bob Melvin still believes Chavez would've been an All-Star had the A's not already assembled seven of them. Soon after the Midsummer Classic, on July 28, Chavez surrendered a season-high six runs in 5 1/3 innings in Houston. Three days later, the A's traded for Jon Lester, and Chavez was sent back to the bullpen.
Chavez doesn't like sitting in the bullpen. He's a visual guy. He wants to watch how his peers attack hitters from the dugout, study the opponents' strides and examine where their hands go. Consider it one of many reasons he wants back in the rotation.
"I love the challenge of being able to chess-match a hitter three or four times through a lineup," he said, "and I want my 20th start to feel just like my first or second one. That's what lit the most fire in me this offseason, knowing I didn't want to let what happened last year happen again."
Chavez could only control so much last year, though, and the midseason fatigue was essentially expected, given the unprecedented workload. He knows that's no longer an excuse this go-around. He added more weight training to his workouts this offseason, and more snacks between his meals, making a second peanut butter and jelly sandwich for himself when his daughter wants one. He's stronger -- and heavier, weighing in at 170 pounds, 10 more than his listed weight.
At the end of the 2014 season, he was down to 157 pounds.
"I feel way stronger," he said. "That's such a cliche thing for me to say, but for my size, it's a huge deal, and I can tell just by playing catch, the early side sessions, the way the ball's coming out, it just feels like I don't have to use anymore extra effort now that I've built all that muscle."
The video Chavez scoured through the winter showed he was occasionally forcing location last season. His hands were getting lazy as his outings added up, and his shoulders started dropping. Even now, he struggles to admit he was tired.
"I don't know," he said, pausing for several seconds. "Yeah. You know, I was. Now that I think about it, when I can't throw my curveball for a strike, I know I'm tired."
After throwing a bullpen this week, Chavez beamed over his curveball, and Melvin gushed over his "midseason form." It's a wonder what he could do with a full season in the rotation now.
"That's what I want to answer," he said.
Jane Lee is a reporter for MLB.com. This story was not subject to the approval of Major League Baseball or its clubs.