Ryan, Twins appear on board with pace of game changes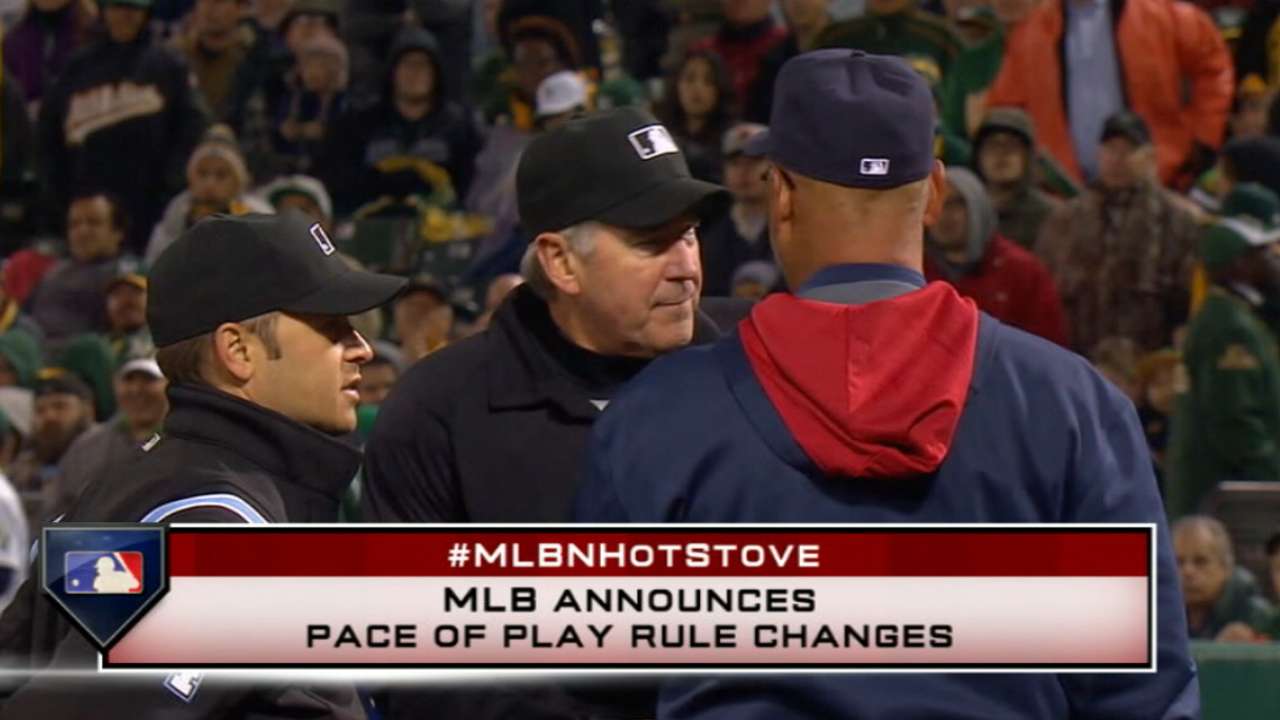 FORT MYERS, Fla. -- Major League Baseball is taking steps to address the pace of game this season, and the Twins appear on board with the current changes that were announced Friday.
Three major changes will be implemented, including having umpires enforcing the batter's box rule to have the hitter keep one foot in the box with a few exceptions, timers at the ballpark between innings and during other breaks in the action to keep the game moving and updates to the challenge system with managers now making challenges from the dugout.
Twins general manager Terry Ryan, who has served on MLB's Playing Rules Committee, said he agrees with the changes and likes the fact new MLB Commissioner Rob Manfred is open to new ideas.
"Pace of game is obviously a piece to Rob's approach," Ryan said. "It's not so much three hours and 20 minutes, it's about how did we get to three hours and 20 minutes."
Ryan attended the Arizona Fall League this offseason that also saw the implementation of pitch clocks, which will not be used in the Majors this year, but will be used at Double-A and Triple-A. During the Fall League, pitchers had had to throw within 12 seconds with nobody on and within 20 seconds with runners on base.
"I watched many of those of those Fall League games with the clock and you'd never know it was out there," Ryan said. "It didn't affect the Minor League players. There was only about two times I saw where a pitcher got called for a ball when he wasn't ready to go."
Twins right-hander Phil Hughes said he agrees with the current changes to help speed up the game, but said he's not sure that he'd support a pitch clock.
"That part is tough," Hughes said. "I probably wouldn't come anywhere close to using all the time if it were implemented, but I feel like having that hanging over your head could be a distraction. There is a flow and a rhythm behind every pitch you throw so if that gets in the back of your mind and you're worried about being timed, it could take away from your concentration."
The Twins have yet to hold a meeting addressing these changes, which is of interest to position players such as second baseman Brian Dozier. There will be exceptions to when hitters can step out of the box such as after swinging at a pitch, which Dozier finds necessary.
"Sometimes you need to step out of the box," Dozier said. "It's part of the game. I like how they're speeding up the game, but you don't want to change too many things about the game itself. You have to find a happy medium. But maybe this might work."
Rhett Bollinger is a reporter for MLB.com. Read his blog, Bollinger Beat, and follow him on Twitter @RhettBollinger. This story was not subject to the approval of Major League Baseball or its clubs.