Eight-man bullpen under consideration by White Sox
Plan may help ease rotation's early workload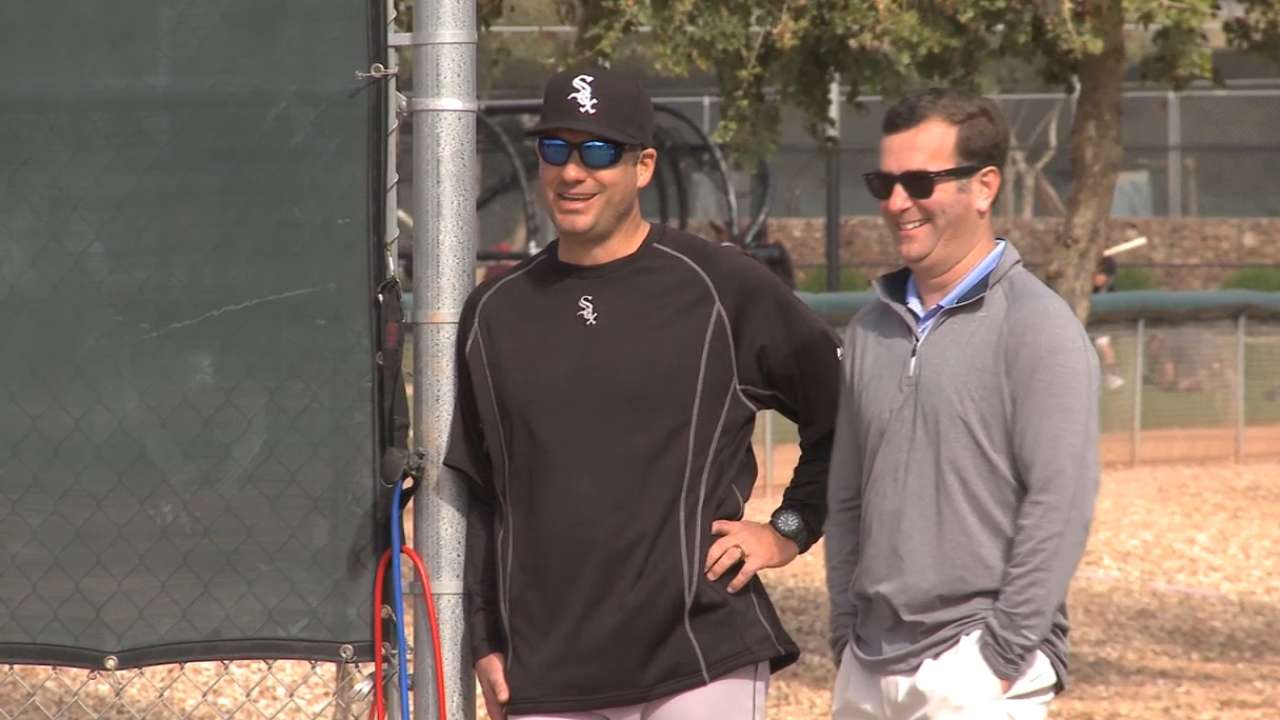 GLENDALE, Ariz. -- Manager Robin Ventura stated during his media session on Monday at Camelback Ranch that the White Sox are considering taking eight relievers and one fewer position player when they break camp in early April.
"Yeah, we could," Ventura said. "We are pretty open to it right now."
That extra arm at the start of the season could help starters from getting their pitch count up too high early and work toward keeping them fresh all season. In order for that plan to manifest, either Micah Johnson or Carlos Sanchez would have to win the second-base job.
Emilio Bonifacio, Gordon Beckham and a backup catcher would serve as the bench, with Bonifacio working as the fourth outfielder and Beckham being able to play across the infield. David Robertson, Zach Duke, Dan Jennings, Jake Petricka, Zach Putnam and Javy Guerra seem to have an edge for the first six bullpen spots, but hurlers such as Daniel Webb, Matt Albers, Maikel Cleto and even Brad Penny and Carlos Rodon could benefit from that extra relief opening.
"With the versatility we have, we have some options on how we are going to go early in the year," Ventura said.
Here are other bits of news coming from Monday's White Sox camp.
• Ventura doesn't necessarily count Tyler Saladino as part of the fight for second base. He plans to use him more in a utility role across the infield, but he will not play him in the outfield, where Saladino played eight games in left field last season for Triple-A Charlotte.
• The following pitchers will be throwing live batting practice on Tuesday: Chris Sale, John Danks, Rodon, Jennings, Zach Phillips, Jeff Samardzija, Penny, Petricka, Chris Beck, Tyler Danish, Nolan Sanburn, Logan Kensing, J.D. Martin, Webb and Scott Carroll.
• After a rough 2014 season at both the Major League and Minor League levels, White Sox pitching coach Don Cooper still has high hopes for Erik Johnson.
"Listen, he didn't have the year he was looking for, but this kid is still a top-notch, quality prospect and it's up to us and him to help him get back to that spot," said Cooper of the right-hander, who had a 6.46 ERA in five starts with the White Sox and a 6.73 ERA over 20 starts at Charlotte. "That doesn't worry me, we do that in a lot of cases.
"But we've got to get him back going to where he was, and if we do, we're better. We've got him in case something goes wrong. We've got Brad Penny, we've got Beck, [Frank] Montas, Danish. These are all the kids who are coming, but we just bought more time by getting shored up at the big league level."
Scott Merkin is a reporter for MLB.com. Read his blog, Merk's Works, and follow him on Twitter @scottmerkin. This story was not subject to the approval of Major League Baseball or its clubs.