Maddon's way: Cubs pitchers to meet with sports psychologist
New manager wants players to build routine, stay in present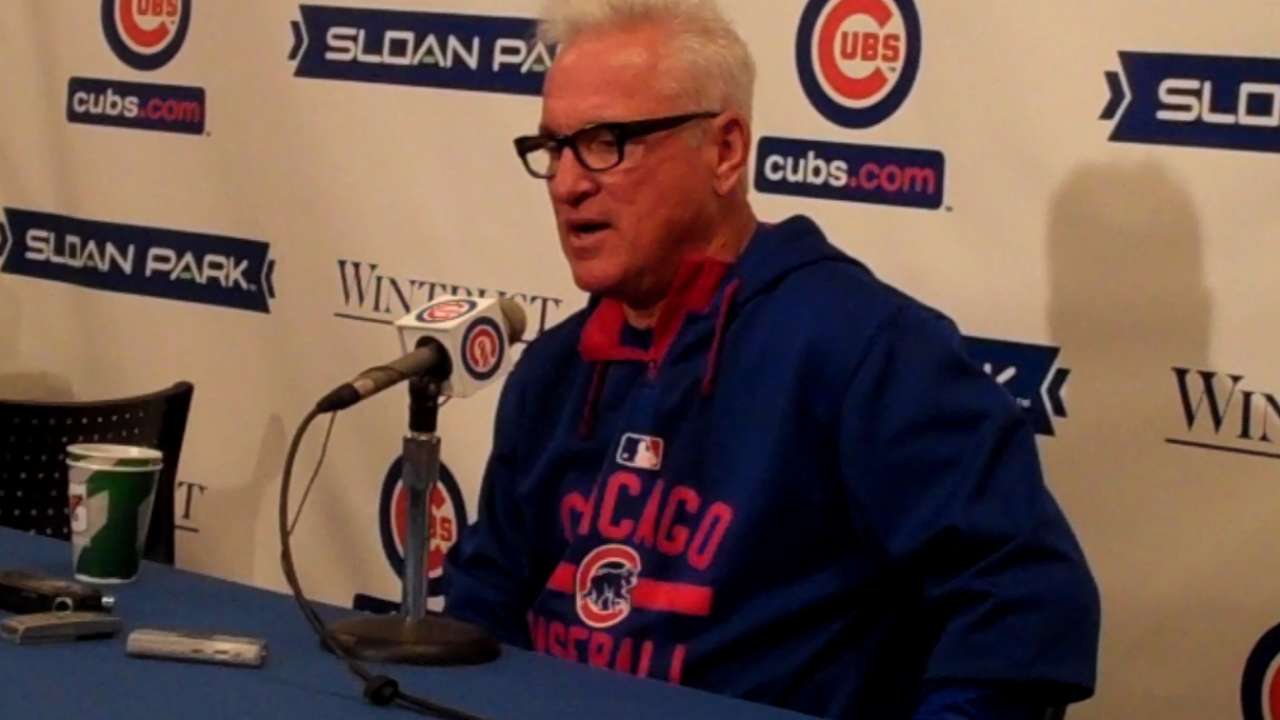 MESA, Ariz. -- Back in the 1980s, it was tough for Joe Maddon to convince any of his baseball teammates or coaches that seeing a sports psychologist could be a good thing.
"These guys wanted to know when did [the psychologist] ever play baseball and what right does he have to tell us [things]," Maddon said Monday. "I said, 'You're missing the point. He's going to attempt to help you teach what you know better by going from A to B to C to D and putting it in a more precise order.' It was hard to get that across back in 1984."
On Tuesday, Dr. Ken Ravizza, whom the Cubs have hired as a consultant, will meet with the pitchers. Maddon has worked with Ravizza, a noted sports psychologist and author of the book, "Heads-Up Baseball: Playing the Game One Pitch at a Time," since the 1980s.
"It's about teaching methods," Maddon said. "It's about knowing what to recognize."
When Maddon was in the Angels' organization, they had trailers set up near an auxiliary field for players to meet with Ravizza and others.
"It's more about building routine and being able to stay in the present tense, let go when it's necessary, know how to refocus when things aren't going well," Maddon said. "[It's about] breathing -- the breath is the anchor. He'll talk about that a lot."
Players have much more to deal with than just the game itself in 2015, Maddon said, pointing to the television cameras in the room. He bristles when people say anyone who sees a sports psychologist is weak.
Cubs third baseman Mike Olt has worked with Josh Lifrak, who is director of the team's mental skills program after spending 10 years as the senior mental-conditioning consultant for IMG Academy in Bradenton, Fla.
"In this game, you find out it's a lot more mental than physical," Olt said.
Carrie Muskat is a reporter for MLB.com. She writes a blog, Muskat Ramblings, and you can follow her on Twitter @CarrieMuskat. This story was not subject to the approval of Major League Baseball or its clubs.