Utley talks 'respect;' no plans to ask for trade
Veteran reaffirms position, but would listen if Phillies approached him about deal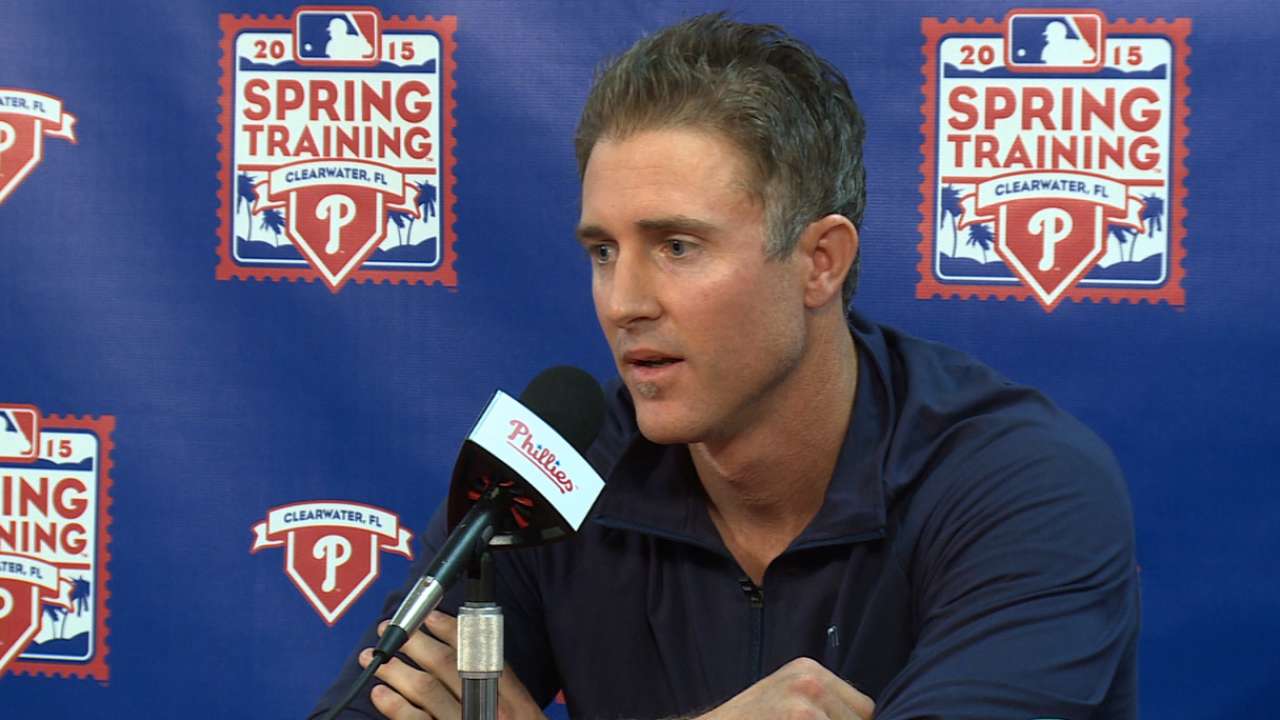 CLEARWATER, Fla. -- Chase Utley has not changed his mind. Not yet anyway.
The veteran second baseman said Monday afternoon at Bright House Field that he still has no desire to waive his no-trade rights and play for anybody other than the Phillies. It has been a topic of conversation for months, especially since December when the Phils traded Jimmy Rollins to the Dodgers. Rollins said repeatedly for more than a year he had no desire to leave Philadelphia, but he heard the Phillies' front office talk about rebuilding for 2017 or '18 and decided he had a better chance to win a World Series elsewhere.
Why would Utley, 36, want to stay and possibly spend the final years of his career in a rebuilding effort?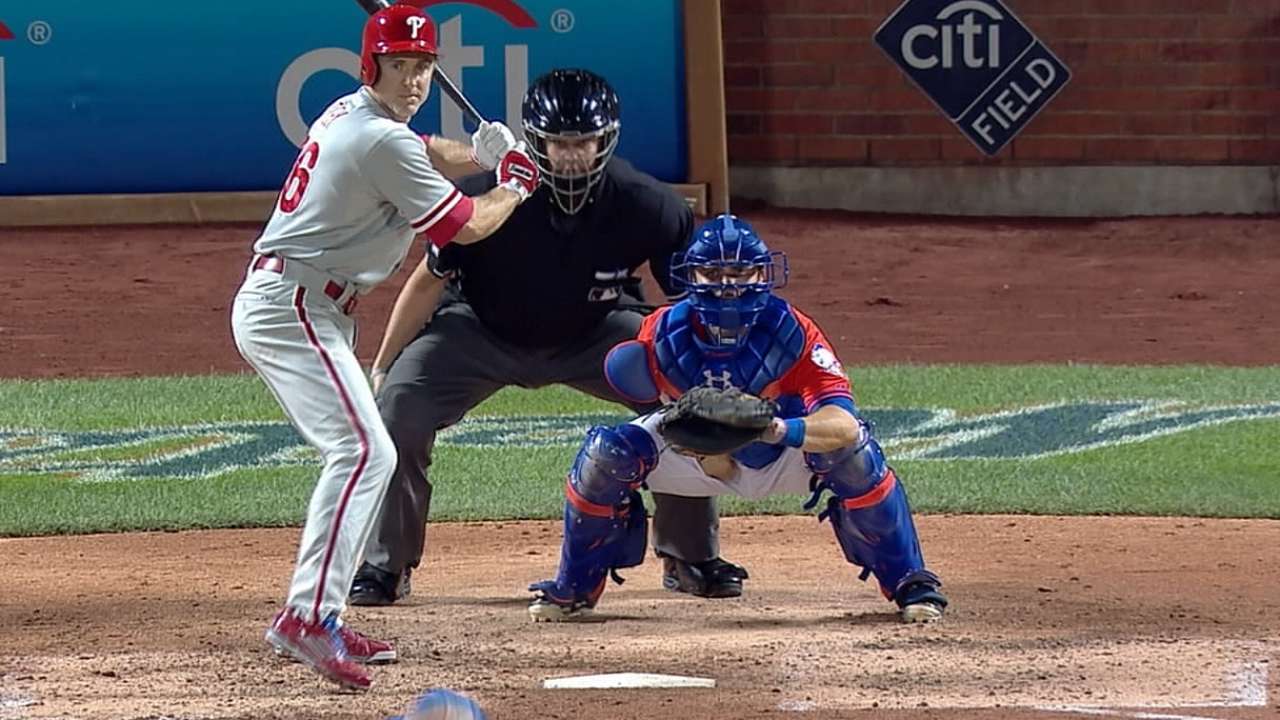 "I really enjoy playing with this organization," Utley said. "They've done a lot for me, personally, and put together some pretty good teams over the years. So I have a lot of respect for the people making decisions. They've always put together a great bunch of guys. We made it work out. We've had some great opportunities over the years and I respect that."
But those warm and fuzzy feelings about Philadelphia came with a caveat.
"For as much respect as I have for the organization, if they ever came to me and asked me, I would have to listen," Utley said. "But I don't think much will change."
Utley opens his 13th season with the Phillies toeing the line and saying publicly he believes the Phils can compete.
They certainly need Utley to be healthy and productive to have a shot at that. His knees have been an issue in the past. Utley said they feel fine. But he revealed Monday he sprained his right ankle in January, when he stepped awkwardly on a baseball.
It is an issue entering camp.
"That kind of put a wrinkle in things," Utley said. "I'm still kind of dealing with it right now. It's improved dramatically over the past two weeks, but it's still not perfect. Early in the camp, I'm still going to take care of it. Last thing I want to do is do too much on it. Range of motion is almost there. The strength is not quite where I want it to be. The last thing I want to do is compensate for it and set off some type of chain reaction."
If Utley is ready to start the season, he will be hitting third, but the Phillies would welcome more production. His .755 OPS in the No. 3 hole last season ranked 18th out of 20 hitters with 400 or more plate appearances in that spot.
Runs could be extremely difficult to find in 2015.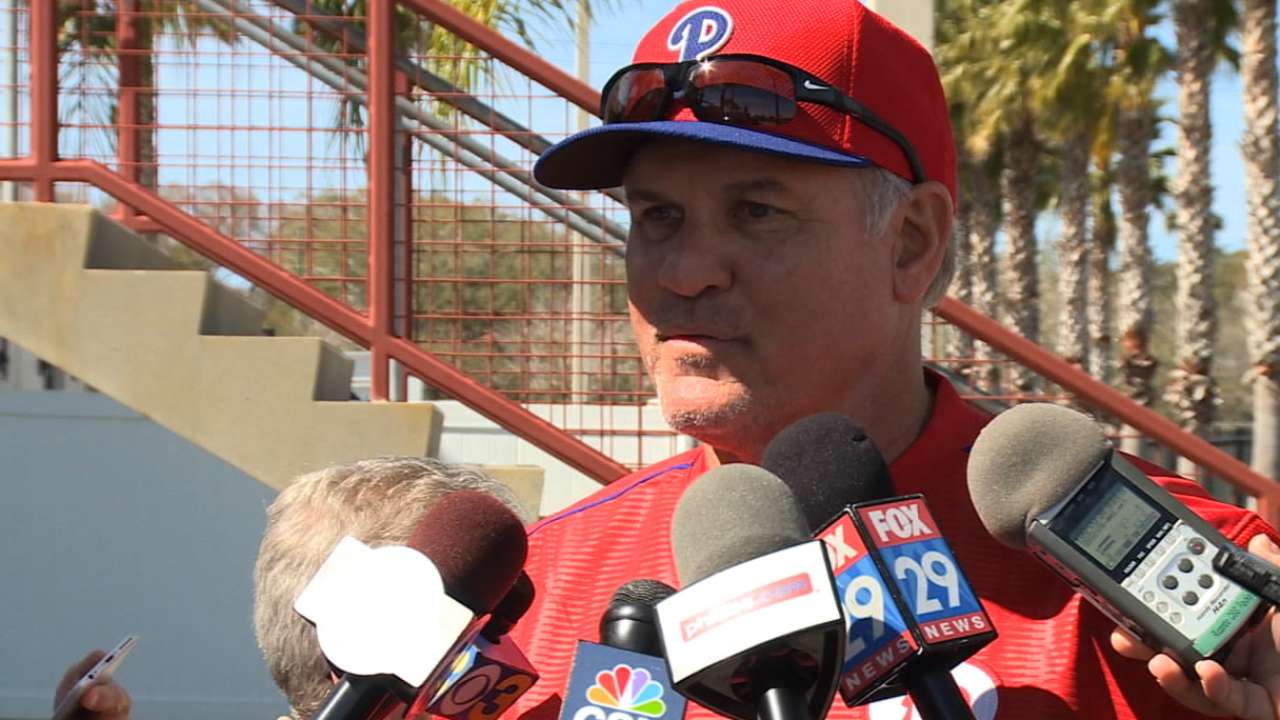 That is just one reason why the Phils are not expected to contend, which could have Cole Hamels, Cliff Lee, Jonathan Papelbon and possibly Ryan Howard headed elsewhere before the July 31 non-waiver Trade Deadline.
If that happens, then maybe Utley listens to a trade proposal.
"I think it would change some things," he said.
Utley probably listens anyway.
"You're going to a hypothetical situation there, so it's hard to really say," he said. "But I have so much respect for the organization that I wouldn't completely push Ruben [Amaro Jr.] away and say, 'Absolutely not. I'm not even going to hear it.' I would listen to him out of respect for him and the entire organization and kind of go from there. I want nothing more than to play for this organization for as long as I can.
"It's going to look a little bit different than it has in the past. I'm looking forward to getting going, working with some guys, and looking to improve. I think we have a much better team than people think."
Todd Zolecki is a reporter for MLB.com. This story was not subject to the approval of Major League Baseball or its clubs.