Roenicke mulling lineup puzzle
Several players could fit in same slots, 'good problem' for manager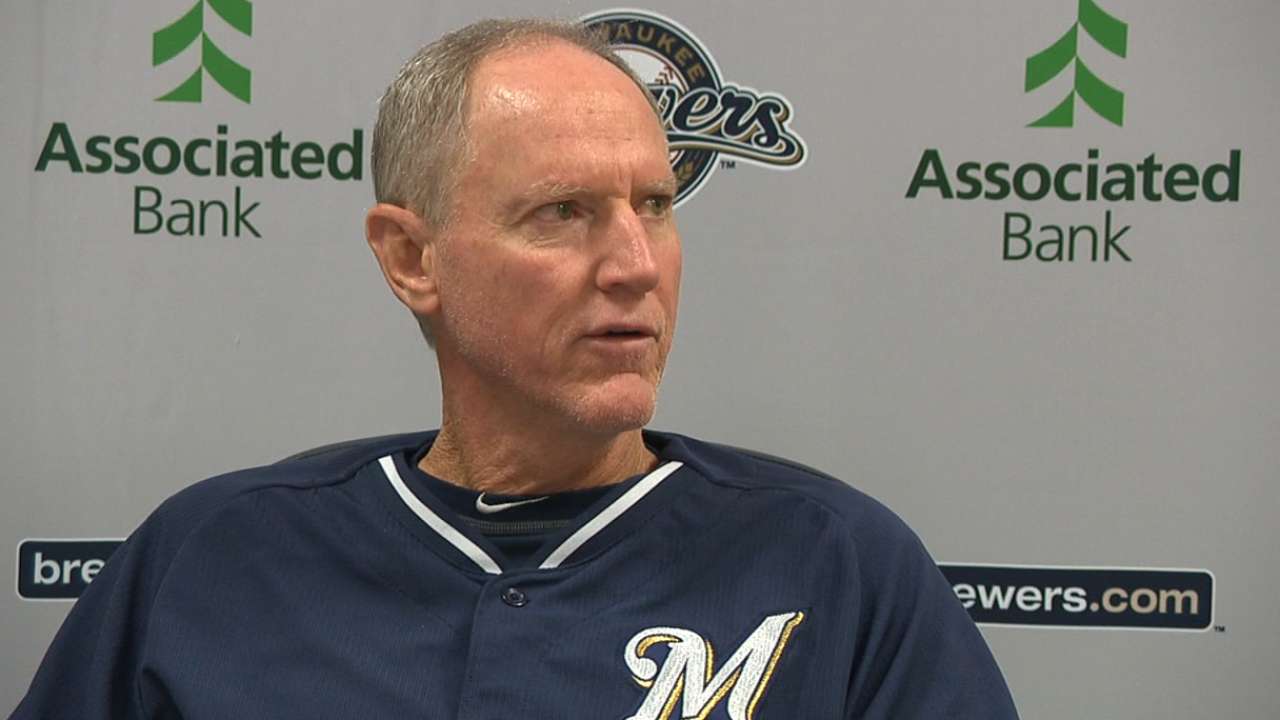 PHOENIX -- With the Brewers' first exhibition game nine days away, manager Ron Roenicke said "nothing's set" in the team's batting order. Writing a lineup is proving a more difficult process than in seasons past.
"This is going to be a tough lineup to write up," Roenicke said. "It's a good problem, but it's tough because I see a lot of guys who should be grouped in kind of the same slot. I think we have a lot of guys who are good fifth, sixth hitters. I have to figure out how to do that."
Among the questions Roenicke and his coaches will mull in the coming weeks:
• Who hits leadoff? Scooter Gennett filled the role late last season, but Roenicke indicated he made that move in part to shake things up and because Carlos Gomez was needed in a run-producing role at the time. There's no guarantee Gennett will start the season in that spot.
• Is Aramis Ramirez, at 36, still a cleanup hitter? Things can change, but Roenicke's comments Monday hinted at Ryan Braun and Ramirez remaining in the three- and four-holes.
• Where do new first baseman Adam Lind's left-handed bat and high on-base percentage best fit? Lind and Gennett are the only left-handed hitters in the mix.
• What's the best place to maximize catcher Jonathan Lucroy's doubles-heavy production?
For his part, Gomez indicated he'd happily bat anywhere in the lineup.
"I don't care," Gomez said. "Whatever Ron feels is good for the team, I'm open."
Someday, Gomez wants to be a bona fide three- or four-hole hitter, and he said, "I think I'm going in the right direction."
The Brewers' first exhibition game is March 4 against the University of Wisconsin-Milwaukee. Their first Cactus League game is March 5 against the Angels in Tempe, Ariz.
"Nothing's set," Roenicke said. "I have an idea where I think I want guys to be, and we come in here and we sit down and see what it looks like, we talk to guys, we see how healthy guys are. Then we put that lineup together, put it out there and see how it looks."
Adam McCalvy is a reporter for MLB.com. Read his blog, Brew Beat, and follow him on Twitter at @AdamMcCalvy. This story was not subject to the approval of Major League Baseball or its clubs.