Hudson happy to have 'normal' spring with D-backs
After two years of rehabbing elbow, righty healthy at start of camp
SCOTTSDALE, Ariz. -- If nothing else, the past two-plus years have taught D-backs right-hander Daniel Hudson the value of patience, and he's certainly had plenty of practice at taking things day by day.
That will come in handy this spring, as a determination as to whether Hudson is used as a starter or reliever will evolve as camp goes on.
Hudson, 27, tore the ulnar collateral ligament in his elbow in June 2012, and after Tommy John surgery, he underwent a year-long rehab process and was just days away from returning to the active roster when he re-tore the ligament during a Minor League rehab start.
A second Tommy John surgery was required, and yet another grueling rehab had to happen before Hudson was finally able to pitch in a big league game again. He entered Arizona's Sept. 3 game against the Padres as a reliever and tossed a scoreless inning. It was his first Major League appearance in 799 days.
Now, for the first time since 2012, Hudson is able to participate fully in Spring Training.
"It's nice to not have to go in there and look at the rehab schedule for the day to see what you've got," Hudson said. "Instead, I just warm up normally with the groups and go out and do the normal Spring Training thing."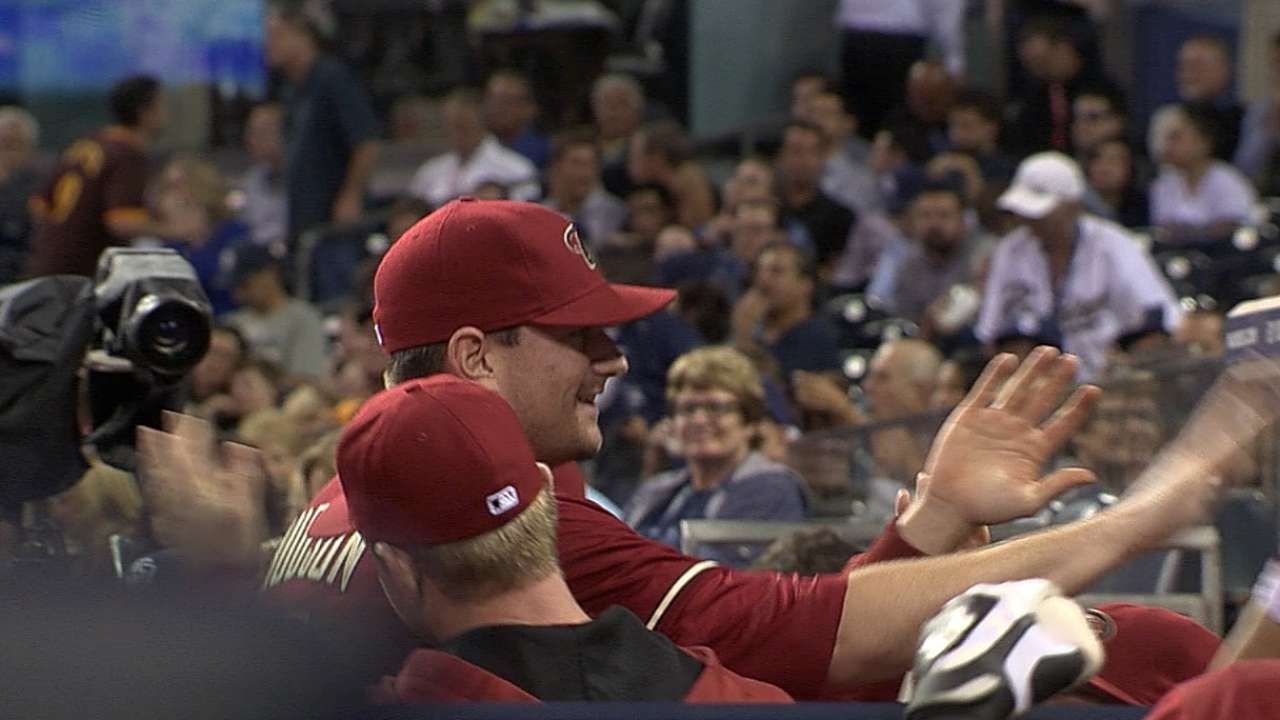 Hudson made three appearances at the end of last season, and while he might be on a regular program this spring, thoughts about another reoccurrence have not gone away.
"I don't think I ever will [stop thinking about it]," Hudson said. "For the most part, it's always just going to be there in the back of my mind. Two surgeries to your arm, so it is what it is. I've just tried to tell myself that I can't be scared about it, I can't be worried, because whatever is going to happen is going to happen.
"I did all the work I could possibly do the last two years. If it goes again, it goes again. I can't really do anything about it."
The D-backs are trying to find a role that keeps Hudson healthy and productive. For now, he is being stretched out as a starter.
"He's a special guy on this team," D-backs manager Chip Hale said. "We're going to do everything we can to help him be healthy all year. Is it as a starter? We don't know. He will be involved in the decision."
The care and consideration that the D-backs have shown with Hudson were a big factor in why he decided to sign back with Arizona in December after the organization initially non-tendered him.
"That's all you really want, is for the organization to be honest with you and keep you involved in the discussions and not just tell you this is what you're going to do and basically give you an ultimatum," Hudson said. "It depends a lot on need, too. If they feel like they don't really need me to take a spot in the rotation, then I'll slide back to the bullpen. Whatever the team needs, I will do."
Steve Gilbert is a reporter for MLB.com. Read his blog, Inside the D-backs, and follow him on Twitter @SteveGilbertMLB. This story was not subject to the approval of Major League Baseball or its clubs.