After studying Matheny, Ohlman is now learning from him
Young catcher researched his new manager's career following trade from Baltimore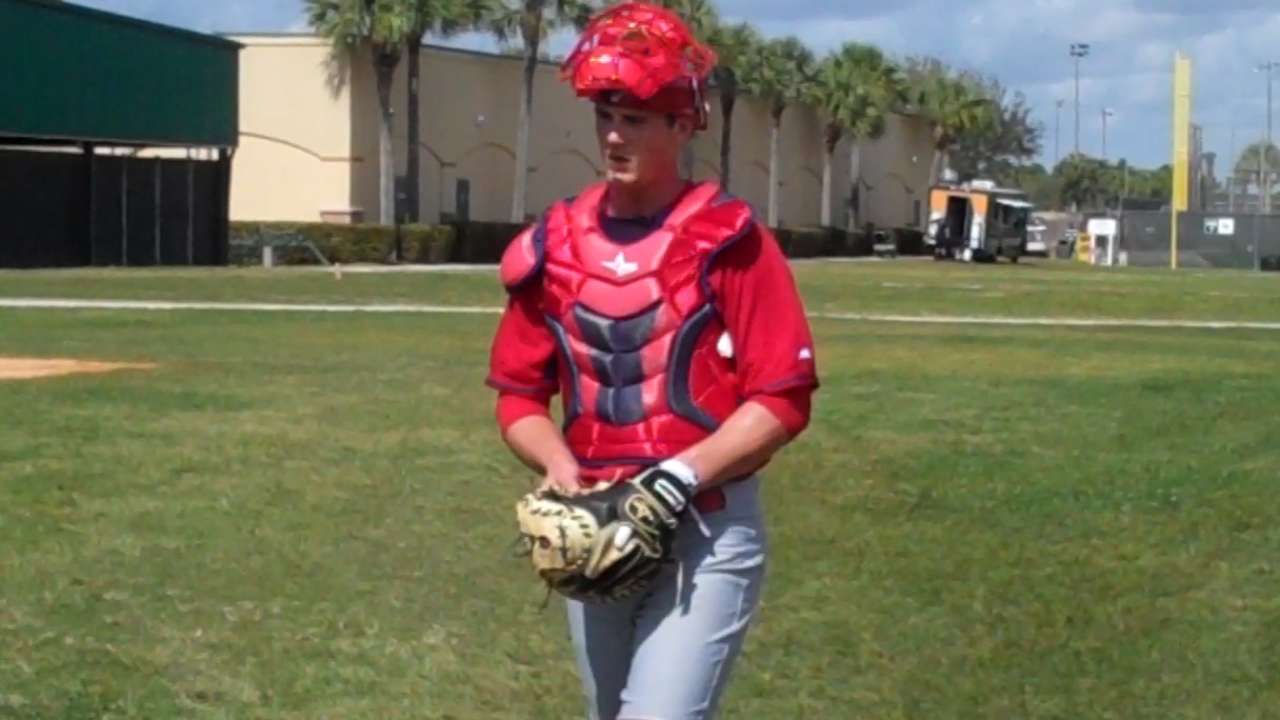 JUPITER, Fla. -- Wanting to be the utmost prepared upon reporting to his first Spring Training with the Cardinals, Mike Ohlman cued up YouTube and dug into statistics shortly after learning he had been traded by Baltimore. The crash course was designed to give Ohlman a knowledge base of the big league manager he hadn't yet met.
Only having heard about Mike Matheny's background, Ohlman played as much archived video as he could find -- about 30 minutes worth -- of the former Major League catcher. He discovered how many games Matheny caught in St. Louis (622) and learned about Matheny's long-ago mentorship of Yadier Molina.
"I've done my research," Ohlman said after the team's workout on Monday.
Now, Ohlman's new manager is getting to know him.
While Matheny, a four-time Gold Glove winner, invests time with all of the organization's catchers, he had an instant connection to Ohlman. At 6-foot-5, Ohlman stands out among the nine catchers participating in Major League camp. He's the only one on the team's 40-man roster to be listed as taller than six feet.
The 6-foot-3 Matheny has a unique understanding of the challenges bigger catchers face and has already twice taken Ohlman aside to share of his experience. One session occurred on Sunday afternoon; they met again in the batting cages on Monday morning.
"There are different mechanics for 6-3 to 6-5 compared to a guy who is 5-10," Matheny explained. "It's giving him some different options, ways to get his body out of the way to be able to do what we need to do."
"If I can take anything away that somehow clicks with me and just puts me over the edge getting my defense a little better, help the pitchers out and give the team the best chance to win," Ohlman said, "I'm not afraid to go in and ask him questions. I think it's hard for anybody of any size, I think, because you have to be in every play. You can't take a single pitch off. But it can be harder having longer limbs."
The two discussed the importance of flexibility and about the technique of pinching the knees together to make receiving smoother. Reacting to and blocking pitches can often be more challenging for catchers with larger frames, though Ohlman believes his size can also be an asset. It allows him to provide a bigger target behind the plate and can help when throwing out runners.
Ohlman, who climbed to Double-A in the Orioles' system last year, should get consideration for a Triple-A roster spot at the close of spring. But until a decision is made, he'll just continue to learn.
"I'm very impressed," Matheny said. "He has been a sponge. There are some things he's been working on that we've been able to see improvements on. He looks like a kid with a lot of potential."
Jenifer Langosch is a reporter for MLB.com. Read her blog, By Gosh, It's Langosch, and follow her on Twitter @LangoschMLB. This story was not subject to the approval of Major League Baseball or its clubs.