Straily healthy, confident in bounceback season
Righty expects to be top option for No. 5 spot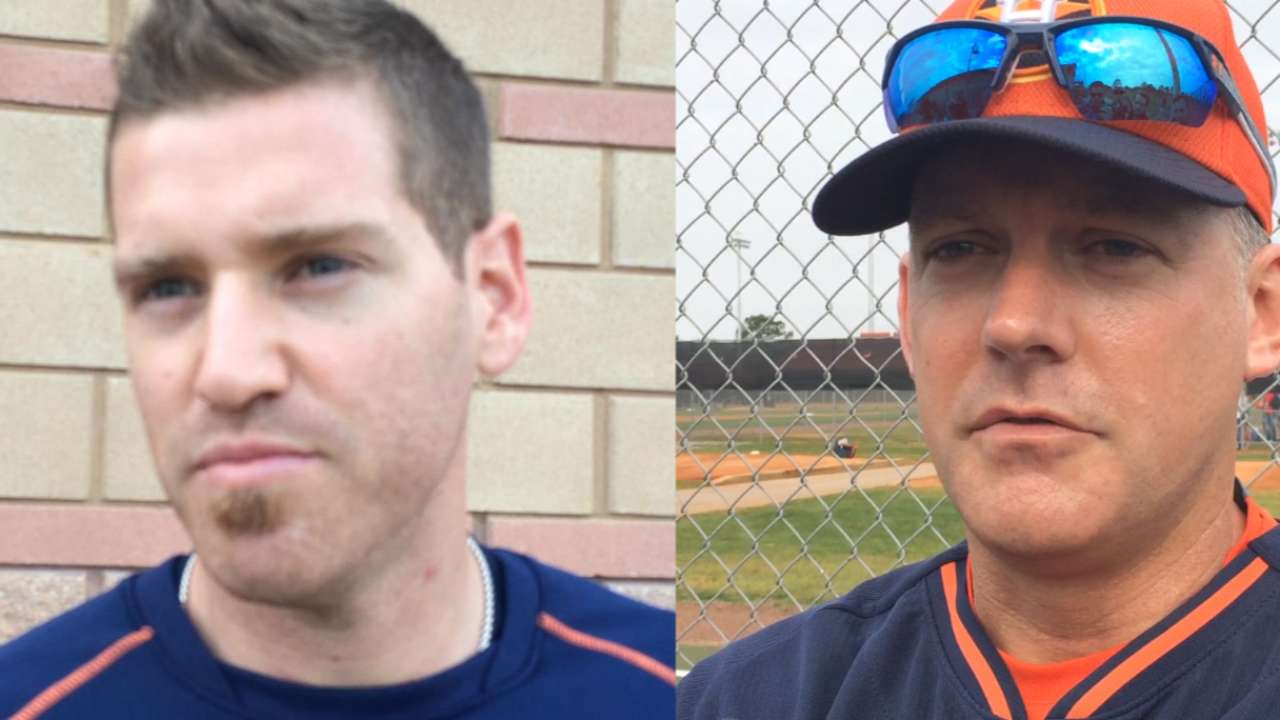 KISSIMMEE, Fla. -- You know you've made it to the big leagues when you see your name scroll across the bottom of a monitor in the back seat of a taxicab. Or at least, that's what Pat Neshek quipped to fellow pitcher Dan Straily a couple of years ago while they were sharing a ride.
About a month after Straily made his Major League debut for A's on Aug. 3, 2012 -- the same day the A's traded for Neshek -- the two were riding in a cab in New York City with Adam Rosales when a sports update on the monitor displayed Straily's name on the crawl at the bottom. Straily was dressed in wrestling gear as part of a rookie hazing ritual, so naturally Neshek took a photo and later posted it on Twitter.
"You can't say no to anything the veterans tell you to do, so I had to take a picture and he posted it," Straily said. "He's a good dude and I'm excited to see him back here."
@danstraily67 Teammates again! Make sure you bring this outfit with you this year. pic.twitter.com/LKjjOHtCQT

- Pat Neshek (@PatNeshek) January 19, 2015
Straily and Neshek are back together in Houston this year as part of a busy offseason that saw the Astros revamp their bullpen and lineup. Neshek signed a lucrative deal to bolster the Astros' bullpen in December, and Straily was acquired in last month's Dexter Fowler deal with the Cubs.
"When I got the call from the Cubs I was traded, I was really excited," said Straily, who was traded to the Cubs from the A's last July 5. "The first reaction I had was just excitement, coming here to get the opportunity to join this group that has been getting better and better."
Straily, a 26-year-old right-hander, is competing for the fifth spot in the Astros' rotation, and if he pitches like he did with Oakland in 2013, he'll be the front-runner. He went 10-8 with a 3.96 ERA in 27 starts in his rookie season and led American League rookies in games started, innings and strikeouts.
Things went awry last year when he struggled with shoulder weakness and wound up splitting time between Oakland and Triple-A before being traded. The Cubs provided a good opportunity until they acquired even more pitching, making Straily expendable.
"He had a nice run in Oakland, where he made it up to the big leagues and contributed and threw a lot of innings and won double-digit games," Astros manager A.J. Hinch said. "Guys just don't fall off the map like that."
Straily couldn't be happier to be with the Astros, especially considering he's been reunited with Neshek and other former teammates like Luke Gregerson, Jed Lowrie, Chris Carter, Max Stassi, Brad Peacock and Luis Valbuena. Most importantly, he says his shoulder is strong.
"It's ready to go," Straily said. "Once I feel good going into the season, it's kind of like everything else is going to take care of itself. You can't get wrapped up in the whole, 'Where am I going?' Everyone here is trying to make the ballclub, so if you're up here and you're worried about the numbers and who's behind you and who's in front of you, you're focusing on the wrong things."
The success Straily experienced with the A's two years ago has given him the confidence that he can pitch at the Major League level when he's healthy. Still, he knows he'll have to prove it in his new surroundings in Houston, even if there some with the team who've seen his success firsthand.
"At the end of the day, this is all about winning, and I didn't have my best stuff to go out there and give myself a chance to win every time out and it was very frustrating," Straily said. "I had to learn. I felt like I had become a lot better pitcher because of that, because I had to learn how to, frankly, spot the ball better, had to learn how to pitch better instead of just using stuff to get people out."
Brian McTaggart is a reporter for MLB.com and writes an MLBlog, Tag's Lines. Follow @brianmctaggart on Twitter. This story was not subject to the approval of Major League Baseball or its clubs.