Badenhop looking to make difference with Reds
Reliever trying to find home with fifth team in five seasons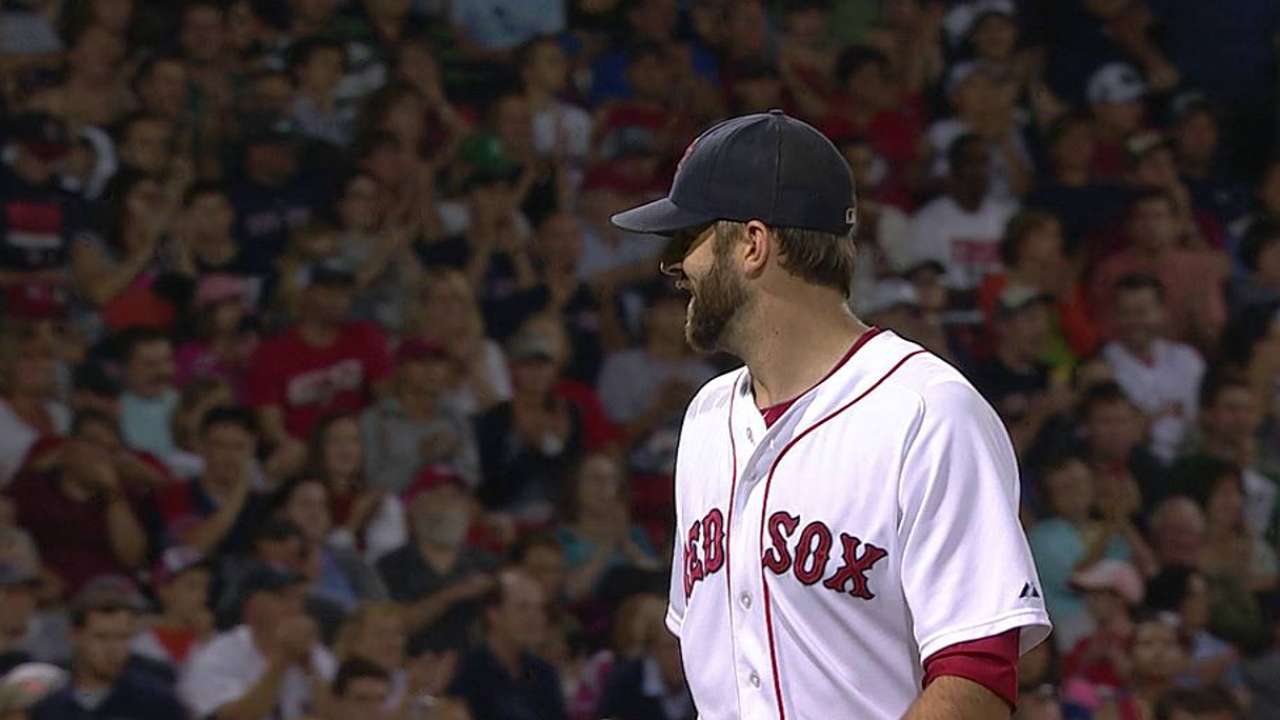 GOODYEAR, Ariz. -- On his fifth club in five seasons, new Reds reliever Burke Badenhop is either very respected or quite underappreciated.
"It's a little of both. It's an either everybody wants me but nobody wants me type of thing," Badenhop said.
Since 2011, Badenhop has pitched for the Marlins, Rays, Brewers and Red Sox -- one team for each season. Now, he lands in Cincinnati.
"Team landscapes shift and teams have dealt me because my salary goes up and they don't value you at X, Y or Z dollars, and think someone else can just get the job done," Badenhop said. "I'm not a closer, but I consider myself a difference maker. The way I pitch is far different than I'd like to think than anybody in the league. There are teams that value me and value what I want to do."
The Reds, needing help in their bullpen, were a team that valued Badenhop and signed him Feb. 7 to a one-year, $1 million contract with a $4 million mutual option for 2016. He was the only free agent signed to a big league contract by Cincinnati this past offseason.
"He was on our first list of targets of relief pitchers in October," Reds manager Bryan Price said. "There was no point in time -- that until Walt [Jocketty] called me and told me we were in on him late this offseason -- that I thought we had any chance, that we could even afford to kick the tires on Burke and see if there's any way we could work out a contract. Somehow, miraculously, we have him."
A sinker-slider pitcher, the 32-year-old Badenhop had a career-best 2.29 ERA in a career-high 70 games last season for Boston. Over 70 2/3 innings, he allowed 70 hits and 19 walks (five intentional) with 40 strikeouts.
At hitter-friendly Great American Ball Park, Badenhop's prowess at inducing ground balls could be pivotal. Here are some numbers:
• Badenhop allowed only one home run last season.
• He had a 61 percent ground-ball rate in 2014, and is at 55 percent for his career.
• His opponents' batting average on balls in play (BABIP) was .304 last season, slightly above the American League average of .296 and his career number of .300.
• Last season, Badenhop induced 14 ground-ball double plays, most among AL relievers and second-most among Major League relievers.
"I had a good day if I kept the ball on the ground," Badenhop said. "That's what I told Bryan the other day -- hold me accountable to get weak contact and keep the ball on the ground. Whether it's hit to guys or not, that's not really up to me."
A friend recently texted to ask Badenhop what his role would be in the Reds' bullpen.
"Any time before Aroldis," Badenhop replied, referring to closer Aroldis Chapman. "When I go out there 70 times in the year, I have to bring it physically and mentally. I like to have fun, be in charge, be in control and stuff like that. I'm not your average reliever."
Mark Sheldon is a reporter for MLB.com. Read his blog, Mark My Word, and follow him on Twitter @m_sheldon. This story was not subject to the approval of Major League Baseball or its clubs.