Maybin ready to 'put up or shut up'
Center fielder eager to win starting job with Padres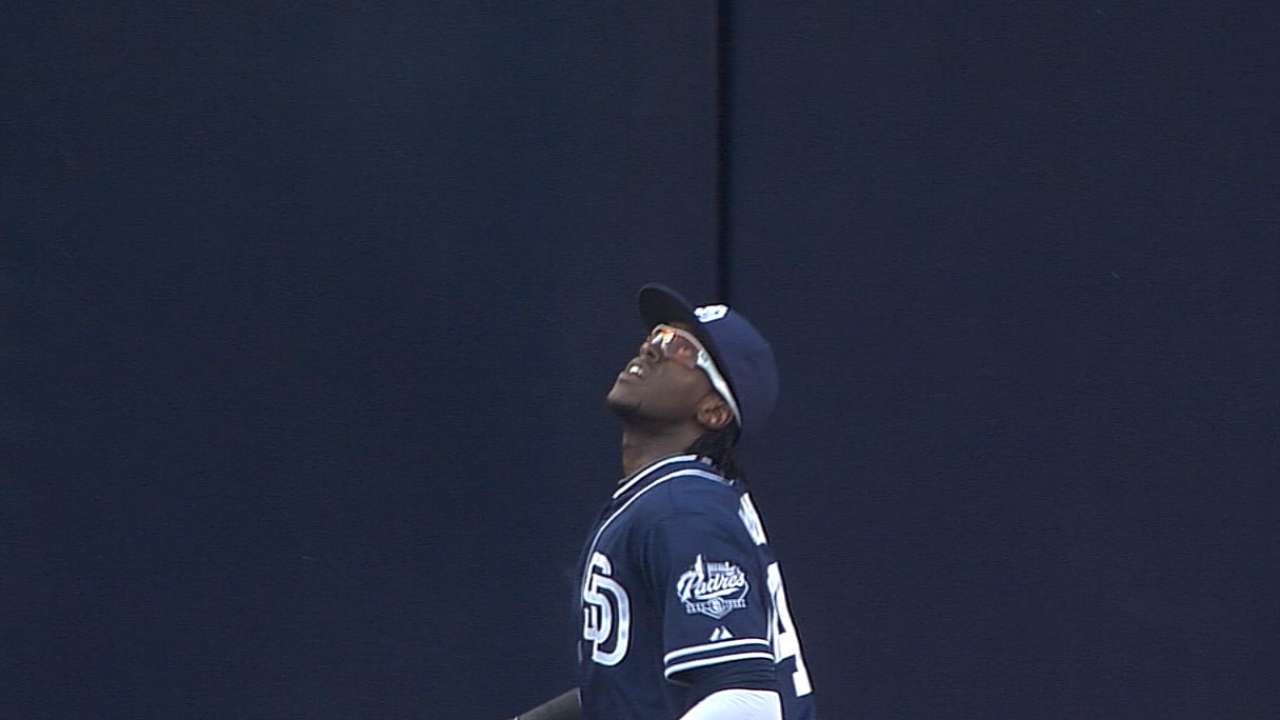 PEORIA, Ariz. -- Cameron Maybin, who has started in center field for the Padres on Opening Day in three of the past four seasons, isn't ready to concede the position to newcomer Wil Myers.
"I feel when I'm in center field, I give us the best chance out there," Maybin said. "… To me, it's an open competition. Everyone better be ready."
Maybin, who has been limited to a combined 109 games the past two seasons due to injuries, showed up to camp early this spring to jumpstart what he -- and, really, the organization -- considers to be a pivotal season.
Maybin, who has a guaranteed $16 million and two years left on his contract, finds himself in a position where the team has turned over the entire outfield in the offseason, trading for Myers, Matt Kemp and Justin Upton, as general manager A.J. Preller sought much-needed offensive upgrades.
The supposition entering Spring Training was that Myers was going to get a crack at center field, a spot he hasn't played much in the big leagues but has in the Minor Leagues. As for Maybin, he was going to have to push for a job in Spring Training, which he is perfectly fine doing, he said.
"My motto is, 'Put up or shut up,' this year," Maybin said. "Stay healthy this year, and let the play speak for itself. I don't like coming off the bench, I don't like sitting on the bench. I'm going to do everything in my power to show these guys that I can play every day."
Maybin's most productive season in San Diego remains his first one: 2011, when he hit .264/.323/.393 with nine home runs, 40 RBIs, 24 doubles and 40 steals. He hit .243 the following season, but he played in a career-best 147 games. He appeared in only 14 games in '13 due to right wrist and left knee injuries.
Last spring, Maybin, 27, suffered a ruptured left biceps tendon in Spring Training that caused him to miss the first month of the season. He hit .235 last season and then played nine games this past winter in the Dominican Republic, where he felt encouraged by his health and his swing.
He's been beaming as he's walked around the clubhouse the last few days.
"He's in a great frame of mind," Padres manager Bud Black said. "It's great that Cam feels healthy, that his mindset is in the right spot."
There's a chance the Padres could still move Maybin in a deal this spring, though his contract could make a trade more difficult. And Maybin doesn't want to leave. He would prefer to play here, to win here.
"What we have here is great. I want to be a part of that. What A.J. has been able to do this offseason, I want to be a part of," Maybin said. "Whatever my role is going to be … I'm going to be a great teammate."
Corey Brock is a reporter for MLB.com. Keep track of @FollowThePadres on Twitter. This story was not subject to the approval of Major League Baseball or its clubs.