MLB.com Columnist
Bernie Pleskoff
On the Cusp: New York Yankees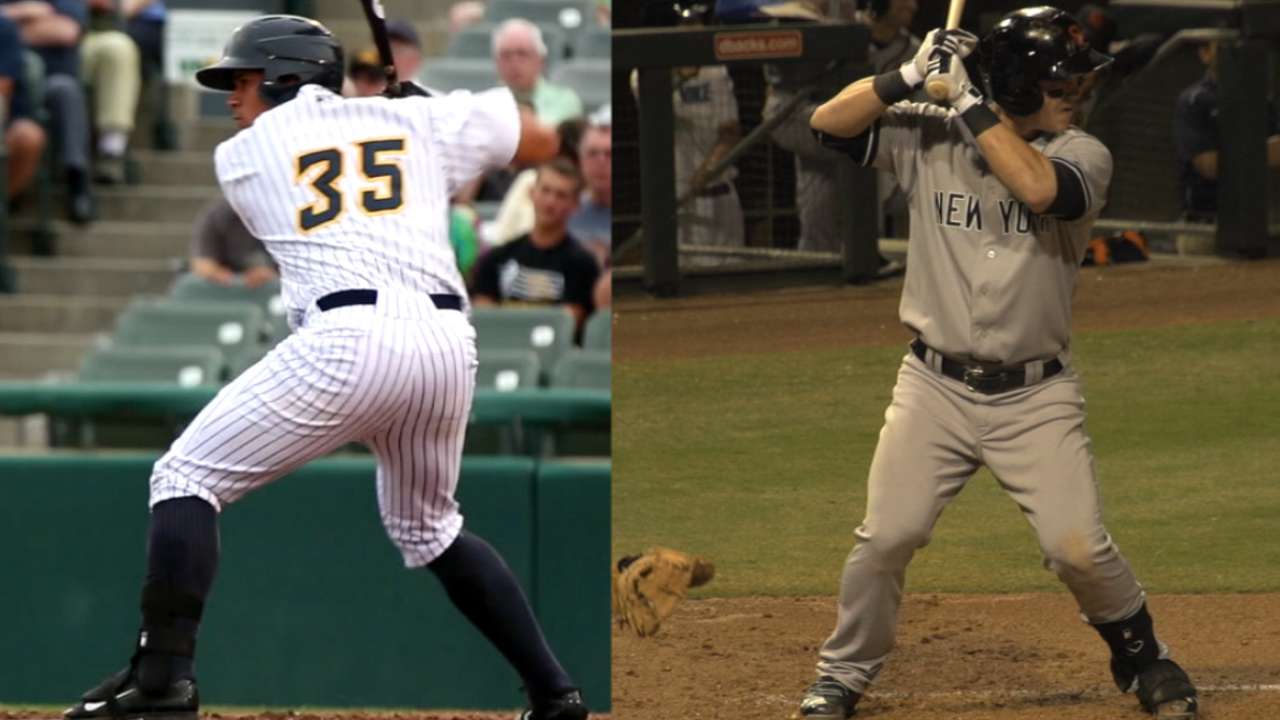 In this series, Bernie Pleskoff takes a team-by-team look at which top prospects are poised to make a contribution at the big league level in 2015.
After a fairly quiet offseason, the Yankees appear to be pleased to enter the year with a new shortstop in Didi Gregorius and a potentially new designated hitter in Garrett Jones. Lefty Andrew Miller comes over from Baltimore as a free agent to help bolster the bullpen. The pitching staff will be counting on the return to health of pitchers like CC Sabathia, Michael Pineda, and Masahiro Tanaka.
Here are the Yankees' prospects I think have a chance to make an impact in New York in 2015, listed by their rankings in the Yankees Top 20 Prospects list.
Gary Sanchez | C | 6-foot-3, 235 pounds | No. 2
Since signing from the Dominican Republic in 2009, there has always been a "buzz" around the right-handed-hitting Sanchez. Scouts saw an exciting hitter with ability to hit double-digit home runs and hit for average. Big and strong, Sanchez continues to develop the defensive side of his game. His receiving continues to improve with a strong arm and better overall mechanics. However, his bat will be his calling card to the big leagues. The best catching prospect in the system, the presence of Brian McCann allows Sanchez more development time.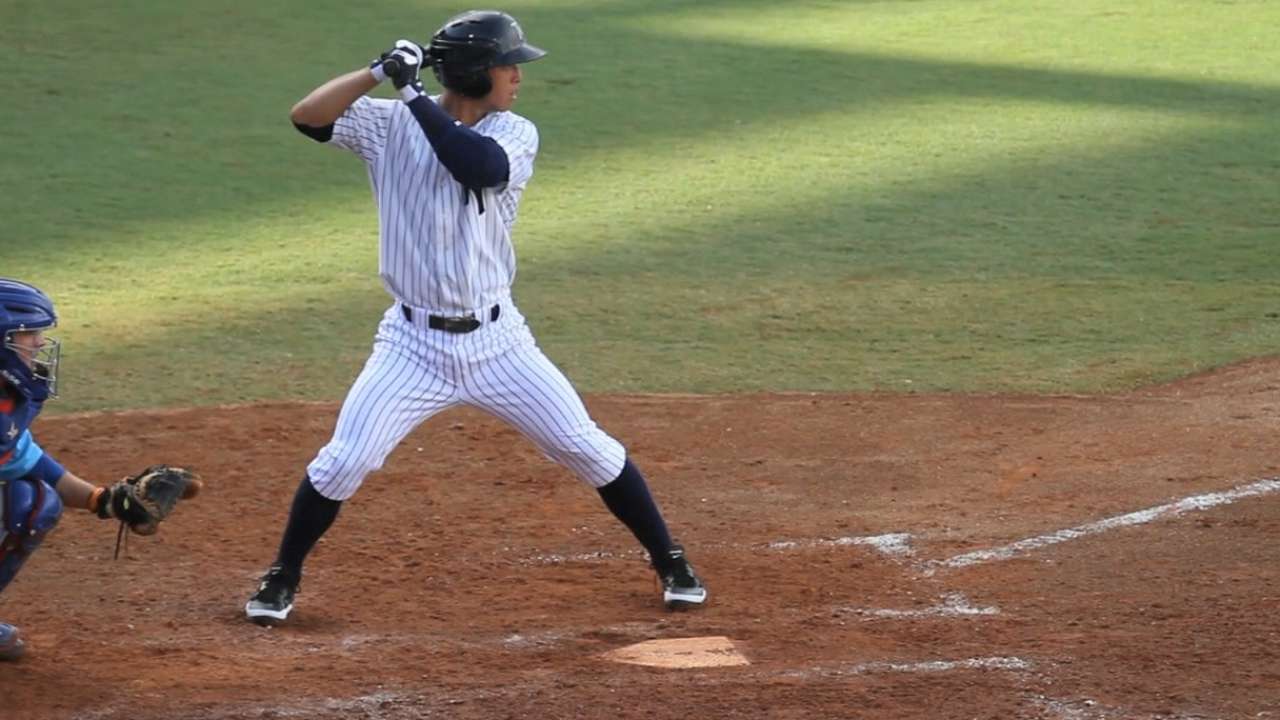 Robert Refsnyder | 2B | 6-foot-1, 205 pounds | No. 6
The right-handed-hitting Refsnyder may not be a household name, but he could find his way to the Bronx at some point this year. The loss of Robinson Cano to the Mariners has left a hole at the important middle-infield position. Probably competing with Stephen Drew and perhaps Jose Pirela, Refsnyder stands ready to compete for a big league job out of Spring Training. Refsnyder has a combined .297 batting average in parts of three Minor League seasons. If he doesn't win a job this spring, it probably won't be long until he could be a fixture at second base. He hits for a good average, has some pop in his bat and has enough speed to steal bases.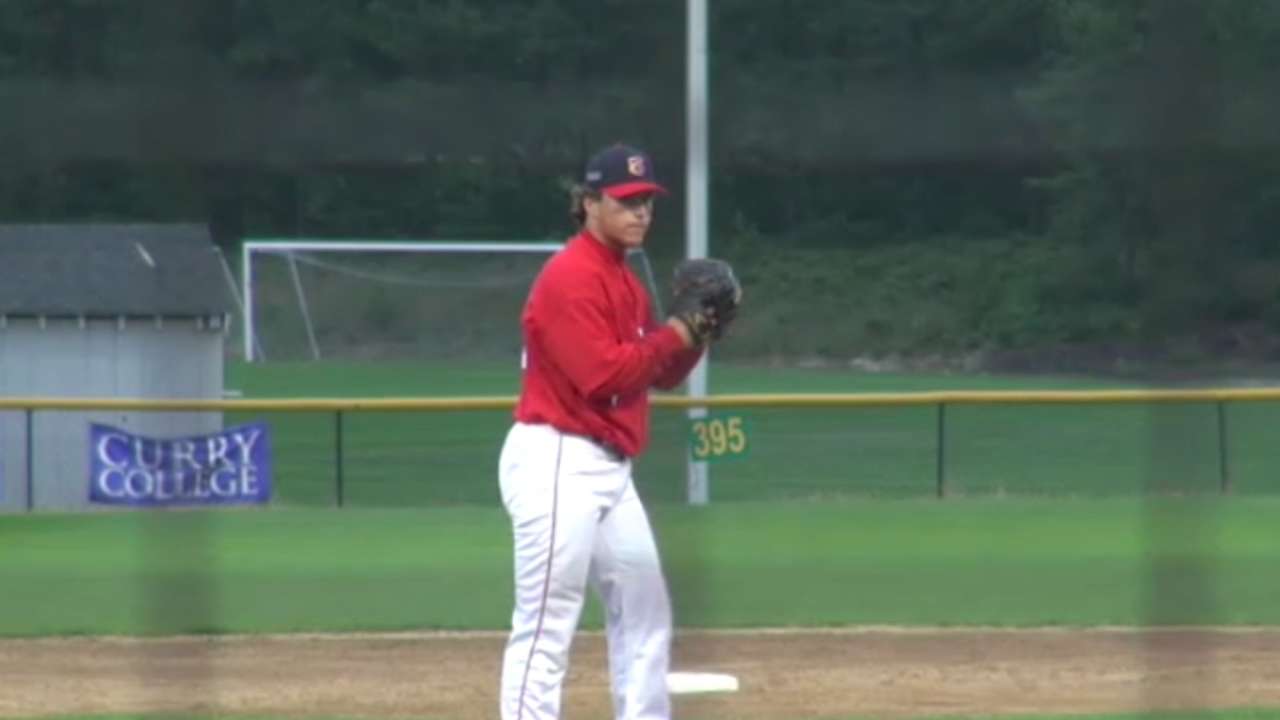 Jacob Lindgren | LHP | 5-foot-11, 180 pounds | No. 9
Lindgren is a left-handed relief specialist, always a role in demand. He has completed only one season after having pitched at Mississippi State. Is he ready for prime time? Possibly not. His walk rate was 4.7 per nine innings, but he struck out 17.5 per nine. He likely needs more seasoning against top quality hitters, but Lindgren has increased velocity on his fastball climbing the mid-to-upper 90s since leaving the starting rotation and becoming a reliever. His fastball/slider combination works extremely well as a situational lefty.
Jose A. Ramirez | RHP | 6-foot-3, 190 pounds | No. 13
Ramirez retains his rookie status even after having pitched 10 innings for the parent Yankees last season. He uses a fastball/slider combination to miss bats and keep hitters on their heels. But his best offering may well be his outstanding changeup that he can use to set up the hitter or finish him off. He's very capable and could vie for a role in the Yanks' bullpen this season.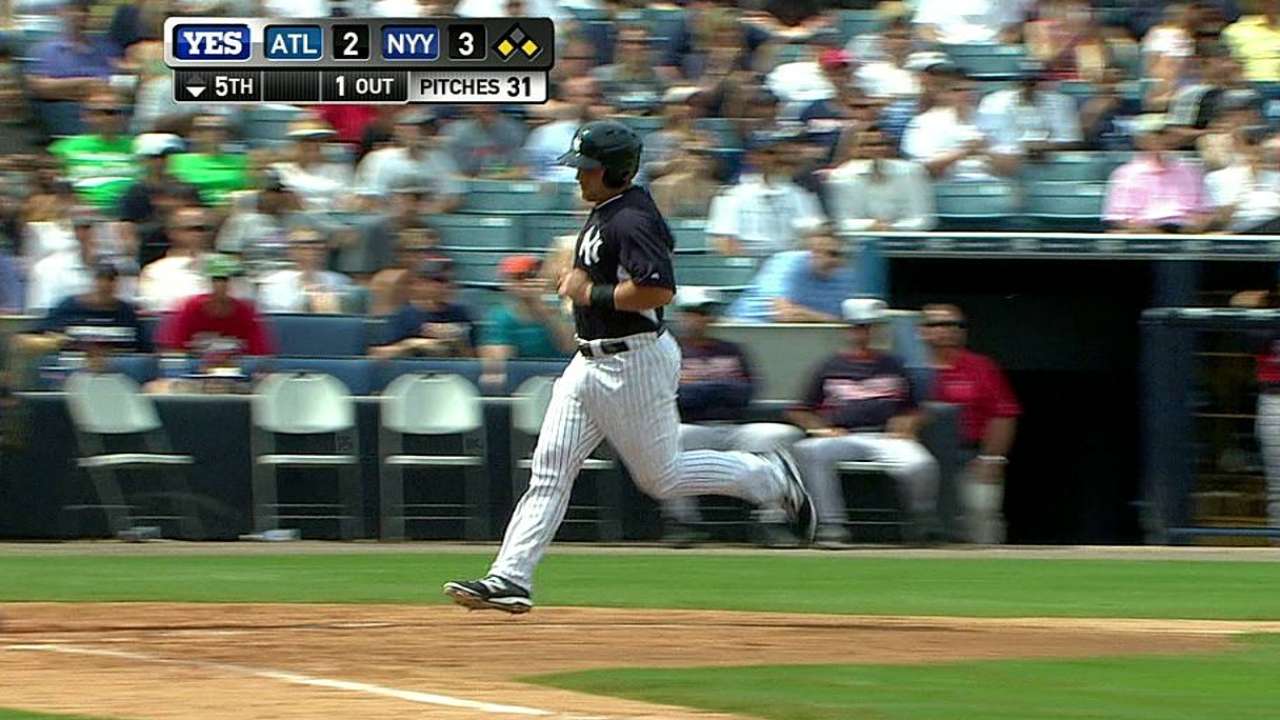 Ramon Flores | OF | 5-foot-10, 150 pounds | No. 14
Slightly built, the left-handed-hitting Flores is one among many Yankees outfield prospects. Despite his size, he has also played some first base. With limited power, Flores is a contact hitter that sprays the ball to all fields. He doesn't have much speed. He is patient at the plate and could increase the pitch count of opposing pitchers. It will be difficult for Flores to win a role with the club, but he will be available if needed.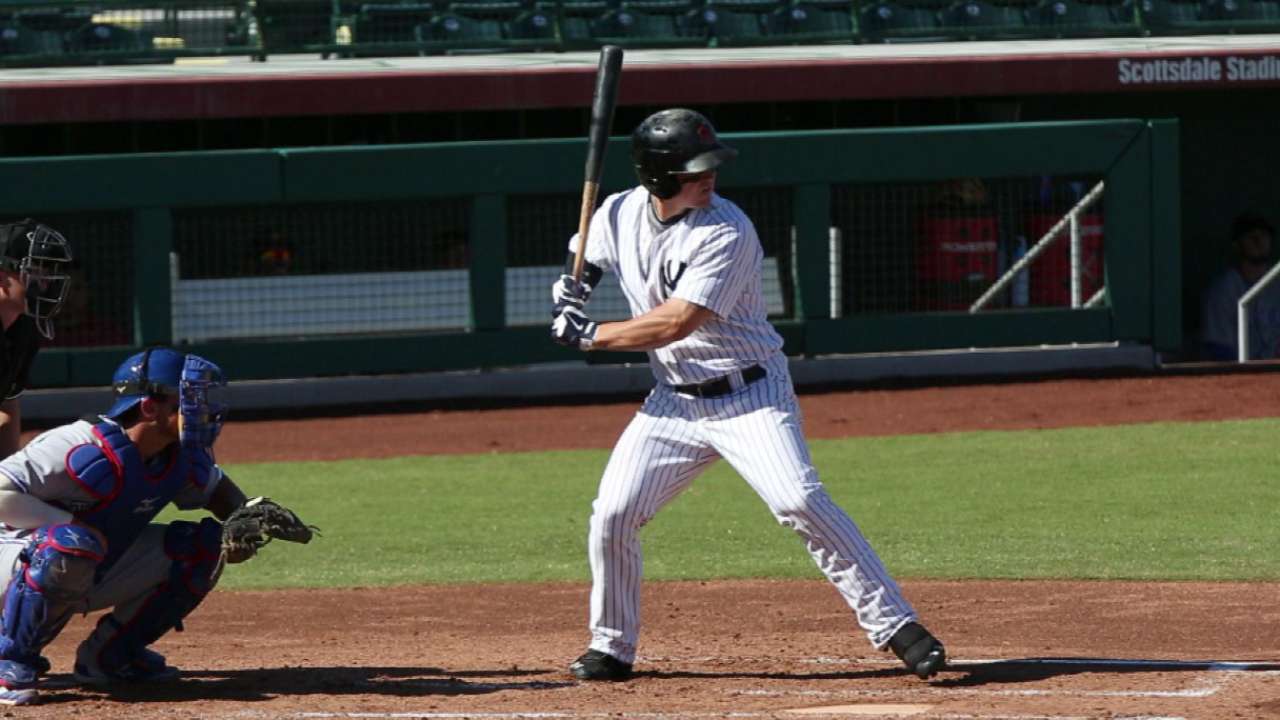 Tyler Austin | OF | 6-foot-1, 220 pounds | No. 15
A right-handed-hitting outfielder in the system, Austin is versatile enough to play first and third base as well as right field. He's coming off a nice .275 year at Double-A Trenton. He has a quick bat and can hit the gaps well, even if the home runs may be in the future. Austin is a good athlete and may be too patient at the plate. A solid contact hitter, he may benefit by being more aggressive early in the count.
Mason Williams | OF | 6-foot-1, 180 pounds | No. 16
The left-handed-hitting Williams had a tough year at Double-A Trenton, hitting only .223 with five homers and 40 RBIs. He stole 21 bases, and it is his speed that will help him progress. Closing quickly on balls to center field, Williams is a solid outfielder. Questions regarding his bat persist.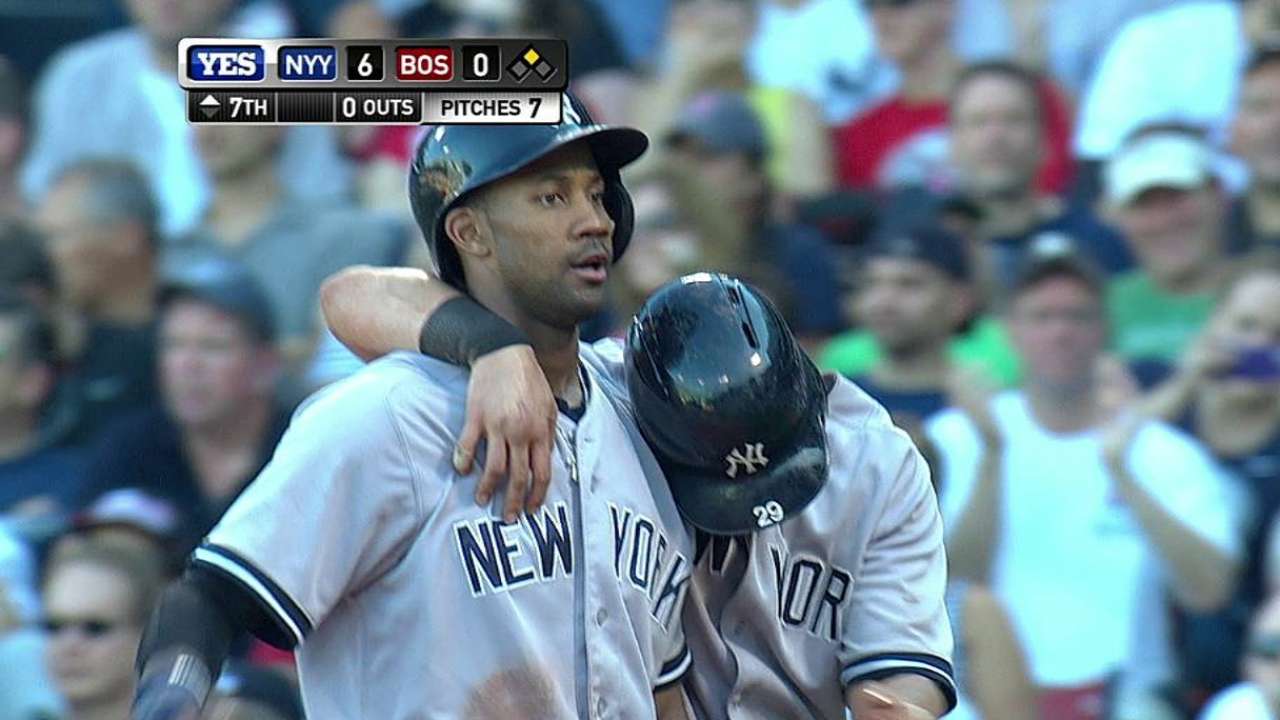 Jose Pirela | 2B/SS | 5-foot-11, 210 pounds | Unranked
The right-handed-hitting Pirela may very well be an option at second base. He hit .305 at Triple-A Scranton/Wilkes-Barre last season. He has a .277 lifetime average in parts of eight Minor League seasons since signing from Venezuela. He also packs a bit of pop in his bat and he can steal some bases.
Bernie Pleskoff has served as a professional scout for the Houston Astros and Seattle Mariners. Follow @BerniePleskoff on Twitter. This story was not subject to the approval of Major League Baseball or its clubs.