Last Call: Gomez seeking more
Center fielder always looking to improve, wants to stay on field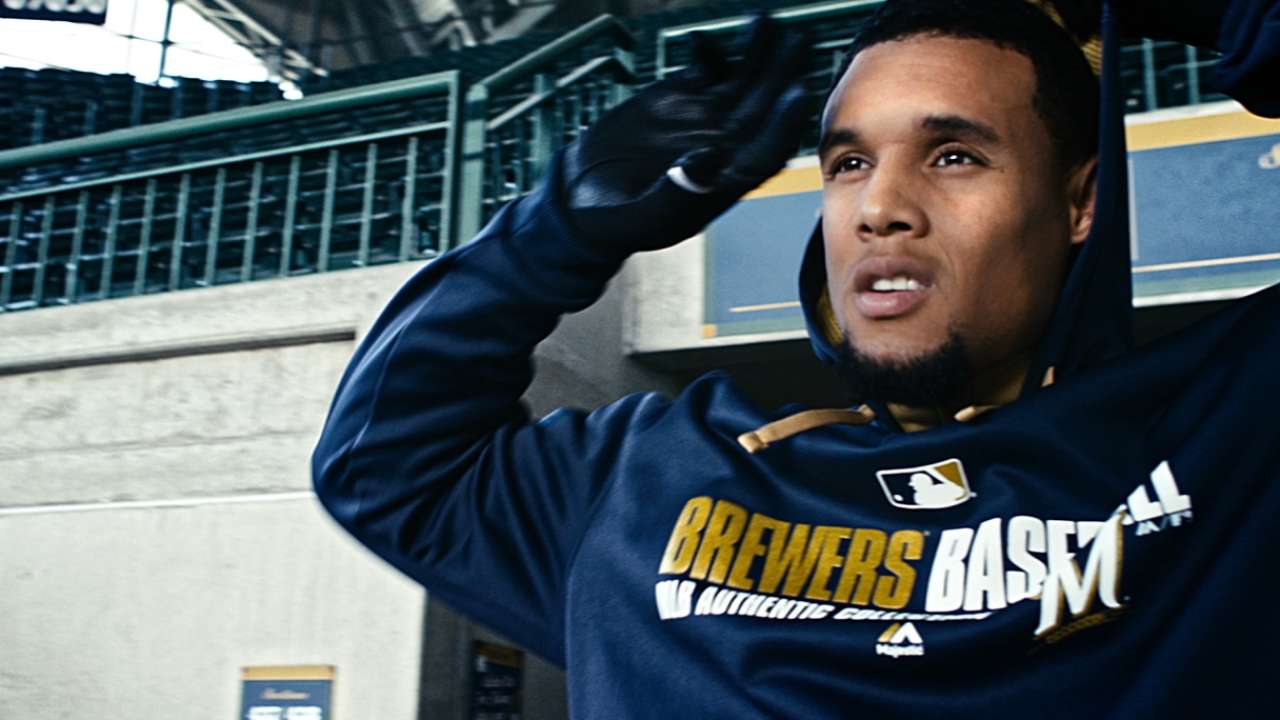 PHOENIX -- With Spring Training underway at Maryvale Baseball Park, we're introducing a new feature at Brewers.com that you'll see often this spring. When there's news out of the early clubhouse session, we'll post a "Morning Brew," which will morph into "Last Call" at the end of the day. It will house the notes and anecdotes that didn't find a home elsewhere on the site.
Today, more Maryvale arrivals:
• Carlos Gomez, Khris Davis and Gerardo Parra all reported to camp Monday morning, two days before position players are required to show. Gomez held court and said he's still not satisfied, despite batting a career-best .284 for the second straight season and posting a career-high .356 on-base percentage.
What does he want to do better?
"Everything," he said. "Better player, better teammate, and on the field, be more successful at everything. I know I can hit more than .280. I know I can hit more than 20 home runs. I know I can steal more bases. I know I can be more patient, [better] with my preparation. Every day is a challenge. I'll never be happy with myself."
It was interesting to hear Gomez talk about topping .280. A few years ago, that was the figure he often cited when talking about statistical goals.
"And when I'm hitting .340, I'm going to talk about hitting .400," Gomez said. "And if I hit .400, why can't I hit .420? I never feel like it's enough."
The most important statistic, Gomez said, is games played.
"Stay on the field," he said. "If I stay on the field, a lot of good things are going to happen."
"@MikeVassallo13: Two-time All-Star @C_Gomez27 reported to #Brewers camp and went straight to cage. pic.twitter.com/ql4jWjoAPT" @catchin_ballz

- Jana Yashinsky (@janayash30) February 23, 2015
• Tyler Thornburg looked good on the bullpen mound Sunday, manager Ron Roenicke said, and Jim Henderson and Johnny Hellweg threw similar sessions Monday. All three right-handers are coming back from injury-shortened seasons: Hellweg from Tommy John surgery, Henderson from right shoulder surgery and Thornburg from a strained right elbow.
Hellweg is still on a regimented throwing program, but Henderson was near 100 percent effort Monday. Here's a clip of him and Hellweg throwing side by side:
Henderson and Hellweg pic.twitter.com/VXXX8eH0ZZ

- Adam McCalvy (@AdamMcCalvy) February 23, 2015
• Brewers coach John Shelby turned 57 on Monday.
Adam McCalvy is a reporter for MLB.com. Read his blog, Brew Beat, and follow him on Twitter at @AdamMcCalvy. This story was not subject to the approval of Major League Baseball or its clubs.