Edwards keeping watchful eye on how veterans do it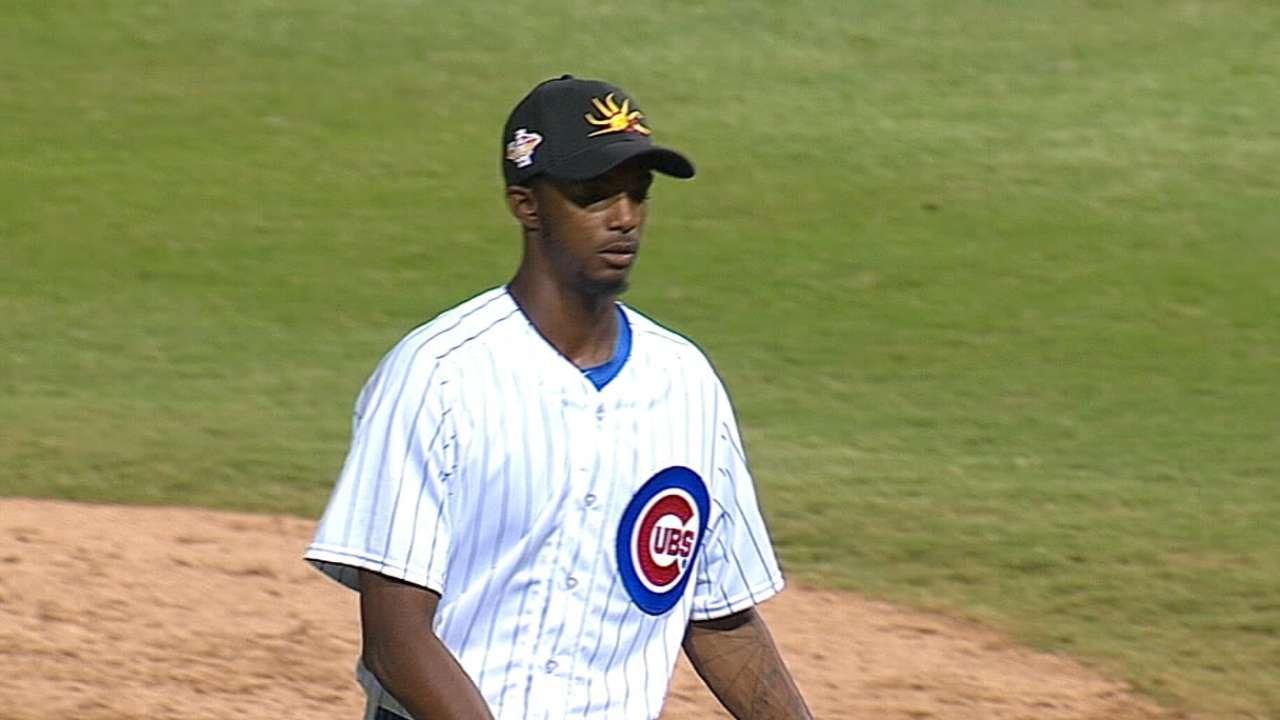 MESA, Ariz. -- Cubs prospect C.J. Edwards is trying to keep up with his teammates.
"I'm trying to grow a little facial hair," Edwards said. "I still look like a little kid in grade school."
The lanky Edwards, the Cubs' No. 5-ranked prospect, is more focused on keeping up with the big league pitchers. This is the lanky right-hander's first big league camp, and he's keeping an eye on the veterans.
"[On Sunday], [Jake] Arrieta was doing something, and I was like, out of the corner of my eye [watching] and I thought, 'Let me try that, too,'" Edwards said.
Although Edwards is not expected to be on the Cubs' Opening Day roster, he's preparing as if he'll be at Wrigley Field on April 5. The right-hander was limited to 12 starts last season because of some soreness in his shoulder, but that hasn't stopped him from dreaming.
"I'm going to approach it like I'm going to leave with these guys," Edwards said. "It may happen, it may not. Nobody knows what's going on. You just have to put in your mind to keep a strong mindset that I'm going to break. If you don't, don't be disappointed. I'm just going to go out there and give it my all and leave it to the guys upstairs."
• Edwards was one of several pitchers to throw a side session on Monday. He is not on the list for the live batting-practice sessions Wednesday, the first day the full squad is in camp to work out. Arrieta, Edwin Jackson, Jacob Turner, Felix Doubront, Kyle Hendricks, Eric Jokisch, Justin Grimm and Jason Motte are scheduled for live BP Wednesday.
• Junior Lake was one of the early-bird position players in the clubhouse Monday. He played in the Dominican Republic this winter and worked with Minor League hitting coach Desi Wilson. The focus was to get on base somehow, someway.
"He told me when you get on base, it's like 80 percent the run will score," Lake said. "I worked a lot with him about that, about walks, about getting on base no matter what. I know that's what I need, to get on base and then [Anthony] Rizzo or [Starlin] Castro can drive me in, or somebody in the lineup."
• Cubs manager Joe Maddon was very hands-on with the catchers on Monday, offering suggestions on positioning and technique. It isn't that Maddon doesn't trust all the catching coaches, which includes Mike Borzello, Henry Blanco and Tim Cossins.
"Part of it is I really like the catching component of the game," Maddon said.
• Left-hander Tsuyoshi Wada, who missed Sunday's side session because of tightness in his left hamstring, is scheduled to throw on the side Wednesday.
Carrie Muskat is a reporter for MLB.com. She writes a blog, Muskat Ramblings, and you can follow her on Twitter @CarrieMuskat. This story was not subject to the approval of Major League Baseball or its clubs.