A-Rod reports to camp, eager to compete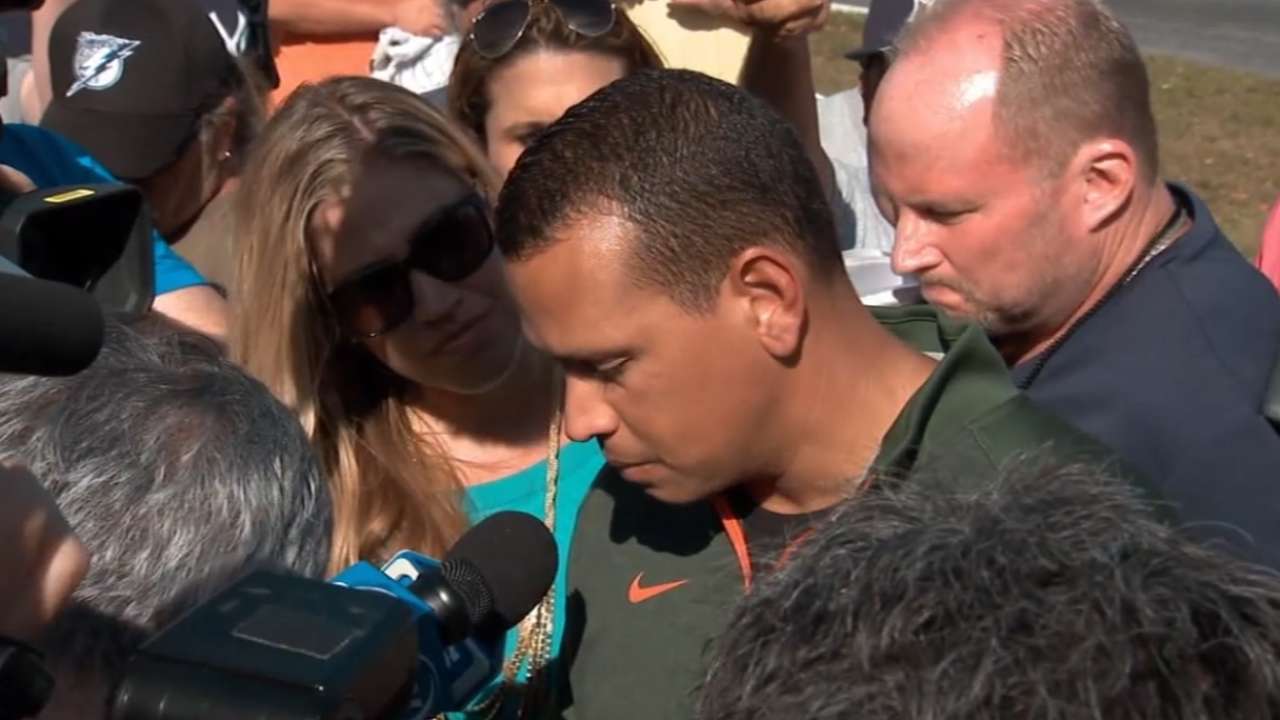 TAMPA, Fla. -- Alex Rodriguez said that he feels good physically and is focused on winning a roster spot as he arrived two days early for Spring Training on Monday, marking his first appearance in Yankees gear following a season-long suspension in 2014.
Rodriguez first reported to George M. Steinbrenner Field, where he took a physical, and then headed to the team's Minor League complex for a workout that lasted approximately an hour. Rodriguez threw, ran, took ground balls at third base and hit in the batting cage during the session.
"It reminds me of when I was 18 years old [with the Mariners] and I was trying to make Lou Piniella's team," said Rodriguez, 39. "I'm excited. I love to compete. I'm here a couple days early to get a jump-start. I love baseball. I just love to be in uniform and I'm so grateful to have an opportunity to be back in uniform."
Position players are not due to report until Wednesday, with the first full-squad workout scheduled for Thursday. Following his on-field appearance, Rodriguez signed autographs and made small talk with fans on the sidewalk before speaking to reporters for approximately eight minutes.
"Right now, I'm just focused on making this team," Rodriguez said. "Obviously it was a rough year, but I'm very excited that's behind me and I have a chance to hopefully make this team."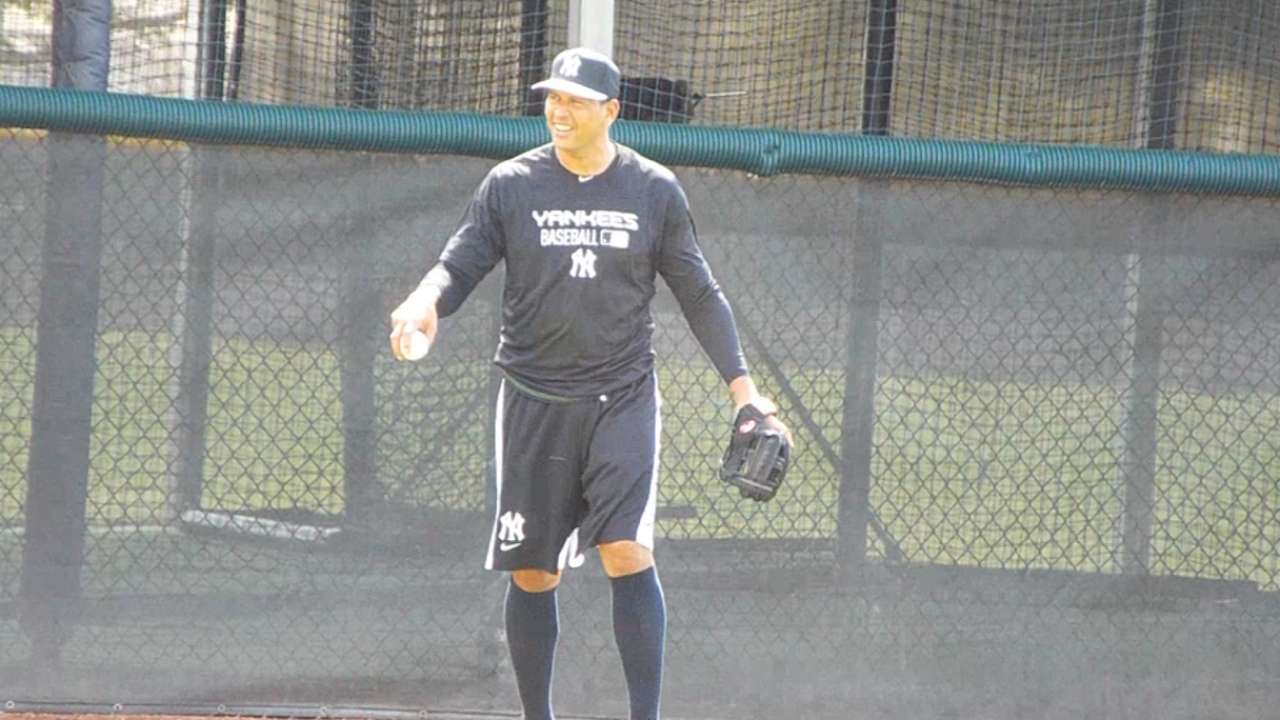 Yankees manager Joe Girardi has said that Rodriguez has a place on the roster, but he will need to earn his playing time. Club officials are curious to see what he can offer after being limited to 44 games over the last two years due to injuries and suspension.
"We're going to have to see where he's at. I've said that all along," Girardi said Monday. "It's really been two years since he's played and we're really not exactly sure how his body's going to react. It's a fine line that we have to walk in Spring Training. It's a fine line that we have to walk to get him the number of at-bats to see where he's at."
The three-time American League MVP met with team officials at Yankee Stadium earlier this month and then issued a handwritten letter to fans, apologizing for the actions that prompted Major League Baseball to hand him a season-long ban in 2014.
Rodriguez said Monday that he does "cringe sometimes when I look at some of the things I did," adding, "but I paid my penalty and I'm grateful that I have another opportunity."
He also said that he is not currently using any performance-enhancing drugs.
"No mistake that I've made has any good answer or a justification," Rodriguez said. "It's unexplainable and that's on me. I've dug a big hole for myself and paid a price. I'm fortunate for a lot of people -- especially the Commissioner's Office, the players union and the Yankees -- to give me an opportunity to play the game that I love."
With Rodriguez reinstated as a player in good standing as far as the league is concerned, Girardi has said that he is thinking of Rodriguez more as a designated hitter than a third baseman, and he wants Rodriguez to get as many spring at-bats as possible to regain his timing.
The Yankees plan to see if Rodriguez can serve as a backup to Chase Headley at third base, and they have discussed also using him to back up Mark Teixeira at first base. Rodriguez said he that he has never taken ground balls at first base, but he is willing to try whatever Girardi asks of him.
"I'm confident that if I stay healthy, I can do some good things," Rodriguez said.
Bryan Hoch is a reporter for MLB.com. Follow him on Twitter @bryanhoch and read his MLBlog, Bombers Beat. This story was not subject to the approval of Major League Baseball or its clubs.