Astros, MLB huddle to discuss pace-of-play rules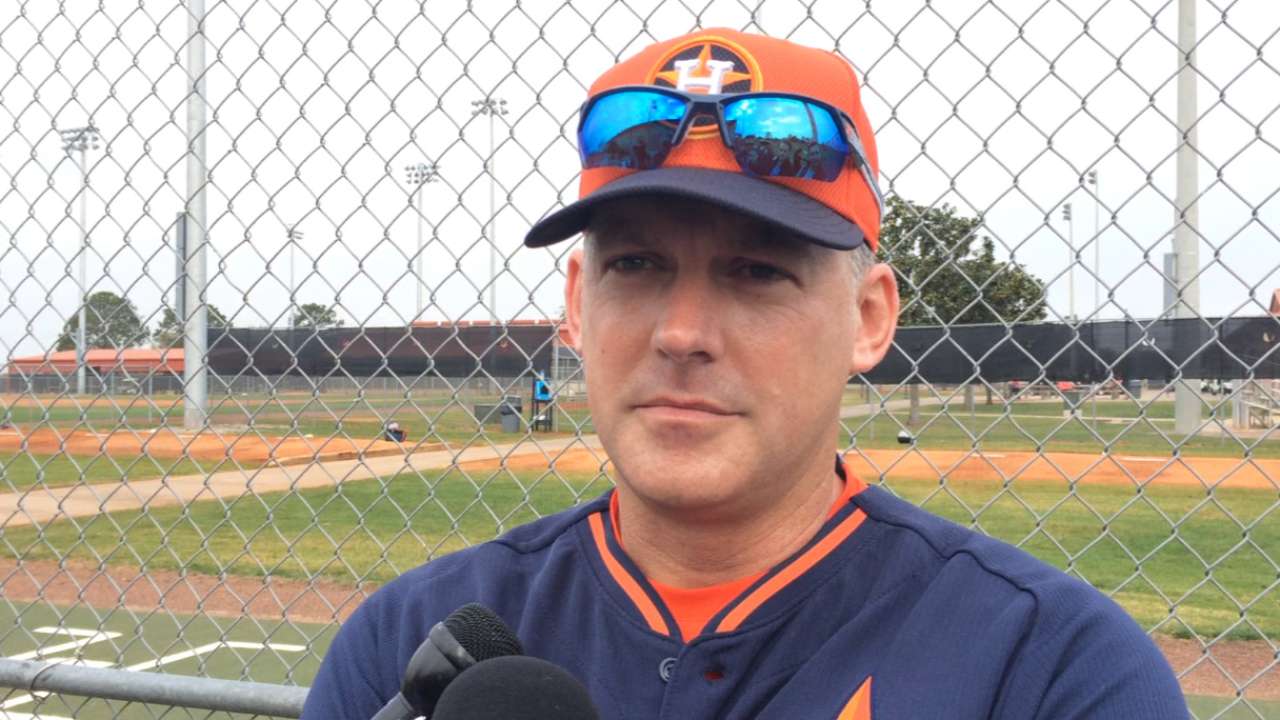 KISSIMMEE, Fla. -- Peter Woodfork, Major League Baseball's senior vice president of baseball operations, and director of umpire development Rich Rieker met with Astros manager A.J. Hinch and bench coach Trey Hillman for an hour Monday to further discuss baseball's new pace-of-game procedures to be implemented this year.
Joe Torre, MLB's executive vice president of baseball operations, was originally scheduled to meet with the Astros, but had a family issue.
The initiatives announced Friday by Major League Baseball to quicken the pace of game included requiring hitters to keep one foot in the box during an at-bat, though there are exceptions. Managers will also only need to confer with the plate umpire when trying to initiate a replay challenge.
A second component to the pace-of-game program is the addition of timers that will measure non-game action and break time between innings and pitching changes during each Major League game. One timer will be installed on or near the outfield scoreboard, and a smaller timer will be installed on the facade behind home plate near the press box.
"They do a great job of giving us the information on things that are changing, whether the league changes a rule in the book or how replay is going to be adjusted a little bit, the pace-of-play stuff," Hinch said. "We get all this information and then obviously we have to take it to the players by the [first Grapefruit League game on March 5]. It was a good meeting."
New Commissioner Rob Manfred has made pace of the game a top priority, and baseball implemented pitch clocks in the Arizona Fall League.
"We'll see how it determines in the Major League level," Woodfork said. "I think to guess is probably not fair right now, but we'll have Spring Training to get our first read on it and go into the season."
Woodfork said the changes to the rules weren't made lightly.
"Changes on the field are very impactful and our fans see them, and we want to make sure they're correct," he said. "It's a big part of the game and we want to do it correctly."
Prior to joining Major League Baseball, Woodfork spent four years as the assistant general manager of the D-backs, where he befriended Hinch.
"You have a lot of relationships in baseball and people bound around," he said. "You can't always keep them, but A.J. is a guy I've always gotten along with well and is a good friend."
Brian McTaggart is a reporter for MLB.com and writes an MLBlog, Tag's Lines. Follow @brianmctaggart on Twitter. This story was not subject to the approval of Major League Baseball or its clubs.