Miggy stays in good shape despite foot injury
First baseman arrives at Tigers camp early, is limited to hitting and throwing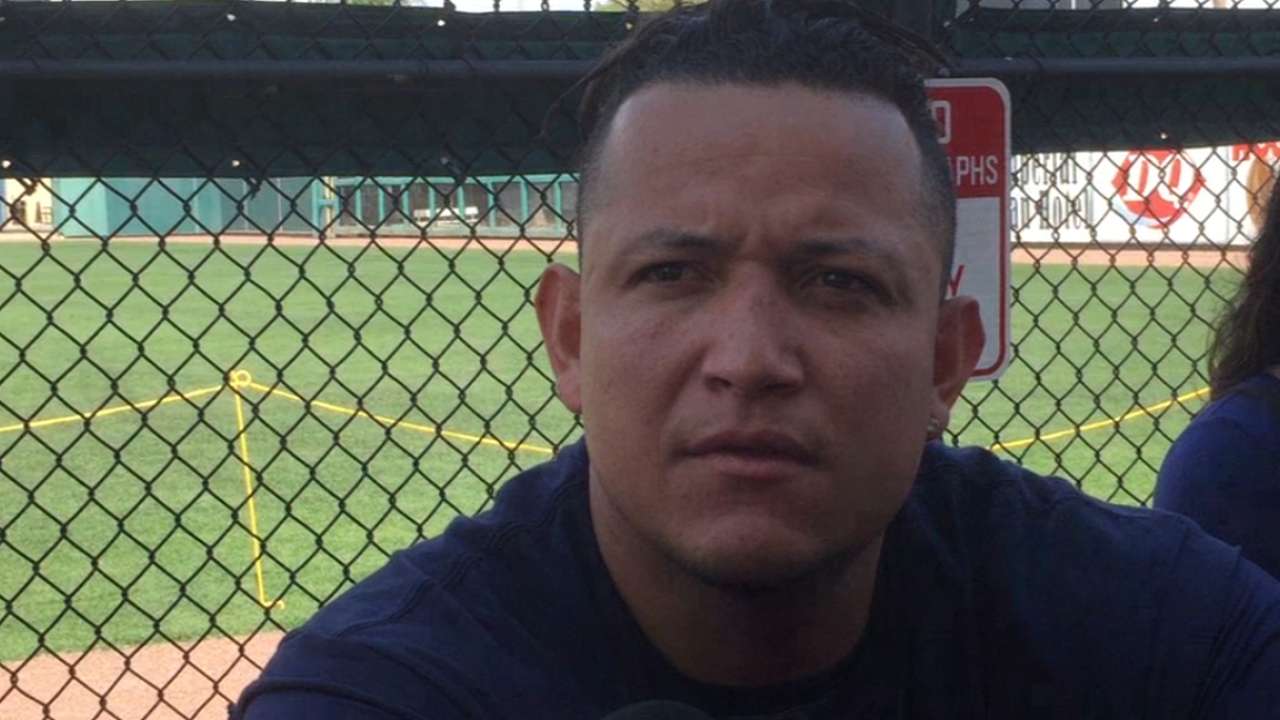 LAKELAND, Fla. -- Even on one good leg, Miguel Cabrera makes a big entrance. He sure did on Monday, walking into Tigers Spring Training a day or two sooner than expected.
If he can enter the season healthy and ready for Opening Day, the impact could be huge.
"I want to be ready for Opening Day," Cabrera said Monday afternoon. "You don't know what's going to happen. I think it's too early to say that. Let's wait and see what happens."
For now, Cabrera is already slightly ahead of schedule, at least on punctuality. He wasn't expected to report until midweek, waiting for the Ultra-G anti-gravity treadmill the Tigers ordered to arrive. That's due in Tuesday.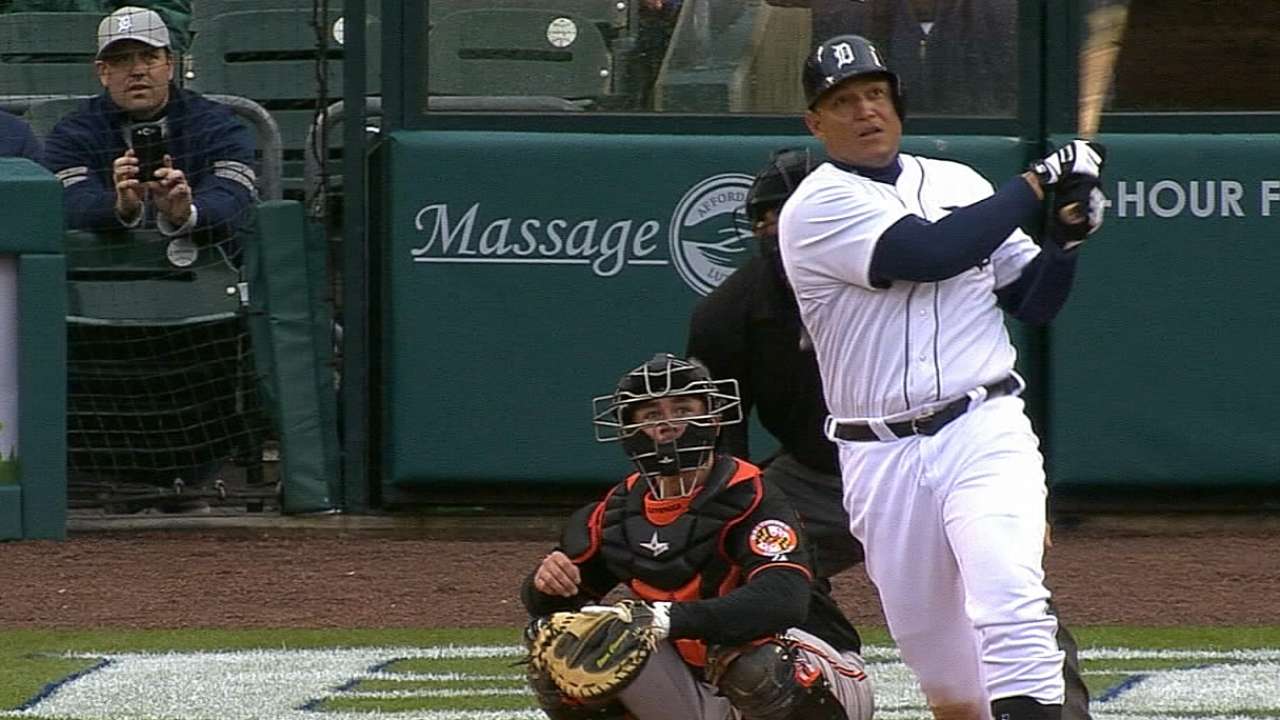 Cabrera, however, couldn't wait any longer. He said hello to teammates as he unloaded his gear into his locker. He chatted with shortstop Jose Iglesias, a fellow Miami resident. Later, Cabrera played catch on the field at Joker Marchant Stadium while pitchers and catchers worked out on the back fields across the street at Tigertown, then hit in the batting cages.
Short of the treadmill, that pretty well encompasses what he can do.
"I was a little bit surprised [he showed up Monday]," manager Brad Ausmus said, "because we were waiting on that treadmill. But it's good to see him. He looks good, walking around good."
Cabrera still stayed in good shape while being limited in what he could do with a surgically repaired right foot. Though he couldn't walk on his own until around the holidays, forced to keep his right foot on a scooter, he indicated he was able to work out more than previous reports suggested.
"I see everybody talk about I don't do too much, but I was doing a lot," Cabrera said. "I was doing a lot with my legs, but with no weight. I think it was more flexible, more getting my strength. I feel my power back with a lot of repetition, low-weight, high-rep.
"The only thing I didn't do was run -- run the field, run the bases. That's the only thing I didn't do this offseason."
Said Ausmus: "He stayed in shape the whole time, because I had talked to him and he sent me a picture. I could tell that he wasn't sitting on the couch eating Cheetos."
Cabrera was cleared for hitting and throwing last week. He started hitting over the weekend back home in Miami.
"I feel good," Cabrera said. "No pain. Nothing. No issues. It's a good sign."
Cabrera said he made adjustments to his swing last summer to account for the foot and ankle issues. He knew the foot injury was serious by the pain level, so he wasn't surprised when Dr. Robert Anderson told him he had a stress fracture. He does not, however, expect to have trouble getting back to his old swing.
"Swing's good," Cabrera said. "When you feel comfortable, when everything's going right with your body, you don't worry about how good your mechanics are right now. I think your swing's going to come naturally if you practice every day."
Jason Beck is a reporter for MLB.com. Read Beck's Blog and follow him on Twitter @beckjason. This story was not subject to the approval of Major League Baseball or its clubs.