MLB.com Columnist
Jim Callis
Moncada gives Red Sox bona fide star in the making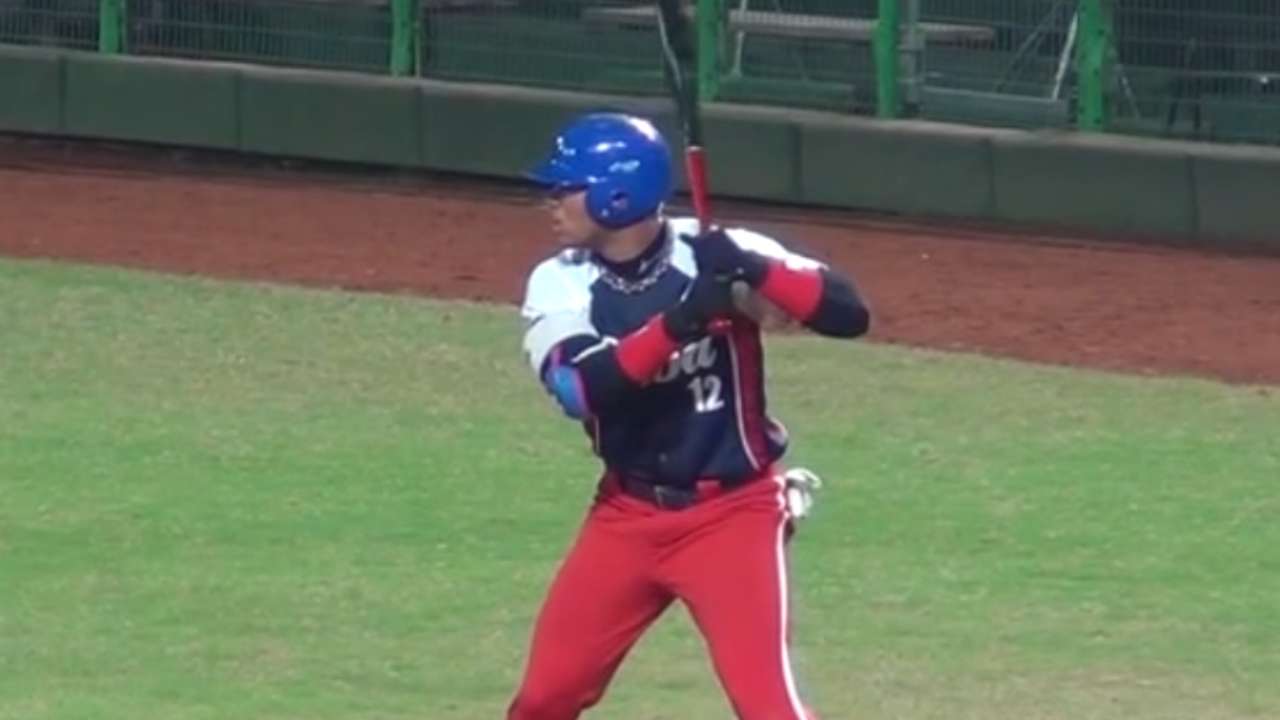 Baseball's version of "The Decision" finally has a resolution. After weeks of speculation and private workouts for a dozen teams, Cuban infielder Yoan Moncada agreed to terms with the Red Sox on Monday.
Moncada will receive a bonus of $31.5 million, according to MLB.com's Jesse Sanchez, the largest given to an amateur. The previous record was the $16.25 million (deferred over 11 years) that the Reds paid Aroldis Chapman in 2010, but that came before MLB instituted international signing restrictions in 2012. Under the current parameters, the bonus record had been the $8.27 million the D-backs gave right-hander Yoan Lopez in January. For context, the largest Draft signing bonus ever given was $8 million, by the Pirates to Gerrit Cole in 2011.
Boston will also pay a matching penalty because it had already exceeded its international bonus pool by more than 15 percent, which means the Moncada deal will cost the Red Sox over $60 million.
As a further penalty, Boston also will be prohibited from signing anyone for more than $300,000 in the 2015-16 and 2016-17 international signing periods. It's unlikely that there will be a player available as talented as Moncada, who would be a strong candidate to go No. 1 overall were he eligible for the 2015 First-Year Player Draft. He immediately ranks among the top dozen prospects in baseball.
The 19-year-old Moncada is the most coveted teenager to come out of Cuba since Jorge Soler in 2011. Unlike Soler, who defected, Moncada was allowed to leave the island by the Cuban government. He dominated international youth and junior tournaments and similar age-based leagues in Cuba, then hit .277/.388/.380 in two seasons in the Serie Nacional (Cuba's primary league) at ages 17 and 18.
Four of Moncada's tools grade as 60 or better on the 20-80 scouting scale, an extremely unusual profile for a middle infielder. The only player with more than three plus tools among MLBPipeline.com's Top 100 Prospects is Twins outfielder Byron Buxton, who has five and claims the No. 1 spot on the list.
A 6-foot, 210-pound switch-hitter with electric bat speed, Moncada regularly barrels balls from both sides of the plate. Once he gets established in the big leagues, he could hit .280 with 20-25 homers per season, and some evaluators think that might be a conservative projection.
Moncada's best pure tool is his speed. He can cover 60 yards in 6.6 seconds, and he beat Rusney Castillo -- who signed a $72.5 million big league contract with the Red Sox last August -- among others, in races to first base and around the bases at Cuba's 2012-13 All-Star Game. He has the quickness to steal 25 or more bases on an annual basis.
Primarily a second and third baseman in Cuba, Moncada also has seen action at shortstop and in center field. He has the arm strength to play any position, but he has looked uncomfortable at shortstop and fits best at second base. Moncada's youth means that he'll probably need a couple of seasons in the Minor Leagues, but he has all the tools to become a star once he's ready.
Jim Callis is a reporter for MLB.com and writes a blog, Callis' Corner. Follow @jimcallisMLB on Twitter. This story was not subject to the approval of Major League Baseball or its clubs.
This story was not subject to the approval of Major League Baseball or its clubs.