MLB.com Columnist
Anthony Castrovince
Carrasco a captivating figure in fascinating Tribe rotation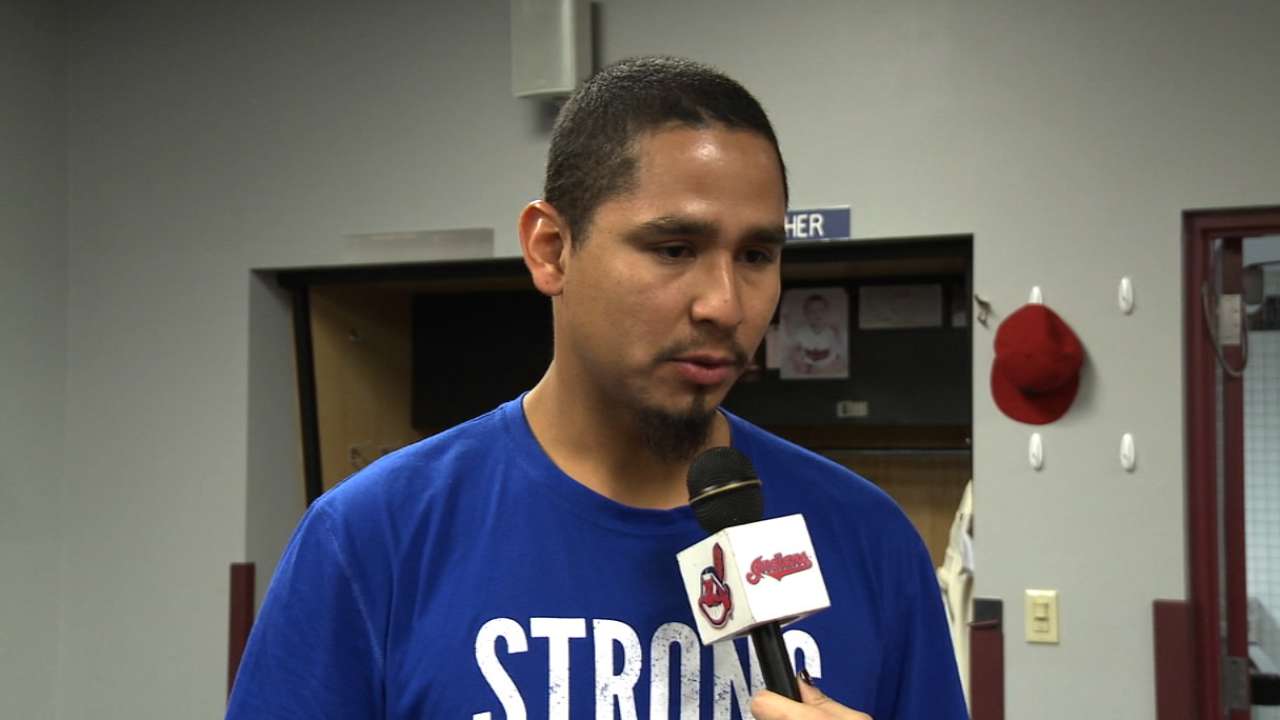 GOODYEAR, Ariz. -- In a sporting world in which many of us fruitlessly yell coaching tips at our high-definition televisions or offer laughed-off advice when presented with a moment of athlete interaction, some guy named Will broke through the barrier separating ballplayer and common fan.
Will is a baseball junkie from Clearwater, Fla. His kids go to the same school as Carlos Carrasco's kids. And as the two became friendly, Will felt comfortable offering a word of wisdom to his new buddy.
"Use more of your breaking ball," Will told Carrasco last year.
Turns out, this Will guy was on to something.
Though it might have been a bit overlooked, considering his team didn't reach the postseason and his rotation mate, Corey Kluber, won the American League Cy Young Award, Carrasco was one of the Majors' most dominant starters down the stretch in 2014. In 10 starts after escaping bullpen purgatory, Carrasco had a 1.30 ERA with 78 strikeouts and just 11 walks in 69 innings. Opponents hit .179 off him in that span.
Carrasco had the increased usage of his slider to thank. And for all we know, Carrasco's newfound trust in the pitch could propel him to Cy Young status of his own. At worst, it makes him a captivating figure in what projects to be a fascinating Tribe rotation in '15.
"He was a different pitcher out there [in the second half]," Kluber said. "You could see he had more belief in himself."
It took a considerable amount of time, but, with apologies to Justin Smoak, Phillippe Aumont, Jason Knapp, Tyson Gillies and the rest, Carrasco has finally established himself as the most valuable of the many young players dealt for Cliff Lee over the years. He arrived to the Indians' organization in the July 2009 swap that first sent Lee to Philadelphia, and he was touted for his live arm and strikeout stuff. But at that stage in his career, the slider was a fairly new pitch for the then-22-year-old.
Not until midseason 2011 did Carrasco begin to turn his stellar stuff into stellar stats, albeit briefly. He had a five-start stretch that summer in which he posted a 0.98 ERA and .172 average against, and this period was marked by increased trust of that now-developed slider. But the tender elbow that had bothered Carrasco on and off throughout his professional career (and prompted two DL stints earlier that season) began to ache again. Soon enough, Tommy John surgery put a major pause on his progress.
There were other issues beyond the elbow. Carrasco developed a reputation for being something of a mental mess on the mound, unsure of himself and his selection. And he clearly lost his cool in two intentional plunkings that earned him a pair of suspensions -- one in '11 and another in '13.
"I think I worried too much about everything in the past," Carrasco said. "If I didn't do a good job one day, I'd say, 'Oh, my gosh, are they going to send me down?'"
They did. Multiple times. Carrasco only received a rotation spot at the outset of '14 because he was out of Minor League options. And it took him all of four starts -- starts marked mainly by his struggles the second time through the opponents' order -- to lose that job and be banished to the bullpen.
That's when a funny thing happened. Where one might figure the relief role would compel Carrasco to rely primarily on his four-seam fastball, instead the slider -- the pitch advocated both by well-regarded pitching coach Mickey Callaway and, yes, some guy named Will -- re-emerged. Carrasco had thrown it just 12.7 percent of the time in April, per BrooksBaseball.net, but the usage rose from there -- 19.8 percent in May, 25 percent in June, 17.6 percent in July and, most notably, 21.2 percent in August and 29.4 percent in September, when he was brought back into the rotation's good graces.
"When he came back from surgery [in '13], the slider wasn't quite the same as it was before, so he stayed away from it more than he had in the past," Callaway said. "Last year, he really found that slider again -- that power slider where he really trusted that it was going to get down and away."
Trust in one's stuff is a powerful separator in this sport. Carrasco is proof.
"There's not an ounce of difference in his stuff," manager Terry Francona said. "But it's amazing what confidence [can do]. That's why you have to be patient. You just don't know when it's going to click, and you don't want to be the team that gave up on somebody."
The Indians know better than most the value of patience with pitchers.
Kluber basically reinvented his repertoire shortly before graduating to the big leagues and used his relatively new cutter and sinker to ascend to the top of his profession. Trevor Bauer's constant mechanical tinkering and unique routine quickly wore out his welcome in the D-backs' organization, but the Indians have given him the leeway to be himself, with some encouraging, if inconsistent, results in '14. Because of injury and performance issues, Danny Salazar took three seasons just to get from A-ball to High-A, and the Indians are hopeful his reimagined winter routine will put him in better position to capitalize on the raw stuff that earned him a postseason start in '13.
Because we're talking about a sports team from Cleveland (home of the Cory Snyder/Joe Carter "Indian Uprising" Sports Illustrated cover, among many other unmet expectations), it's probably best we don't read too much into the projections associated with this rotation. FanGraphs.com, for example, ranks the Tribe rotation mix, which also includes veteran Gavin Floyd and young lefty T.J. House, second in the AL in expected WAR for '15, but that's more of a bet on upside than track record.
"We don't have a lot of age on that staff," Francona said. "We have some guys that are learning how to pitch at a pretty high level early in their career, and in our industry -- not just with the Indians, but in the industry -- that's really valued. The flip side of that is we need to see these guys do it year after year after year. The only reason they haven't is they haven't been exposed to that yet."
What we do know, at the very least, is that the Kluber-Carrasco one-two punch has major potential. In his sit down with the higher ups at the start of this Spring Training camp, Carrasco relayed to the Indians how much he benefited from directly following Kluber in the rotation last year, picking up pieces of the Cy winner's plan of attack against particular opponents. The Indians will take that into consideration when they map out their '15 alignment.
Personally, Carrasco is beyond taking his friend Will's advice about the slider into consideration. He's firmly put it into practice.
"He's just a fan," Carrasco said, "but he's right."
Anthony Castrovince is a reporter for MLB.com. Read his columns and follow him on Twitter at @Castrovince. This story was not subject to the approval of Major League Baseball or its clubs.