Groin issue sidelines A's rotation hopeful Nolin
Venditte continues to draw attention; Doolittle set for Face of MLB semis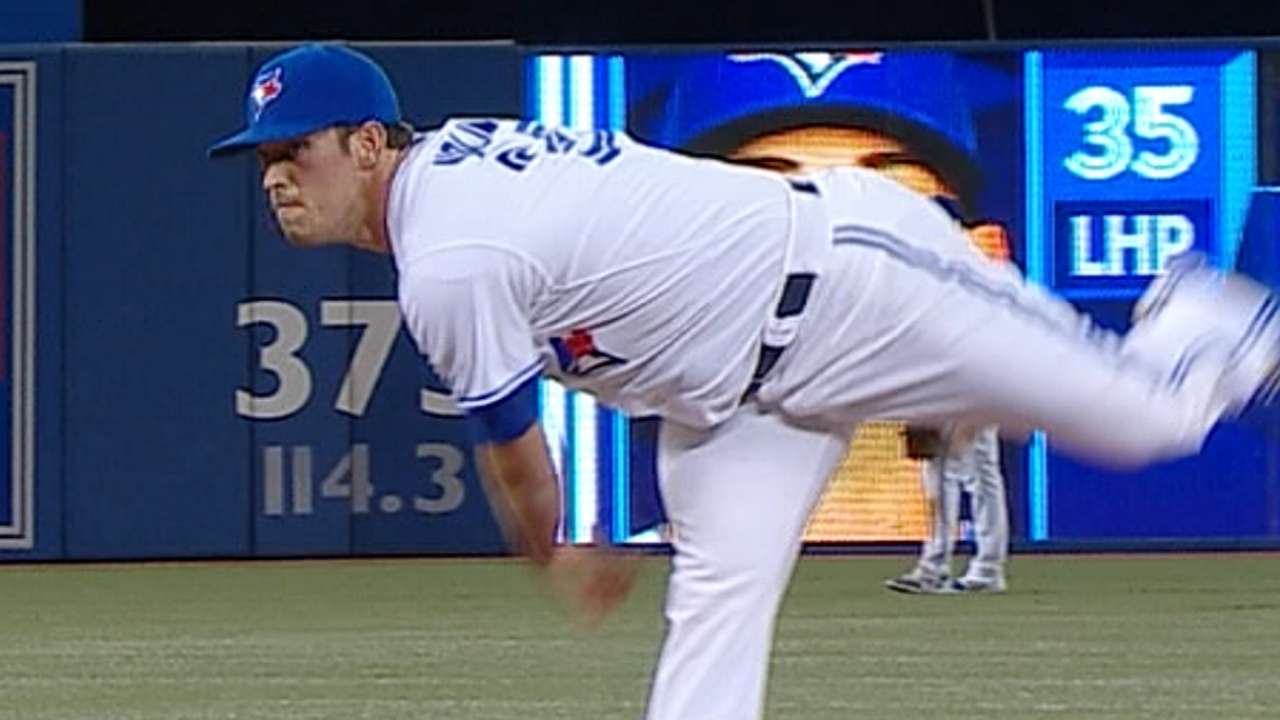 MESA, Ariz. -- The competition for a spot in the A's Opening Day rotation is seemingly less crowded than it was when camp opened just days ago.
A's manager Bob Melvin revealed Sunday that left-hander Sean Nolin, who underwent sports hernia surgery in the offseason, was still experiencing discomfort in the groin area when throwing from flat ground Saturday. The A's have decided to shut him down for a while, and there's no timetable for him to begin throwing again.
It's far too early to rule out Nolin from the mix entirely, but it's also clear he'll be playing catch-up to his competition all spring, which doesn't bode well for his chances.
"Just depends when he's able to get on a mound and go," Melvin said Sunday. "As of yesterday, he was going to be behind. As of today, he's going to be significantly behind. Every spring you have some guys that get injured, and that's what depth is all about."
It's a tough break for the organization's No. 8 prospect, as ranked by MLB.com, but Nolin could potentially make a speedier return as a reliever, a role in which some believe he's better suited anyway.
The A's already have Sonny Gray and Scott Kazmir locked into the first two spots of their rotation, leaving three up for grabs between several options, including Jesse Hahn, Jesse Chavez, Kendall Graveman, Drew Pomeranz, Chris Bassitt and Barry Zito.
Arnold Leon deserves a mention, too, but the right-hander's 2014 workload, though mighty impressive, could ultimately work against him if the A's opt to limit his innings this spring. Leon compiled more than 230 innings between Triple-A Sacramento, the Mexican Winter League and the Caribbean Series, which concluded just two weeks ago.
• Ambidextrous pitcher Pat Venditte was back on the mound again Sunday -- twice, per usual. Melvin watched both of his side sessions and again came away in amazement, joking, "He's officially given me vertigo."
"I told him he's driving me crazy," said Melvin, smiling. "I thought he went from No. 74 when he was throwing left-handed to 47 when he was right-handed, but that was just me."
Venditte wears No. 74 full-time.
• Lefty Sean Doolittle's bid to become the next "Face of MLB" continues Monday in a semifinals showdown with Bay Area rival Buster Posey. Twitter and Facebook voting begins Monday morning and lasts 24 hours.
Melvin is far from a social-media fanatic but has enjoyed watching Doolittle's progress.
"For me, the neat thing is our fan base," he said. "Those are the people that are driving this, and they're into it. If they like it, I like it."
Jane Lee is a reporter for MLB.com. This story was not subject to the approval of Major League Baseball or its clubs.