MLB.com Columnist
Phil Rogers
Cubs were ahead of the game on Soler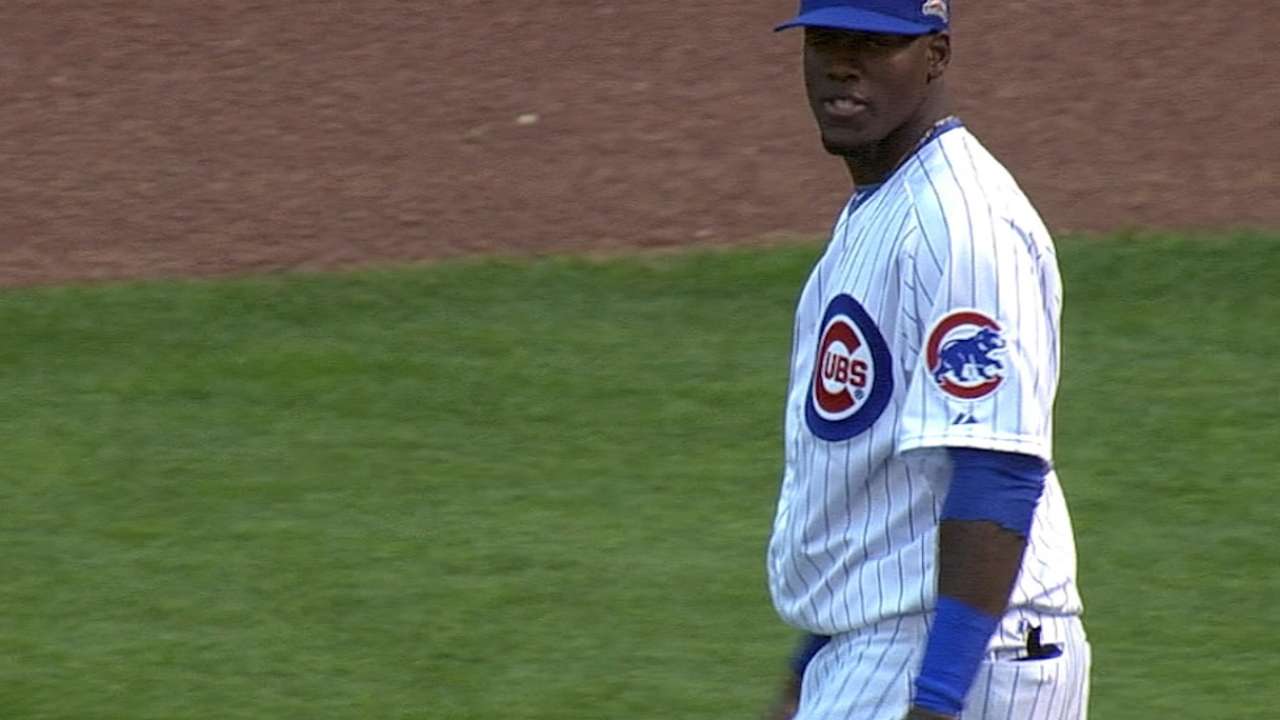 MESA, Ariz. -- As Yoan Moncada heads to the Red Sox, the Cubs are happy they did their shopping early.
The Cubs signed their own version of Moncada, Cuban outfielder Jorge Soler, in 2012, one day before Major League Baseball's system of international spending limits and taxes took effect. They were prevented from pursuing Moncada because they exceeded their signing allotment in the 2013-14 period, but they haven't especially minded.
According to MLB.com's Jesse Sanchez, the 19-year-old switch-hitter from Cuba has agreed to a record-setting bonus of about $30 million. The Red Sox will also be hit with a 100-percent tax, bringing the cost of the deal to about $60 million, which doesn't include annual salaries. Add them in and the total outlay could be $90 million to $100 million for Moncada's first six seasons.
By contrast, Soler's nine-year, $30 million deal covers his signing bonus ($6 million) and sets a floor for his salaries through 2020. He can opt into salary arbitration once he's eligible, which for argument's sake could add $15 million to the total.
But given his potential as a complete player with the power to hit 30-plus home runs, Soler still looks like one of the best bargains in baseball.
Soler flashed his potential in 2014, his second full season in North America, hitting .331 with 14 homers and 51 RBIs in 54 games in the high Minors before taking Wrigley Field by storm in September (.292 average, five homers, 20 RBIs in 24 games).
Manager Joe Maddon gets excited just watching the 6-foot-4, 215-pound Soler go about his business in the early days of camp. Soler was among a wave of position players to arrive early, as the first full workout isn't scheduled until Wednesday.
Maddon is getting to know a player who should hit in the middle of his order alongside Anthony Rizzo, Kris Bryant and, perhaps, Javier Baez as the Cubs chase their first championship since breaking up the Tinker-to-Evers-to-Chance double-play combination.
"I didn't realize he was this big," Maddon said on Sunday. "This is a big dude. I didn't really see him last year. I'm watching video, listening to commentary. Here's a big guy with some pop who can make good decisions at the plate. He's not just up there hacking and swinging, which is unusual. A lot of the young Latin kids will come up, and plate discipline is not part of the game. ... This is a guy who is a little more mature with his approach to hitting. I'm really eager to see that. I've heard about his arm strength, all those things. I love working with young, talented players like that."
Along with Yoenis Cespedes, Soler was one of the early targets of the Theo Epstein regime. General manager Jed Hoyer said Soler was "the right age, the right talent" when they scouted him after he defected. He was 19 at the time, as Moncada is now, and some scouts liked him better than Cespedes, whom the Cubs lost because they insisted on a six-year contract before the A's nabbed him with a four-year deal.
Soler had turned 20 when the Cubs reportedly agreed to a contract on June 12, 2012, but it took until June 30, one day before the end of unrestricted free agency for young international players, for the deal to get done.
Hoyer admitted that there was some nervousness about getting the deal done.
"Fear is probably too strong of a word, but I think we [were] glad to get it done," Hoyer said. "We only had [a little time] to get it done. I think his agents worked really hard on his residency. I don't think we even know all the details of what they went through to get him a work authorization, to get him residency."
Like Soler, Moncada is expected to need time to develop in the Minors after signing. You wonder what level of scrutiny he'll face given the circumstances of his high-profile free agency.
Soler stumbled out of the gate with the Cubs due to injuries and immaturity, and he was suspended in 2013 after an incident in which he headed toward the opponents' dugout with a bat in his hand. But because of the amount of top prospects in the Epstein-Hoyer-Jason McLeod pipeline, he was never the center of attention.
It will be different for Moncada and the Red Sox. If he turns out to be a franchise player, the Cubs may eventually wish they had been able to pursue him. But it's certain they'll count their blessings for the young Cuban they signed three years ago.
Phil Rogers is a national columnist for MLB.com. This story was not subject to the approval of Major League Baseball or its clubs.