Hultzen meets milestone with first spring bullpen session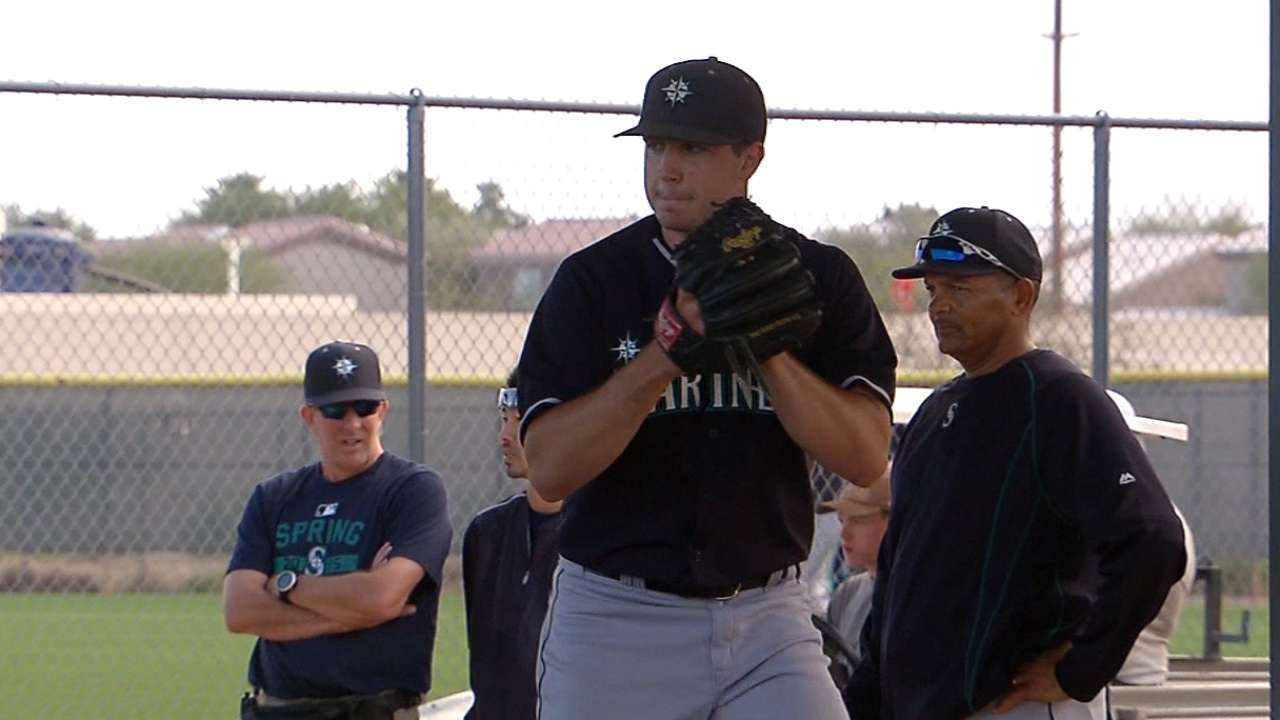 PEORIA, Ariz. -- It's far too early in Spring Training to get worked up about how any pitcher looks throwing his first bullpen session. But for the Mariners, just seeing Danny Hultzen firing off a mound on Sunday brought out a lot of smiles.
And no one was happier than Hultzen, who wore an ear-to-ear grin when talking afterward about his initial performance of the spring after missing all of 2014 with surgery on his left shoulder to repair a torn rotator cuff and labrum.
As much as the 25-year-old wants to insist this is just going to be a normal Spring Training, he couldn't help but acknowledge the milestone of being back on the mound in a Mariners uniform. A year ago at this time, Hultzen wasn't allowed to even throw a ball to first during pitchers' fielding practice.
He recalls struggling later to play catch at 60 feet, wondering if he'd even get the ball as far as it takes to throw from the mound to home plate. But there he was Sunday, letting loose at 100 percent and looking sharp in his first throwing session of spring.
"It felt good to just be among the guys and able to do everything," Hultzen said. "I remember last year being able to do the drills, but no throwing, and then just watching the bullpens and that kind of stuff. So it was really cool today to be part of everything."
The Mariners have set no expectations on Hultzen, knowing he's still got a long way to go after throwing just 35 innings over the last two injury-plagued years. Hultzen is taking the same long-range view. For now he's just pleased with his progress, having thrown five bullpens prior to camp and backing that up with Sunday's showing.
"It feels completely normal," he said. "I feel like I'm back. I have no idea what a game will be like. I haven't been in a full-game situation in a long time. But as far as how my arm feels and letting it go without thinking about it, I'm definitely back to before."
The biggest difference for Hultzen is he's throwing with a more direct delivery now, eliminating the across-the-body motion he transitioned to after being drafted as the second overall choice in 2011.
"I looked at film from college with Gary Wheelock, who is the rehab coordinator here," he said. "I was stepping a lot straighter then and I'm trying to get back to that point. I'm not doing the whole crossfire thing anymore. It's just one of those things that I guess took a little stress off my arm and made my arm feel a little better to throw like that, but obviously it didn't work."
Hultzen isn't thinking about whether he might make it back to the Majors at some point this season or worrying about how soon he'll pitch Cactus League games or anything. His mindset is simple.
"I just want to stay healthy," he said. "That's my only goal. Whatever happens, happens. I'm just excited to be back out here again."
Greg Johns is a reporter for MLB.com. Follow him on Twitter @GregJohnsMLB as well as his Mariners Musings blog. This story was not subject to the approval of Major League Baseball or its clubs.